Sew Reporter – 17 January

Hello there, happy Sunday! We hope you are having a great weekend so far. If you are looking for really diverse and interesting sewing inspiration, then you've come to the right place. We have included some stunning makes and some really fun things to watch and read. And if you are in need of some sweater pattern inspiration, head over to the blog for the Top indie sweater sewing patterns to make this Winter.
---

Victoria at Victoria Lucille Anne has proven that the Closet Core Patterns Elodie wrap dress and silk velvet are a match made in heaven. This dress is stunning!
We are in love with the beautiful floral fabric Brittany aka Brittany J. Jones used for her McCall's 7839 wrap dress. It looks beautiful on her.
Emily at Self Assembly Required drafted her own pinafore dress after years of using other pinafore patterns. The front pockets are such a cute feature and all we can say is: nailed it!
We have never seen a Tilly and the Buttons Agnes top with such amazing sleeves. Hands up if you now also  want a crushed velvet top just like Janene from Ooobop!
Montoya at Montayo Mayo is once again coming through with the most fabulous of makes. This New Look 6305 duster is perfection!
Mimi G from Mimi G Style made a Vogue 1610 jacket and this whole look is everythinggg!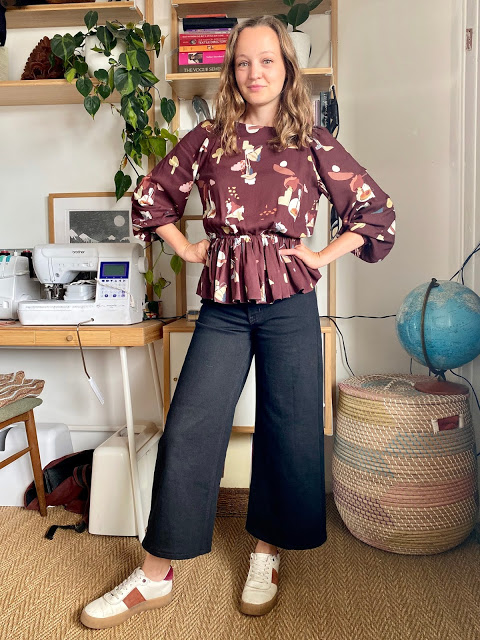 The Tessuti Patterns Hilary Top really has some beautiful design features and it looks great on Fiona at Diary Of A Chainstitcher. Go check out her blog for more detailed photos.
All the heart eyes for this clever combination of a Tessuti Monroe Turtleneck and a satin McCall's 7931 bias skirt. It's made by Raven aka Raven Maureen and we love it!
We gasped when we saw Jasika at Try Curious Blog in her beau-ti-ful Vogue 9288 cape. Isn't this whole look wonderful? Head over to Jasika's blog for more, including close ups of the very pretty buttons!
Isn't this the most amazing lilac Pauline Alice Serra Jacket you ever did see? It's beautifully stitched by Lindsay @stitchyourstyle and we are in love! Check out all the deets here.
Sarah @sewslowsarah is looking SO GOOD in her linen Style Arc Bob pants! We would love to add one of these (+ that lovely stripey top) to our handmade wardrobe. You too? Read Sarah's pattern review here.
---

It looks like this weeks new pattern releases are all about comfy clothes, which we do not mind at all! Working from home means we love to wear whatever is most comfortable. However, with these new designs, you'll look fashionable at the same time too…
Do you already have a specific design in mind? Or do you need some help finding the perfect pattern for your fabric? You can search all the patterns in our database using our sewing-specific search tool.
---

---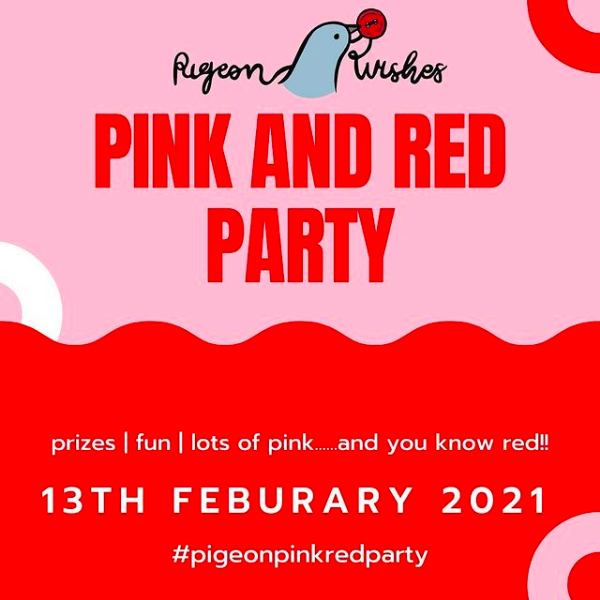 Just what we need.. A sewists party to look forward to! Organised by Megan from Pigeon Wishes on the 13th of February (aka Galentines day!) she invites us to dress in pink and red, and post a photo on Instagram with the hashtag #pigeonpinkredparty. So we can all stay at home, and feel ridiculously fabulous… We're in!
---

Check out the Sewicialists theme month; this February it's all about zero waste sewing! So what is zero waste sewing? In short, it's making use of every bit of fabric in your project. It is good for the environment, and good for the wallet too. You can read all about the challenge here, and don't forget to join in using #SewcialistsZeroWaste.
---

---

If you are looking for a good winter wardrobe staple, then this is it! Don't these Nina Lee Southbank Sweaters look amazing? And sooo snuggly! The pattern includes 3 different versions, and with the option to make it in a wide range of knitted fabrics, this is a pattern you'll make over and over again. Check out what these wonderful makers think of the pattern by clicking on their photos.
---
Mijke @sewitcurly inspires us on a daily basis with the most beautiful clothes and incredible photos. She sews a dream worthy handmade wardrobe for herself and for her family. We love following Mijke for inspiration, but she also makes really easy to follow tutorials (#SewItCurlyTutorial) like this super cute puffy sleeve hack, which looks great on her Named Kielo Wrap Dress! Head over to Mijke's Instagram.
---

Come and join our sewing Facebook group where we are chatting about sewing plans, new patterns and helping each other out with projects.
---