Following four sell-out annual events in Cambridge, The Fold Line and Charlotte Emma Patterns are bringing The Sewing Weekender online for a second year, on Saturday 12th – Sunday 13th June 2021. The 2021 event will again take place online and will feature two days of online content for attendees to watch and participate in, as they work on a sewing project at home. Tickets will be available to purchase from 7am on the 8th May and 10% of proceeds will be donated to charity.
As we continue to find ourselves in difficult times,  we didn't want not to be able to connect with all you again in 2021. Over the weekend, we'll have a series of informal vlogs from bloggers and makers plus longer talks, live zoom sewing help sessions, online workshops and other online activities with special guests from the sewing community. We're really excited about The Online Sewing Weekender and hope you are too! Don't forget to keep up with all the fun by following the hashtag #sewingweekender on Instagram.
Previously an annual in-person event in Cambridge (2016 – 2019), bringing 90 sewists together for a weekend of informal sewing, socialising, workshops and talks, the Sewing Weekender moved online in 2020 in response to Covid-19. With Charlotte, we came together in just a few weeks to bring the event online for the first time and all monies raised were donated to charity. With 1,941 tickets being sold, attendees from 37 countries helped to raise £23,610 for the following four charities: NHS Charities Together, Black Lives Matter, mental health charity Mind and the Stephen Lawrence Charitable Trust. Find out all about last year's Online Sewing Weekender event are on our blog here.
Choosing a project
Remember that the Sewing Weekender is an informal sewing event. You can pick any sewing project to work on over the weekend (and share your plans and progress with us using #sewingweekender). You'll want to start planning your makes for next weekend and if there is a pattern you've been lusting after then now is the time to pounce! Search thousands of sewing patterns from indie designers and commercial pattern houses in our online sewing pattern shop.
Full schedule
Date: Saturday 12th June 2021 – TBC
Date: Saturday 13th June 2021 – TBC
---
Photos from previous in person Sewing Weekender events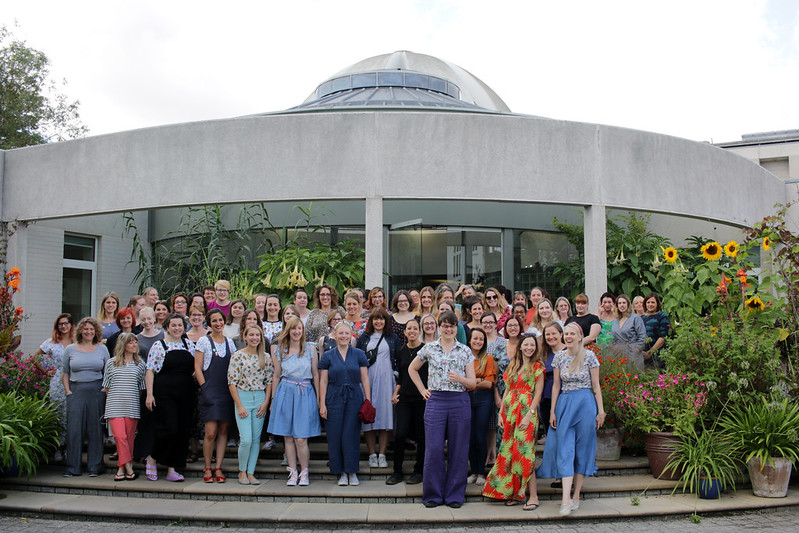 ---
Who comes to The Sewing Weekender?
We welcome everyone to join The Online Sewing Weekender from around the world! Makers of all abilities from will be joining us from beginners to the advanced.
What do I need to join in?
You will need internet access and a computer/phone or tablet. You will need access to YouTube, Zoom and Instagram to take part in all the activities. An Instagram account is recommended; no account is required for Zoom or YouTube. If you want to sew over the weekend you will need access to a sewing machine and your usual supplies. We also recommend you are well stocked with tea and cake for the duration!
How long do I have to watch the videos and join the activities?
An email will be sent to you at 6am UK time (BST; 05:00 UTC) on Saturday the 12th June and again on Sunday 13th June. This will contain the full schedule for the day, and links to all of the video content. All of the videos will remain available throughout the weekend, so you can dip in and out as you wish. The videos will remain available after the Sewing Weekender if you don't manage to watch all of them at the time.
Cancelation and Refund Policy
Refunds are not issued after payment is submitted. Tickets are non-refundable with 10% of proceeds being donated to charity. Please ensure that you are available to attend prior to booking.
Photography
Photographing and/or videotaping of activities will take place throughout the weekend. The Fold Line and English Girl at Home may publish the photos and recordings online or in other places for marketing and sales purposes. Attendees agree that their picture and sound may be used by the organisers and their partners without granting any additional permissions. Please contact [email protected] if you have any concerns or questions about this.
Damaged Property
The Fold Line and English Girl at Home are not responsible for attendees' damaged property through the use of digital media applications.
For any further questions please email [email protected]