Sporty in the cropped version
My perfect sweater?
Am loving the sporty proportions of the cropped length Southbank with "slouchily" (very) long sleeves.  Overall a closer fit and thus warmer than the LB Pullover, but probably too close-fitting to wear much underneath other than a silk vest.  Can see me making several, long enough to tuck in, as base-layer polo necks.
Comparison
You can see it here with five other sweater patterns all from The Foldline.
Top Row: Southbank by Nina Lee; LB Pullover by Paper Theory; Toaster #1 by Sew House Seven.
Bottom Row: Orono by Itch to Stitch; Talvikki by Named; Jocko by Ready to Sew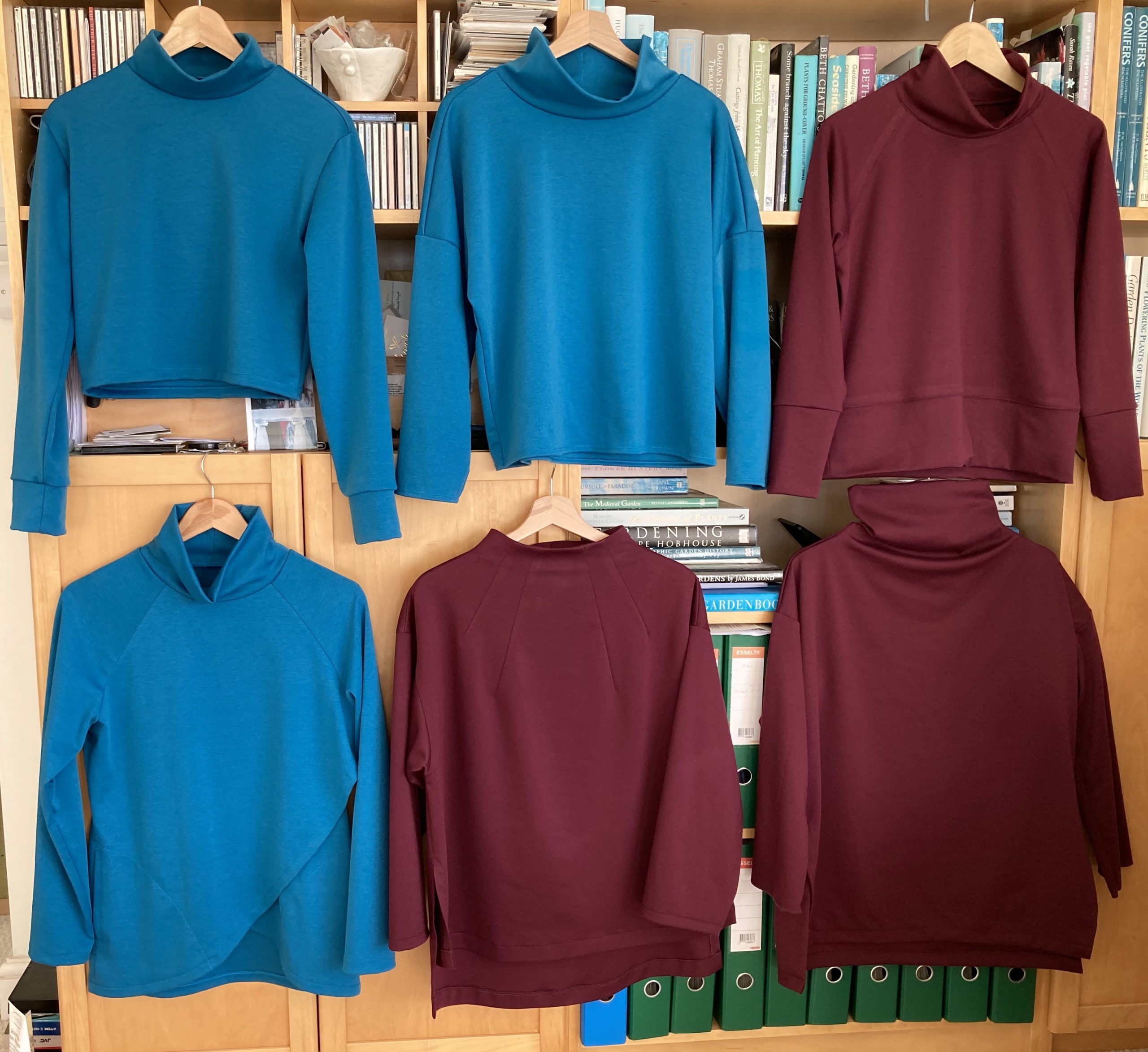 Making up
I cut a size 10 but graded out an additional 1" at the waist and graded out the sleeve to size 12 (+ 0.5cm) each side at the bicep.  Same ponte roma fabric and machine settings as for the LB Pullover.  This was also a quick make – from start to finish in an afternoon but slightly trickier than the LB Pullover.  I tacked the more-fitted sleeve head, and the cuffs were an additional operation.
Fitting and alterations
Very happy with the body fit and I like the snug neck but would consider making a size 12 next time to accommodate a T-shirt underneath.  Although I knew the sleeves would probably be too long on me, I went with the pattern length unaltered in order to experience the "slouchily long" design.  An inch shorter would be more comfortable on me.  Alternatively, a sleeve half an inch longer could incorporate a large buttonhole for the thumb to pull the sleeve even further down the hand in keeping with the sporty motif.