Sew Reporter – 26th September
Happy Sunday Foldliners! We had the first day of autumn this week, so hopefully, you are settling into this season nicely. Like spring, it's definitely the season where you can feel a change in the air which can be quite energising. It feels like a lot starts happening, and we've found a number of exciting things to look forward to.
We've also found the indie sewing pattern releases are starting to pick up (hooray!), so we have some lovely new designs to share with you. Have a wonderful Sunday!
---
We've seen a lot of lovely Elodie's popping up and we can't get enough of them! Love, Lucie used this stunning large-print floral with the Elodie Wrap Dress from Closet Core Patterns and gave it five stars in this review!
We love the cheery print Melinda of All The Happy Things used to make the mini dress with raglan sleeves from Yoshiko Tsukiori's Stylish Party Dresses. The stunning fabric is silk, and you wouldn't believe it was Melinda's first time working with this beautiful (but tricky!) fabric. Check out her comprehensive blog post on the process, including tips and techniques used to make this project a success.
It has POCKETS!! After years of lusting over the Estuary Skirt pattern by Sew Liberated, Hannah finally took the plunge and wasn't disappointed. Hannah shared that one of the best features is the elastic back waistband. We want to make one too!
You can never have too many stripy tops in your wardrobe and Emmanuelle of Zoubi Zoubisou is giving us serious me-made envy with this make. Emmanuelle used the Lion Sweatshirt pattern from IAM Patterns to sew this dreamy top. With its puffed sleeves and snaps on the shoulders, it's no ordinary stripy top! We think it's très chic!
Tabitha Sewer is nailing dressing for autumn with this ultra-cool 70s style dress. Tabitha found this gorgeous striped fabric and thought it was just perfect for fall, and we have to agree! Tabitha used the McCalls 7950 to sew this dreamy dress. Do check out ALL the pictures on this fab blog post!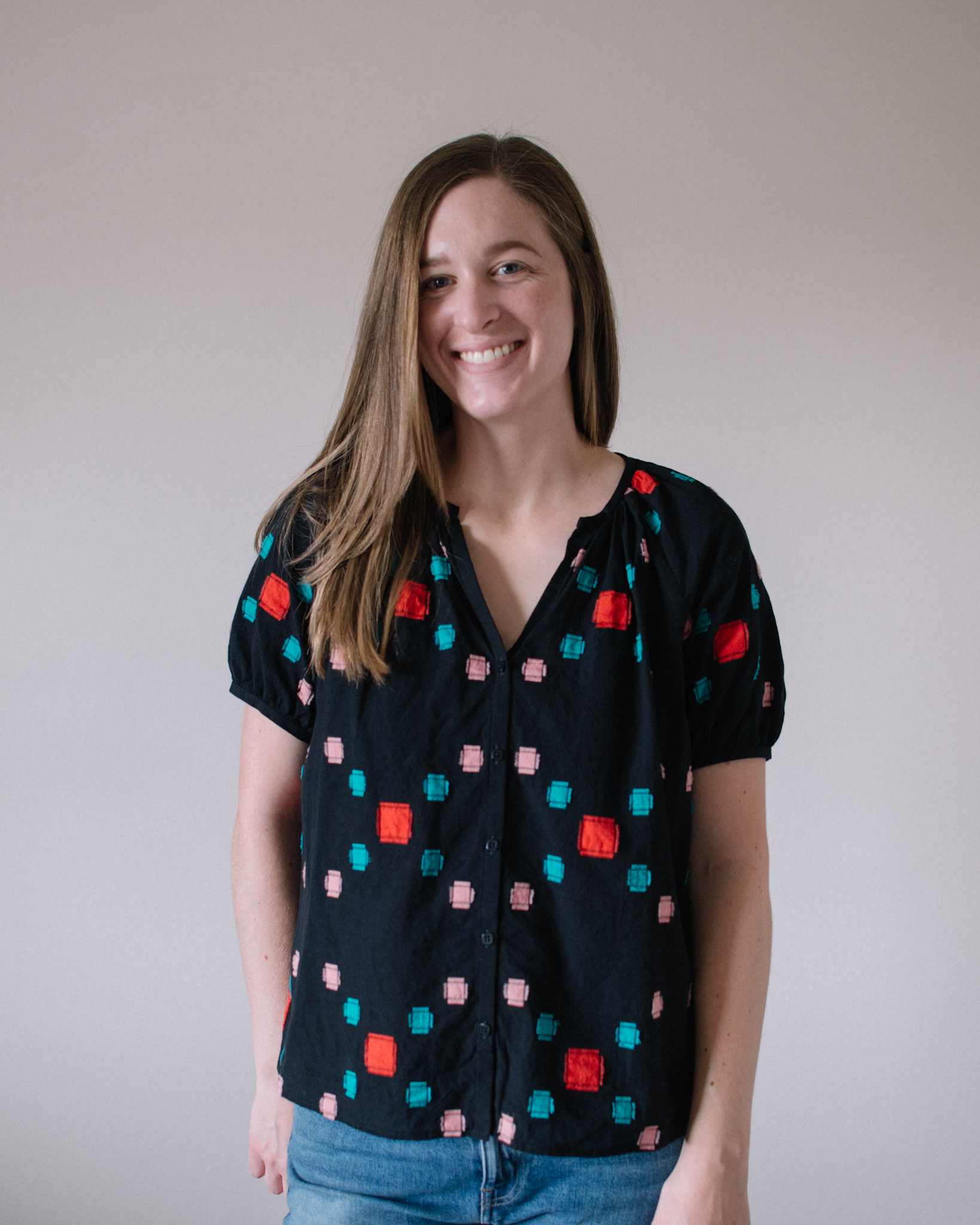 Tori has been enjoying making tops lately, and we love, love, love this make! Tori used the Roscoe Blouse by True Bias with this fabulous fabric and added a button placket to the front to create a lovely shirt. Read all the details on her blog, The Sewing Things Blog.
Ever thought about making the Nova Coat by Papercut patterns for evening events? Well, we hadn't until now! Emma's Atelier used a stunning bold geometric leopard print fabric and made the cropped length. Read Emma's full review here!
---

We've had another batch of lovely new things from Vikisews, a stash-busting pattern from Tilly and the Buttons and a jumpsuit pattern from Megan Nielsen that we want to live in!
Do you already have a specific design in mind? Or do you need some help finding the perfect pattern for your fabric? You can search all the patterns in our database using our newly updated sewing-specific search tool.
---
Do you love dungarees, or are you ready to join the gang who swears by them? We have rounded up some of the sewing communities' favourite dungaree sewing patterns so you can find your perfect pair to sew! There's a video to go along with the list if you want something to accompany your sewing this weekend – enjoy!
---
We are certain this isn't breaking news for all you avid Sewing Bee fans, but we were excited to see the announcement last week that Sara Pascoe is stepping in to present the next series of The Great British Sewing Bee!
We will all miss Joe Lycett so much, but think Sara is going to be fabulous. If you want to get excited about the new presenter, you can watch Sara at the sewing machine on the Sewing Bee's Christmas 2020 special! She did some incredible sewing and we will be eagerly awaiting news of the next series as I am sure you will be too!
---
We spotted the Knitting and Stitching Show has released tickets for Harrogate in November. With hundreds of workshops, demonstrations, interactive features, professionally curated galleries, as well as hundreds of exhibitors selling specialist craft supplies, the show is a great day out!
If you are based in the South of England, the Knitting and Stitching Show will be at Alexandra Palace from the 7th – 10th October 2021.
---
Elisalex, the founder of popular indie sewing pattern company By Hand London is well known as a fitting master, and she is holding a webinar on beginner-friendly introduction to pattern fitting at 5 pm BST on Tuesday 5th October 2021. The tickets cost £5 and the session will run for approximately 2 hours. If you can't attend the live webinar, you will still be able to access the recording, and send in any questions you want to be answered in advance.
---

The Great British Bake Off was back on Tuesday and we couldn't be happier! We cannot resist tuning in, yes to watch the baking, but we are also loving Pru Leith's outfit this week… those pink glasses are fab! It has also inspired us to possibly steal a little time away from sewing and bake something this weekend.
Weekly episodes every Tuesday at 8 pm on Channel 4.
We also spotted that the new series will be on Netflix US every Friday from the 24th of Sept!
---
---

Alice & Co Patterns are not new to us, but deserve another introduction to those who are yet to discover this fabulous mother and daughter team, Alice and Lilia. They are based in London and design patterns that use fast and simple techniques so you can sew inventive and stylish outfits at home. They just released the fabulous Lavender Robe, which would be lovely to sew for a gift or a gift to yourself, and they have a fabulous sleepwear sewing pattern – the Whitechapel Pyjamas. We also love the Intrepid Boiler Suit pattern, as do lots of wonderful makers!
---
Come and join our sewing Facebook group where we are chatting about sewing plans, new patterns and helping each other out with projects.