Our Favourite Sewing Books!
Sewing books are a fantastic resource for us makers, sitting on our shelves happily until the time is needed. I often get them down when I'm not sure what to make and have a look through for inspiration.  They are also wonderful gifts… we all know what is just around the corner!
We thought it might be handy to have a list of the best sewing books on the market so you can peruse at your leisure and pick your favourite. Whatever your sewing level there is a book in here to suit you and we hope that you find something you love. We've included books where you self draft the patterns, as well as having patterns included. There are also a couple of fantastic source books too for those sewing nerds amongst us.
Tilly and the Buttons:
If you have someone who is fairly new to sewing then a Tilly and the Buttons book is a must.  All the patterns are included in the books and they are geared towards the beginner. Her books include really clear instructions and guide you through simple projects. The Make it Simple book is her latest and designed around sewing for the time poor. The simple projects tell you how long it will take you to make and has some lovely patterns included. The Second Book called Stretch is perfect for those wanting to sew with knit/jersey fabrics.  Her first book, Love at First Stitch comes with simple patterns with a 60s feel to the shapes.
Bought to you by the dynamic duo who own the indie pattern company Named Clothing. This fantastic books comes with x10 sewing patterns includes and variations on each. They are known for their simple paired back aesthetic and this book is no exception. There are projects in there for the confident beginner to the more advanced. If you wanted to see a bit more and inside the book then we did a review of it when it came out.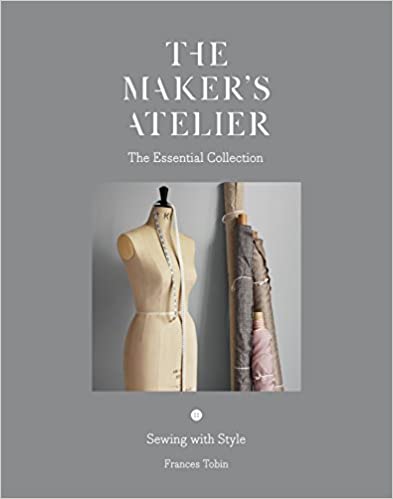 Frances, who runs the fabulous indie pattern company The Makers Atelier created this fantastic book. It has eight patterns included in the book but with the variations there are 30 different styles you can make. All the designs feature her simple paired back aesthetic. Trust me you won't be disappointed! If you want to see a bit more we did a book review of it when it was released.
If you've got someone who loves pattern cutting or is interested in learning more this is the MOST fantastic book.  Written by fashion designer Karolyn Kiisel this book aims to teach you everything you need to know about drafting your own patterns on the stand.  It's quite expensive but as soon as you open it you realise why. The book is massive and stuffed to the brim with info. I really liked that there were QR codes all the way through the book with corresponding videos to go with the steps in the book. We did a pretty extensive review of it so if you wanted a deep dive before you committed then go check it out.
In my opinion, everyone who makes their own clothes should own this book. I cannot recommend it highly enough. It's essentially a source book for sewing techniques. It has illustrated diagrams with step by step instructions on everything from something simple like gathering to attaching a cuff on a shirt. The beginning bit of the book features basic sewing knowledge, how to read a sewing patterns, where darts go, pressing etc etc.
The Pattern Magic Series:
If you haven't come across Tomoko Nakamichi's wonderful books you are in for a treat. The entire series takes pattern cutting to a new level, if I'm ever feeling uninspired then I'll go look through one. There are a series of projects in each book and they show you how to create these amazing shapes with fabric with illustrated instructions. In terms of a skill level, I would say these books are for an intermediate maker and above. BUT I will say that they are SO inspiring that whatever your sewing level you will love these, as they make you think outside the box. Start with the first one, and then like me, you'll probably buy them all!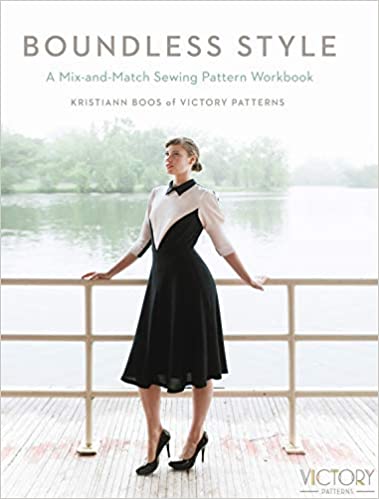 This is such a clever book designed by Kristiann Boos who also runs the fabulous indie pattern company Victory Patterns. The concept of the book is that all the patterns pieces are interchangeable so that you can create you own look (there are 15 in total).  The patterns come on a CD at the back of the book along with lots of help and instructions. There is a vintage feel to pattern shapes in the book and if perfect for some looking to get more familiar with creating their own looks.
Wendy Ward:
Wendy worked as a fashion designer for many years and then started to teach people to pattern cut and sew. These two skills make her a fantastic book writer. She knows the general fitting issues people have with patterns, and gives you the skills to make the changes yourself. For someone who has made a few things but wants to learn more about fitting then I'd highly recommend Sewing Basics for Every Body (her latest book.) Each pattern comes with variations that you pattern cut yourself and the way it is written really demystifies making simple adjustments to patterns. Her other three books 'A beginners guide to sewing with knitted fabric' does what it says on the tin and also comes highly recommended. If you can't get enough there is also 'a beginner's guide to making skirts.'
I feel like Mood fabric store doesn't need an introduction! But if you haven't head of them, they are an iconic fabric store in New York. They have such a vast collection of fabric that many find the place totally overwhelming! It makes sense that they release a book on fabric. If you don't know your rayon from your viscose (…did I get you?!) then this book is for you. It's really useful to have on the shelves to look up fabrics that you don't know.
If you looked at the Mood fabric book but wanted something more technical, this book is that. The ultimate source book describing the the behaviour and properties of all fabric. It's not a light read by any means but it's very detailed.
The Great British Sewing Bee Books:
If you loved watching the sewing bee this year (I know us too) then the book to follow the series would make a lovely present. The book features a large chunk of the patterns used for the technical challenges. Once you've devoured the first then why not head back and read the rest from the past series!
Ever wanted to take on the challenge of sewing activewear? Melissa who runs indie pattern company Fehr Trade shows you how to create 13 different styles. You get four basic blocks and then create your patterns from this so it's good if you fancy giving pattern cutting a go. We did a review of the book if you wanted to see the styles included in the book.
The perfect stocking filler! This lovely book written by Karen Ball is like reading a hug, stuffed full of lovely anecdotic, tips and sewing trivia. It will cheer up anyone and is a delight to read.
Upcoming Releases:
There are some really fantastic sewing pattern books due to hit our shelves next year. You can preorder these now so they drop through your letterbox when they are published.