Find My Pattern: Episode 4
Hi team,
Kate here and welcome back to another instalment of find my pattern! Those new to this feature, the premise is that you send in images of ready to wear garments you need in your life and I put my best detective hat and and hunt it our for you.  As a self proclaimed pattern nerd… I'm here to help.
I put out a request on Instagram and got loads of lovely emails asking me to help they find what they are after!  I whittled down a shortlist and after a few hours I managed to find some pretty good options. Below is a the original image as well as the patterns that we found and we really hope you enjoy!
For those of you loving the new series of Killing Eve and wanting to recreate this fab dress worn by Villanelle I'd suggest a hack of two patterns from By Hand London, the Eloise dress with the sleeve of the Hannah wrap dress.
This was a dress worn on Strictly and after quite a bit of research I found the McCalls 7801 I think the only tweak that you'd need to make is to extend the flounce on the dress a little.
The beautiful dress from Mara Hoffman made me go a little weak at the knees if I'm honest. Having done quite a bit of research I think the best option I could find was the Pauline Alice Lliria dress. If you left the buttons off the bodice and straightened of the neckline I think this gets quite close. What do you think?
These are wanted as a pair of gardening trousers and I can see why! The pattern I found was the Vogue 9191 and I think that it's a pretty good match, if you curve the hem at the front I think these would be spot on!
This simple summer dress is perfect to throw on! I thought this would be an easy hunt but it turned out it was a little harder than I thought.  The Ivory dress from Fibre Mood is a close option.
This was an easy hunt for me, and think I've got this pretty bang on! The Rhumana coat from By Hand London would work perfectly for this  outfit.
The Erin shirtdress from Serendipity studio would work really well as a base for the lovely summer dress from Arket. All you'd need to do is lower the neckline slightly and remove the collar.
This summer shirtdress from a company call Just, it lovely and I can see why you'd want to make one. The Pattern I found was the McCalls 8031 if you made it in a linen or something heavier weight it would look just like it.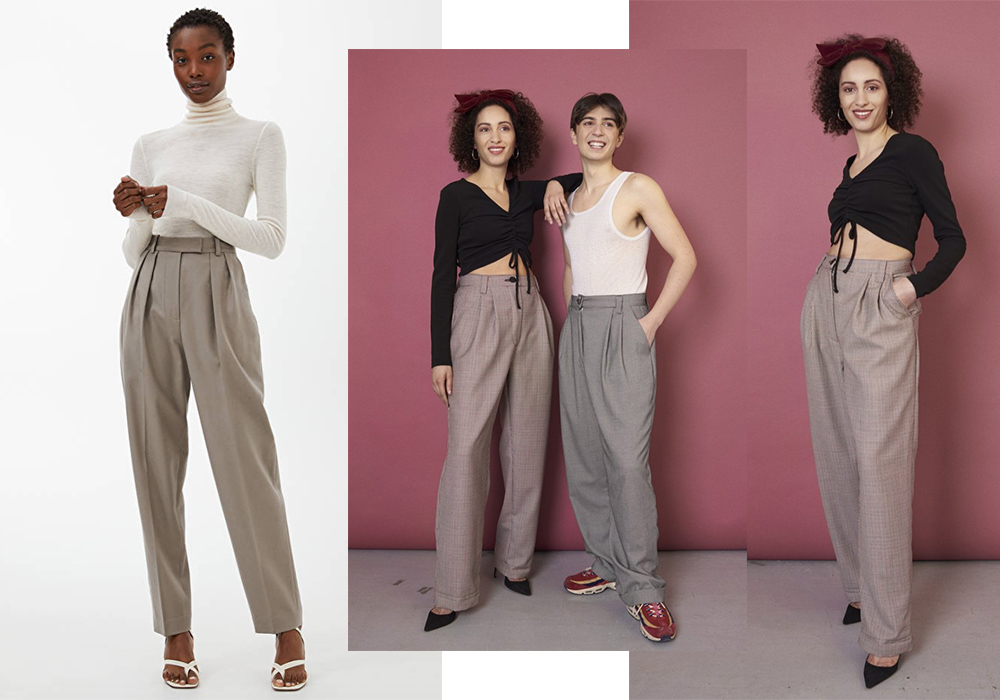 I'm swooning over these trousers from Arket and I was pretty pleased with my matching skills on this one, the Jackie Trousers from By Hand London are pretty darn close!
This lovely playsuit from Cos is perfect for summer and although not a perfect match I think the Vogue 1647 would be a great starting point.
This is a fab two piece, and perfect for summer! I've got two fantastic patterns that I think would work really well for the top the Nina Lee Moselle top, you'd just need to shorted the bodice and for the skirt the wrap around skirt from Workshop.