Sew Reporter – 15th August
Happy Sunday everyone! It's that time of year where you are pulled by outdoor activities and trips, but still want to get your sewing fix. We like to fill this time with plotting our next batch of makes and getting inspired. We have lot's to share with you this week, including a forthcoming exhibition, a sewing meet-up date for your diary, shirring skills and sewing patterns and LOTS of new patterns for you.
Grab a cuppa, iced coffee or mimosa (maybe?!) and enjoy browsing the Sew Reporter! Have a great Sunday.
---

Wowie! We are obsessed with this incredible highlighter pink set with a self-drafted top and Simplicity 8605 for the bottoms by Montana Mayo. It is definitely a high-summer combo of dreams, and Montana shared all the details on her blog.
Our Rachel is making us green with sewing envy in her latest make! Rachel put her shirring skills to the test and made this gorgeous Dayo dress from Sewing Patterns by Masin in a striking green and blue leopard swishy fabric. Keep reading on to find a blog post sharing tips on shirring and sewing patterns you could make if you want to give it a try!
We are pretty sleeve obsessed, and this is a pattern that hasn't failed to catch our attention. Fleurine made the Thea Boho Sleeve Shirt, by Liberty of London in a Liberty print (of course!) and the result is beautiful. She shared her thoughts on the making process on her blog – Sew Mariefleur and loads more pics. Go check it out!
Lookie lookie at Jen Legg's floor-sweeping statement! Jen made the Davenport dress by Friday Pattern Company for the #SewRecreateTheLook challenge that she co-hosted and shared all the planning and execution details in her review!
We love a sundress and Emily of Self Assembly Required made the coolest Skye sundress by Tilly and the Buttons. It works fantastically well in this leopard motif print, don't you think?
A good sleeve never fails to make us do a double-take and this Adrienne Blouse from Friday Pattern Company made by Ann is no exception! Ann used a beautiful watercolour viscose jersey and an absolutely stunning backdrop to take a snap of her new make.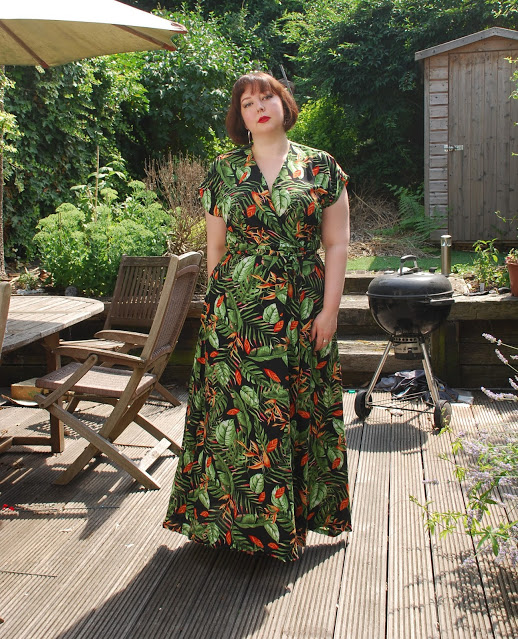 Jen made the Elodie dress from Closet Core Patterns in this bold tropical print and isn't it just a show stopper? We are loving all the floor-sweeping dresses at the moment! Read all about Jen's thoughts on the make on her blog, Sewing and Slapdashery.
Love, Lucie got the perfect fit in her latest make! Lucie made the Recoleta Dress by Itch to Stitch and shared all the details in the review. We wish we had a backdrop like this to snap our makes!
---

We've got some great new patterns to check out, including TWO new lingerie designers, a staple woven top you will want to make again and again, and a statement ruffle dress that you could wear right now! Have a fantastic weekend everyone!
Do you already have a specific design in mind? Or do you need some help finding the perfect pattern for your fabric? You can search all the patterns in our database using our newly updated sewing-specific search tool.
You might also be pleased to know that Fibre Mood Edition 14 PDF patterns are now on the shop! The PDF patterns have seam allowances included and projector files if that's your preferred method. There are ten patterns in total, eight for women and two for children!
---
Have you become intrigued by shirring after seeing lots of sewists trying out this new skill? Shirring comprises of several horizontal lines of elastic thread on the inside of the garment that gather the fabric together and can be used to create a lovely billowing sleeve or at the waist and bust a custom silhouette.
We've pulled together our favourite indie sewing patterns which have a shirring element and some top tips on mastering this skill for yourself. Go have a read!
---
Hurrah! A new exhibition to get excited about! Did anyone else spot that the Fashion and Textile Museum in London announced their forthcoming exhibit? Beautiful People: The Boutique in 1960s Counterculture is running from the 1st October 2021 – 13th March 2022 and we are MOST definitely booking a ticket!
[Image – The Fool designs inside The Beatles Apple Boutique 1967. Copyright Karl Ferris]
---
@elleandthestitches is hosting a sewing challenge prompted by discovering lots of small remnants and scraps that she didn't know what to do with. Elle has created the challenge #RecyclingRemnants to find fabrics that have been left unused in your stash and get thinking of what they can be turned into! Elle will be sharing what she is turning her leftover bits of fabric into, and sharing ideas from anyone taking part!
---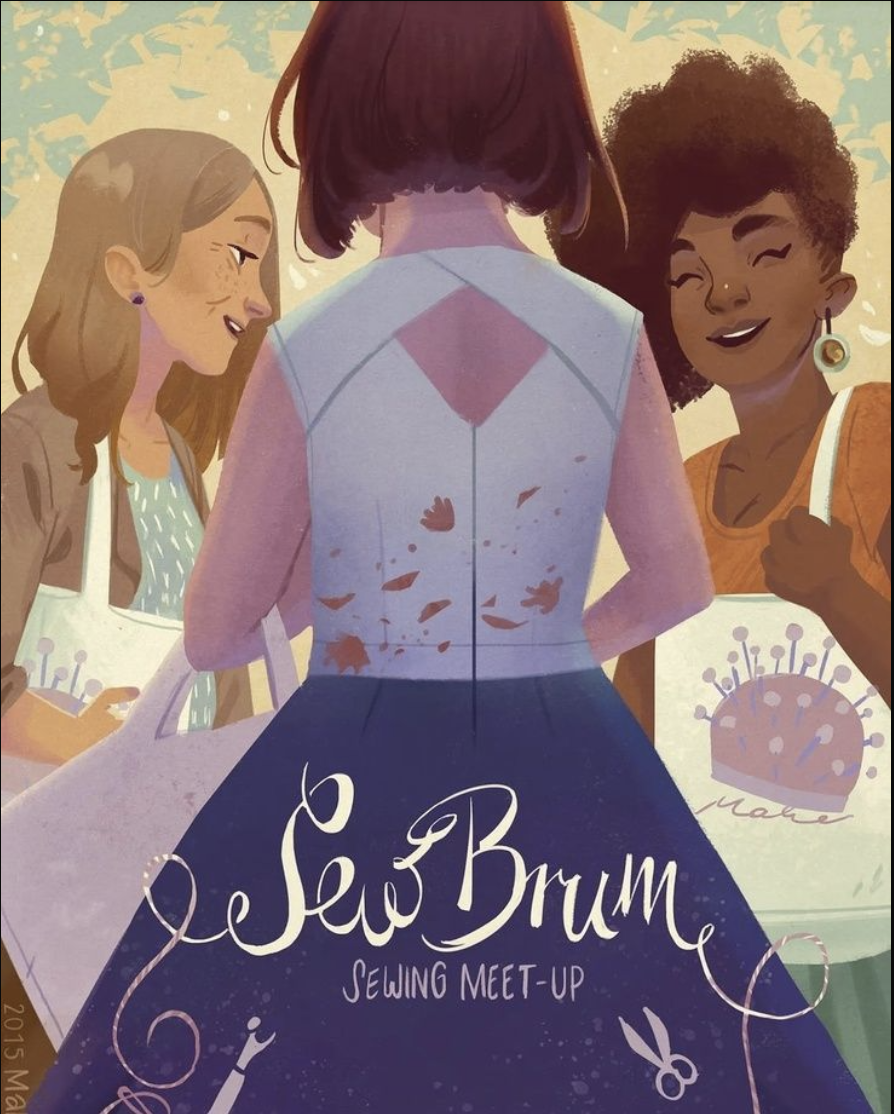 Charlotte Powell and Gutherie Ghani have announced a date for the eighth SewBrum meet up – Saturday 30th October! SewBrum has taken place as an in-person meet-up in Birmingham, UK for six years (2014-2019) and in 2020 the meet up was held online.
This year the meetup plans to have online content and – subject to covid considerations – an in-person element (TBC). Full details will be shared in the next few weeks, but you can sign up now for updates so you don't miss a thing!
---

If you're thinking about trying to sew your own underwear, you're in for a treat! We are thrilled to introduce you to Sew Projects who aim to get you sewing comfy and creative lingeries. The designer, Yelena, decided to design her own sewing patterns as people told her they weren't good enough at sewing to make their own undies. Something Yelena totally disagrees with!
The pattern range include the Penny knickers, which have been designed with beginners in mind, and the Moontide period pants, so you can have a go at making your own eco-friendly alternative to disposable pads. It's definitely made us feel inspired to fill our drawers!
---

Come and join our sewing Facebook group where we are chatting about sewing plans, new patterns and helping each other out with projects.
---