The Great British Sewing Bee 2021 – Sewing Patterns – Series 7 Episode 3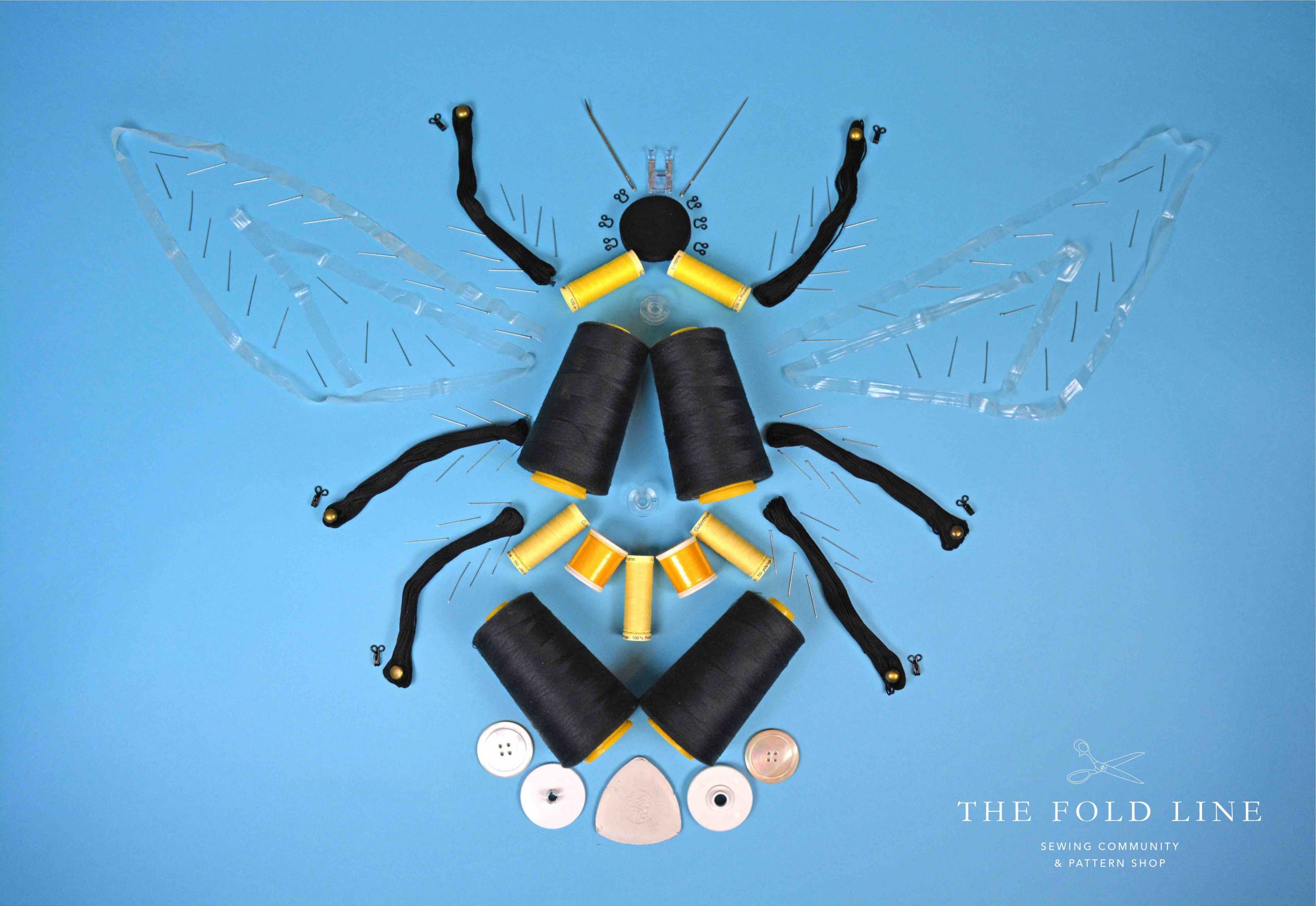 It's week three of the Sewing Bee!
It was a tricky week for the contestants last week as they had to make paper bag shorts, cocktail outfits and a sun dress! For episode three we have put our detective hats on to discover the sewing patterns from independent designers and commercial pattern houses used in The Great British Sewing Bee TV show. The patterns below are all matches or inspired by the designs used in the third episode of the Great British Sewing bee series 7. If you haven't already seen our ultimate guide to the Sewing Bee page do take a look. Unfortunately at the end of episode two we said goodbye to Jean after three Summer wardrobe challenges.
For episode three the theme was gent's classics. The challenges included making a baker boy cap, a woman's outfit from men's jackets and a made-to-measure utility jacket. Take a look at our sewing pattern suggestions below, we've tried to find the exact patterns used but where we haven't been able to  we have plenty of suggestions so that you can recreate these looks at home for your handmade wardrobe. Kate also talks through her favourite pattern options from the episode on YouTube in our special mid-week sewing bee vlog.
If you want to chat about the episode and the challenges then do join us each week in our Facebook group event.
Sewing Bee: Pattern Picks
Pattern Challenge 1: Sew a baker boy cap
The first challenge of the third episode was to sew a baker boy cap. This is a casual cap, in a similar style to a flat cap with a round and full shape finished with a button on top. These hats are also referred to as newsboy or fisherman hats with origins in Italy and the UK, worn by young boys in the 1910s – 1920s. These have gained in popularity again recently thanks to The Peaky Blinders BBC TV show and celebrities such as David Beckham. The contestants are challenged with creating a perfectly symmetrical hat with supporting brim from 19 pattern pieces with a fabric covered button on top. With eight outer pieces, eight lining pieces and a plastic insert to shape the cap, this is a tricky pattern challenge!
We have a sewing pattern suggestion for you to make your own flat cap, which is similar in design to a paperboy cap. Shop our full range of children's accessories here.
Fell and Dale Flat Cap – Waves & Wild
This traditional style flat cap is designed for medium weight woven fabrics. There is an option for adding elastic to the back. And don't let the idea of a brim/peak put you off – there are several alternatives including re-purposing a plastic milk bottle!
Sizing: Newborn-3 months – XL Adult. Available in the shop: Yes, PDF or PDF + printed copy shop.
---
Transformation Challenge 2: Refashioning men's jackets and blazers into a woman's outfit
In the upcycling challenge contestants had to use men's jackets and blazers to create a completely new outfit for a woman to wear. Specific patterns weren't used for these tasks as contestants had to create a garment from an existing one in a fixed time so it's a bit tricky for us to make sewing pattern suggestions based on these design ideas.
---
Made-To-Measure Challenge 3: Casual utility jacket
In the final challenge of week three, all the remaining contestants had to make a casual utility jacket in just five and a half hours. Utility fashion is born out of a desire for austere and durable clothes and with this in mind, the utility jacket has always been a classic in men's fashion. The utility jacket is a practical garment made from long lasting fabric such as canvas or demin, cut in a boxy shape with collar and buttoned-down front. For each contestant we have tried to find the pattern they used in the BBC1 TV show and also have some other suggestions of similar sewing patterns you could use to make your own version.
Raph's Shirt Utility Jacket
Features: Green and blue cotton canvas with several pockets and button down front.
Pattern: Wardrobe By Me – Utility Jacket. 
Available in the shop: Unfortunately not.
Adeena's Camouflage, Adam's Navy and Cathryn's Parker Utility Jackets
Features: Four front pockets, zip and additional buttons with elasticated waist and collar.
Pattern: Simplicity S9052. Jacket for men, women and teens. This unlined combat or parka jacket has front separating zipper and button placket. It also has an elasticated waist and four front pockets. It comes with two length and hem-style options with a detachable hood.
Sizing: A (XS-XL) approx. UK sizes A (4/6 – 20). Available in the shop: Yes, paper pattern.
Serena's Summer Utility Jacket
Features: Pattern matched pockets.
Pattern: Ilford Unisex Jacket – Friday Pattern Company. The Ilford Jacket is a versatile style. Its modular design makes for a pattern that is simple yet impactful. It can be customised a million different ways and really is a "choose your own adventure" type of pattern that incorporates your design sense into the project! It features drop shoulders and comes with two sleeve options: a placketed sleeve with cuff, and an easy to sew boxy sleeve for a more relaxed vibe. It also includes two lengths as well as a bunch of pocket templates that you can mix and match! The possibilities are endless! You can wear the Ilford as a jacket or shirt depending on the fabric you use. This is a fun, skill building pattern that you will want to make/wear again and again. This pattern is for everyone and looks great on all genders!
Sizing: XS – 4X (approx. UK 6 – 28). Available in the shop: Yes, PDF, paper and PDF + copy shop.
Farie's Ankara and Lawratu's Safari Utility Jackets
Features: Four slanted pockets, fabric lined.
Pattern: Burda Style Jacket 137 02-16.
Available in the shop: Unfortunately not.
Andrew's Utility Jacket
Features: Orange and blue twill with stud fastenings.
Pattern: Similar patterns would be the Tosti Utility Jacket by Waffle Patterns or McCalls M7638.
Sizing: Boy (3/4-5/6-7/8), Men (S-M-L-XL). Available in the shop: Yes, paper pattern.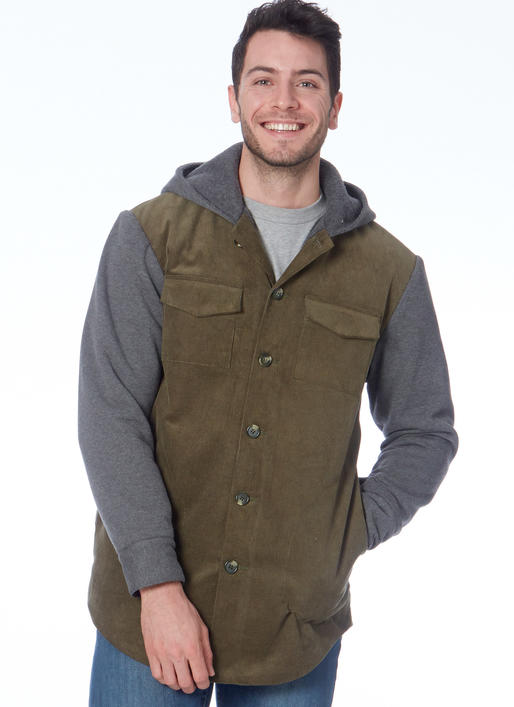 Rebecca's Raglan Sleeve Utility Jacket
Features: Raglan sleeves with collar, front zipper, two front pockets and sleeve pocket.
Pattern: Kwik Sew 4017.
Available in the shop: Unfortunately not.
Damien's Cowboy Utility Jacket
Features: Extended pocket flaps with button up front.
Pattern: Simplicity S8475. Keep warm in these versatile shackets. Pattern in sizes Men S-XL plus Boys S-L all in one package. Shirt-Jackets have option for contrasting yoke and or hood. Can be made in a wide variety of fabrics from flannel or denim to pre-quilted or fleece.
Sizing: A (S M L / S M L XL). Available in the shop: Yes, paper pattern.