Sew The Trends – Winter 2019
Sew the trends is back for autumn, for those new to this, I go scour the high street and hunt out sewing patterns so that your handmade wardrobe stays bang up to date. I set off in a very grisly grey London to hunt out the key trends from all you favourite high street shops. With the changing seasons there is always a desire for something new, and planning winter sewing is amongst my favourite things to do. 
We look at outerwear, dresses, trousers, tops, trousers, skirts and tops. Think we've got a pretty good bit sized roundup. So settle down grab a cup of tea because this is a long old video…
Tailored Coats:
Your winter coat is something you're going to get a lot of wear out of, so it's worth investing some time into. The two options I've chosen are on the easy end of coat making, both are unlined, and would be great options for winter.
---
Jackets:
This short boxy shape jacket was all over the high street alongside your classic denim jacket. It's all about the fabric choice with these jackets look out for a chunky cord, a faux shearling or a large scale check fabric. We've got two fantastic options below that are pretty darn close.
---
Jumpsuits: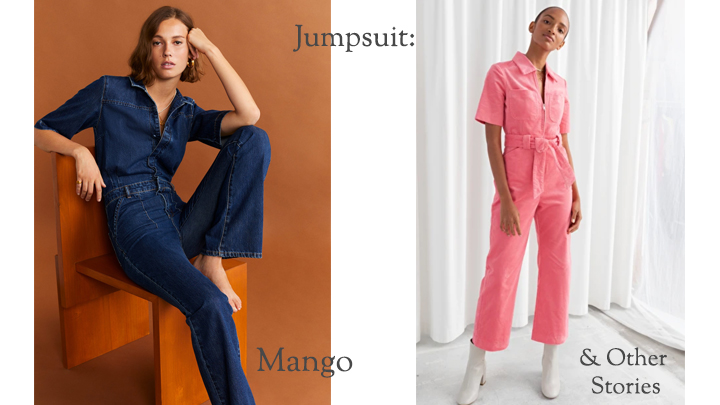 The jumpsuit game is pretty strong this season, the fabrics are a more structured than the ones we saw in summer. There is a strong seventies feel to the shapes that are out there, with a wider and often flaired leg. We loved the two options we found below, although they are more involved makes they will totally be worth it.
When plotting your dress for this season, length is everything! Midi length to full length were all over the high street and for those who love these looks it's time to get well acquainted with gathering! Tiers of gathers alongside a straight skirt with a frilled hem would have you looking bang up to date. For fabrics this androgynous – for those that can resist a floral, look out for something with a black background and a small scale print.
---
Collars:
If the ruffles on dresses weren't enough for you, you're in luck they have crept up the necklines. Everything from full on large ruffles to these more simple gathered necklines
---
Skirts:
I really enjoyed seeing skirts having their moment this season, perfect for mixing in with older items from your wardrobe. I saw three key trends and I think I've found some pretty good options to match.
---
Trousers:
Tailoring is big the season, jet yourself a jacket and matching trousers and you'll be laughing. I really liked that it felt like there was something for everyone this winter, whether you like a wide leg, cropped leg or peg leg there is something for you.