Top 10 sweater sewing patterns

Top 10 sweater sewing patterns
When it's chilly outside we love nothing more than sewing a snuggly jumper sewing pattern. Over the last few months we've seen lots of sweater patterns popping up on social media and here is a list of our top ten jumper dressmaking patterns. Get inspired with our collection of jumper patterns, which are suitable for all sorts of knit type fabrics.
---
---
The Jocko Jumper from French pattern company Ready to sew made our list because we thought it was a really diverse sewing pattern. It's a roll neck jumper with slits in the side and it's bound to keep you warm this winter!
---
---
The Zircon jumper by Paprika patterns is great because it allows you to colour block and use textured knits. It's bold geometric yokes extend to the sleeve and gives a cocoon shape. There are two version so you can also make a much longer dress. Read some reviews of the Zircon sweater here.
---
---
The Astoria jumper from Seamwork is a close fitting cropped sweater, which works for both modern and vintage styles. There are two versions, with different length sleeves and most sizes can be made in under 2m of fabric. Read lots of pattern reviews of the Astoria sweater here.
---
---
The Linden sweatshirt by Grainline Studio is one of the most popular sweater patterns from an indie pattern company and there are lots of reviews you can read here. With a modern shape and raglan sleeves it's got plenty of room to layer. There are two versions with different length bodices and sleeves and the cuffs, bodice hem and neckline are finished with ribbing.
---
---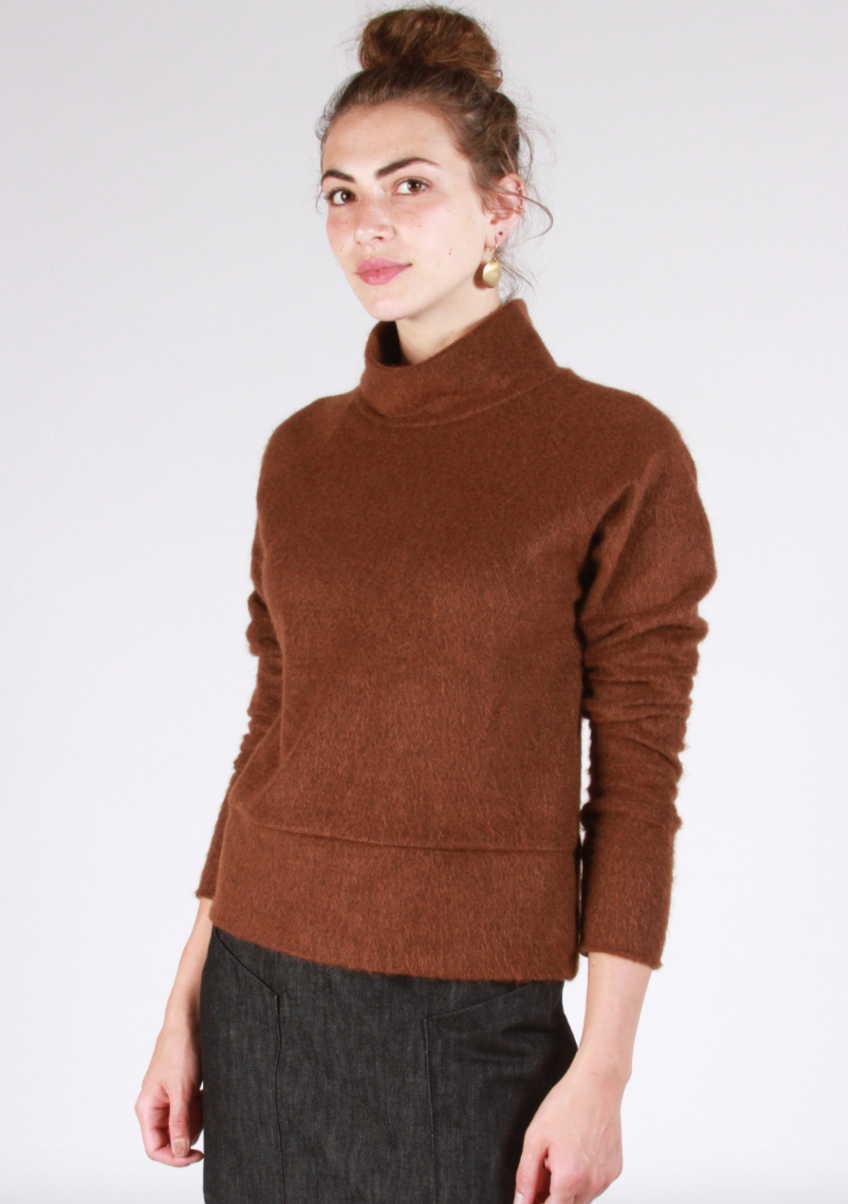 The Toaster sweaterby Sew House Seven has been really popular this year with lots of makes popping up on social media. It had a lovely funnel neck making it extra cosy. There is also the option to make it without the funnel neck but with split sides, so fitting is really easy. It's a great beginner sweater pattern and best suited to more structured knits.
---
---
The Talvikki sweater by Named Patterns is a more complex design and the choice if you want to make a style statement. It is oversized with a turtle neck and dropped shoulders with deep side vents. It also has these lovely neckline darts, giving it a great shape. Again a thicker knit or even fleece would be ideal for this pattern. Get inspired by all these reviews.
---
---
---
Inspired by the Geodesic dome, this sweater by Blank Slate Patternshas an amazing construction. It would be perfect for colour blocking and scrap busting. There are two options, a loose fitting cropped boxy sweater and a tunic length version with pockets.
---
---
The Sirius jumperby I Am Patterns has a classic front but pleated panel in the centre back. The bodice can be made from wool or jersey fabrics, whereas the pleated back can be organza, voile or lace and add a splash of colour or texture.
---
---

The relaxed raglanis a beginner loose fitting raglan sleeve sweater with lots of customising options. The sleeves can be short, 3/4 length or long with or without cuffs. The hem can also be shirt length, curved or tunic length with or without a band. There are also extra details like triangle and elbow patches to add colour and texture. Make this jumper from cotton lycras or sweatshirts.