Sew Reporter – 17th October
Happy Sunday Fold Line gang! It has been a hectic week on the newness front so we will keep this short and sweet you can get on with the fun bit… browsing all the lovely new patterns! We have had five new patterns from The Assembly Line, new styles from Merchant and Mills, Wardrobe by Me and we've added loads of Butterick patterns to the site. Yes, we have been busy!
This reporter is also jam-packed with things to watch, listen to, do and a challenge you could take part in!
Have a wonderful (hopefully sewing-filled) day!
---
We are BIG fans of a statement collar and Lena Kings' latest make is definitely making us a little envious. Lena used the Tilda Dress by Fibre Mood from Edition 16 of the mag and this lovely vintage-style floral. You can read all about it and see loads more pics on Lena's blog, the Unpickstitch Papers.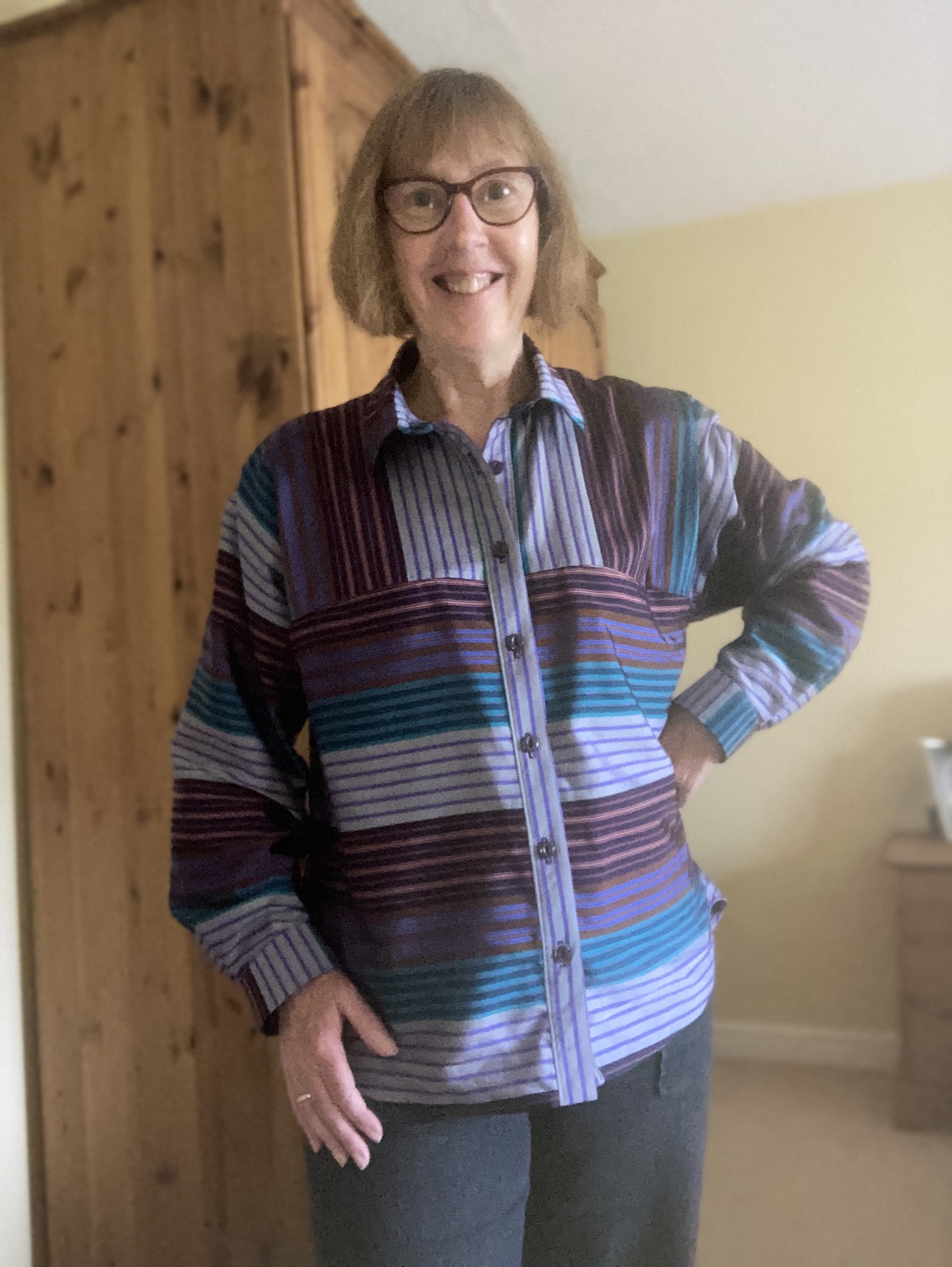 We love how Kay has played with stripes on her Olya Shirt by Paper Theory Patterns, it's just so effective! You can read how Kay found sewing this wonderful pattern in this review!
Emily hacked the Lyra Dress by Tilly and the Buttons to make her dream dress in this lovely pop art style print and the result is sensational! Emily shares the hack details in this blog post on Self Assembly Required.
Robyn Andrea made a divine reversible jacket using an upcycled quilt and the Tamarack Jacket pattern by Grainline Studio. The seams are all bound with a contrasting colour binding so it looks stunning whichever way round it is worn. Check out all the details on Styles In Seams blog – it's a must-see!
Is this is the chicest jumpsuit you've ever seen? We think so! Michelle used the Butterick Dress and Jumpsuit B6130 to sew up this stylish suit and shared her thoughts in this review!
POW! This is a make that packs a punch with this bright, fun print! Emma's Atelier made this striking  McCalls 7637 Bomber Jacket for Mr Prestidge. Emma has made this jacket around nine times before and shared all the details of this make on her blog, Emma's Atelier.
Roo used the Sia Dress pattern from Marsha Style to make "a perfect summer, autumn dress" and is planning the next in lightweight wool for winter, which sounds fabulous!
---

We've had a bumper update of new things from The Assembly Line, Merchant and Mills, Wardrobe by Me and more! Check out all the new in here.
Do you already have a specific design in mind? Or do you need some help finding the perfect pattern for your fabric? You can search all the patterns in our database using our newly updated sewing-specific search tool.
---
PSA: a new sewing magazine is coming! Introducing Tauko Magazine, a pioneering independent print publication for home sewists around the world.
Tauko Magazine includes 12 sewing patterns and detailed instructions that inspire makers of all levels to start a new sewing project, plus interesting articles, interviews and more! Pattern Sizes included: UK 6-32 
PRE-ORDER your copy today, and it will be shipped on the release day – November 15th 2021!
---
We've had a huge drop of Butterick sewing patterns this week, so you can browse the range on The Fold Line shop!
---

It's time for another 'Find That Pattern' and we had so many requests for this one! The Pursuit of Love is one of Kate's favourite books and the TV series didn't disappoint! With a stellar cast, wonderful costumes and lots of humour, it's a must-watch! If you haven't watched it yet,  it's available to watch on Amazon as well as the BBC. There is a video chatting through all the patterns featured. Enjoy!
---

---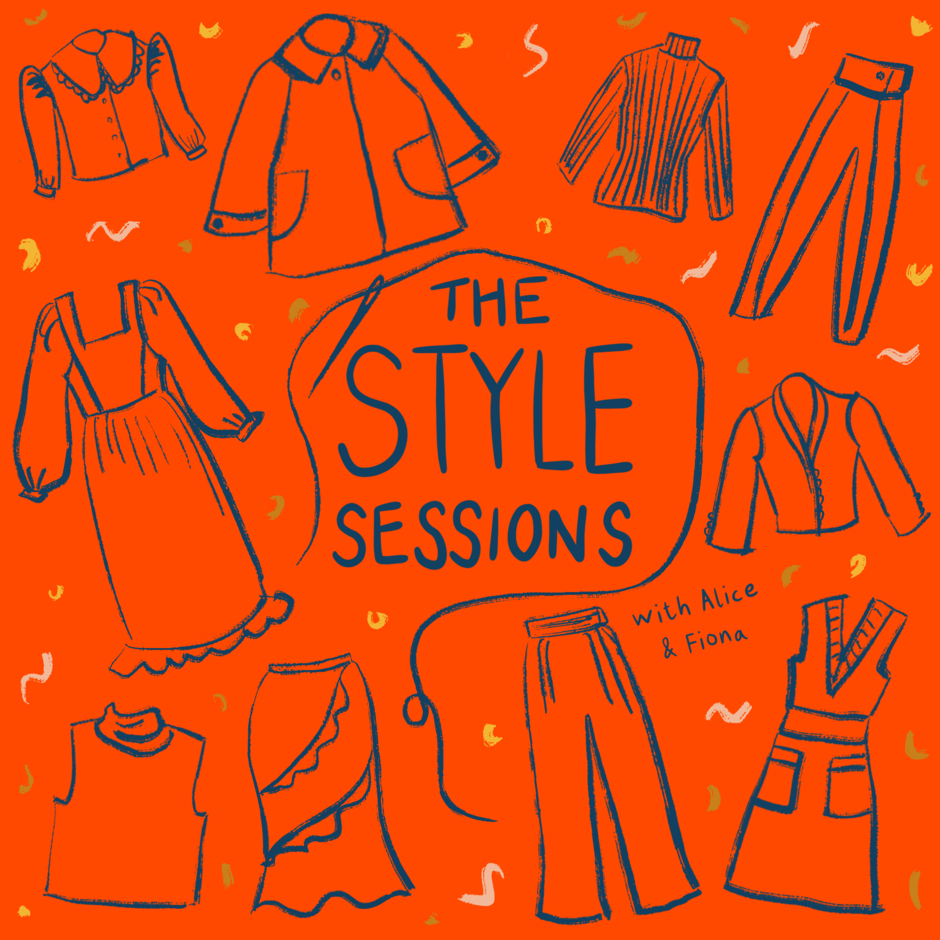 We spotted that Alice & Co have announced a new online class and it's a goodie!
The Style Sessions are all about how to get to know your own personal style and enjoy the confidence and feel-good factor that comes from this so you can be confident that the clothes you sew (and/or buy) will be the ones you always reach for and love to wear again and again. The Style Sessions: Advance into Autumn, is in collaboration with Fiona Ingham, a personal stylist from House of Colour.
Date: Wednesday 20th October / Time: 6.30-8.00pm UK TIME for 1.5 hours (a recording is available for 30 days after the class)
The class costs £25 and you can get 10% off the session with the code: FOLDLINESTYLE
---
We spotted this call on the amazing @blkmakersmatter IG account! Black Makers Matter are committed to showcasing the talent of Black makers. From sewing, art, design, jewellery making and many more crafts, they want to feature you! Find out more on @blkmakersmatter.
If you aren't already following the @blkmakersmatter account on Instagram, give them a follow! The Maker Monday is really inspiring and a great feature to find wonderfully creative makers to follow, within sewing and other crafts!
---

Feeling like you need to dip into your stash and use some pieces of fabric you have been meaning to make up for a while? Check out the #SewWhatIHave challenge, organised by @timetosew and @poplinpeony to encourage people to use their fabric stash and think a bit creatively about it.
There are prizes if you want to take part on Instagram! To enter, post a pic of your work in progress / finished makes by 31 Oct. The post should be related to one of the themes COSY AUTUMN / PRECIOUS (do you want to make something to celebrate autumn? Or cut into some precious or expensive fabric?).
---
---

If you haven't already discovered Madalynne's dreamy lingerie sewing patterns, you're in for a treat! Based in Philadelphia, Maddie is quite possibly the queen of lingerie and intimate sewing! Maddie has a serious love affair with lace and lingerie, so turned her dream of sewing and blogging into a passionate career (read her full story here). Maddie's overarching vision is to provide women with feminine lingerie that is equally beautiful as it is functional. Maddie also has a huge passion for teaching makers how to sew lingerie, so if you are new to sewing lingerie or want a little more help with your Madalynne projects, her YouTube channel is a fabulous resource! We stock Madalynne's range and her collection of patterns for Simplicity too.
---
Come and join our sewing Facebook group where we are chatting about sewing plans, new patterns and helping each other out with projects.