Book review: Ahead of the Curve by Jenny Rushmore of Cashmerette
Book cover © Quadrille (Hardie Grant) / Photographer Brooke Harwood
This week on the blog we are reviewing the newly released book Ahead of the Curve by Jenny Rushmore of Cashmerette. We know a lot of you have been eagerly awaiting the publication of this book and we are impressed with how well put together it is. The aim of this book is to teach you how to change your clothes to fit your body, rather than feeling you have to change your body to fit your clothes. It is the first sewing book focusing on empowering curvy and plus size makers to feel body confident through sewing a wardrobe that fits. Jenny Rushmore is the creative mind behind Cashmerette, an independent sewing pattern company that creates sewing patterns for sizes US 12 – 28 (some to a size 32) and bust sizes C – H (approx. UK 14 – 34, based on our standardised size chart), you can find her full range of designs here.
Jenny describes this book as "a body-positive guide to how to fit sewing patterns if you are curvy or plus size."
The book has three chapters including preparation, a large fitting chapter and the final chapter shows you how to sew the patterns.
Publication date (UK): 14th October. Publisher: Quadrille (Hardie Grant). Get your copy here. 
Along with a lot of help on how to fit patterns, the book also contains five full-size, brand new Cashmerette patterns in sizes US 12 – 32 (approx. UK 14 – 34, based on our standardised size chart) and cup sizes C – H. The patterns are printed and included in an envelope at the back of the book (some of the pieces overlap but they are colour coded). The book also includes a digital code to download layered PDF files in A4/Letter format and A0 format for the five patterns.
Chapter 1 is a short chapter and includes information on measuring yourself, picking your size and making a test garment. All the stages are explained in detail and accompanied by colour photographs or illustrations.
Chapter 2 is the biggest section of the book (over 100 pages!) and includes very detailed fitting guides to many of the common fitting problems we experience when making our own clothes. These are separated into 'fit clinics' and include the bust, shoulders and neck, are, back and the lower half of our bodies. Again, all the steps to making these adjustments are explained in step-by-step detail and illustrated on diagrams and real bodies. This part of the book is invaluable and a modern take on many of the traditional fitting books available. Some of the techniques are tricky, but if you take your time and follow all the advice we think it will be a game changer for sewing your own garments to fit.
Dotted throughout are profiles about the sewing community members that have modelled for the patterns and fitting clinics in the book. It's lovely to hear more about their sewing experiences.
Finally we come to Chapter 3, with all the brand new sewing patterns. Each comes with detailed instructions and you can use the detailed fitting guides in the book to get the perfect fit for your body. The book is really well connected throughout and a lot of thought has gone into the patterns included and how they can be used to illustrate common fitting problems.
Kersoe Top
This is a woven sleeveless v-neck top, with a hidden half-lining for a professional neckline finish and more bra coverage.  In the book, Jenny uses the Kersoe to teach you how to refine darts and deal with sloping shoulders.
Honeybourne Dress
This is a classic fit-and-flare dress with a fitted darted bodice and a panelled gathered skirt. It's a perfect pattern to learn all about full and small bust adjustments, shoulder adjustments and grading between sizes.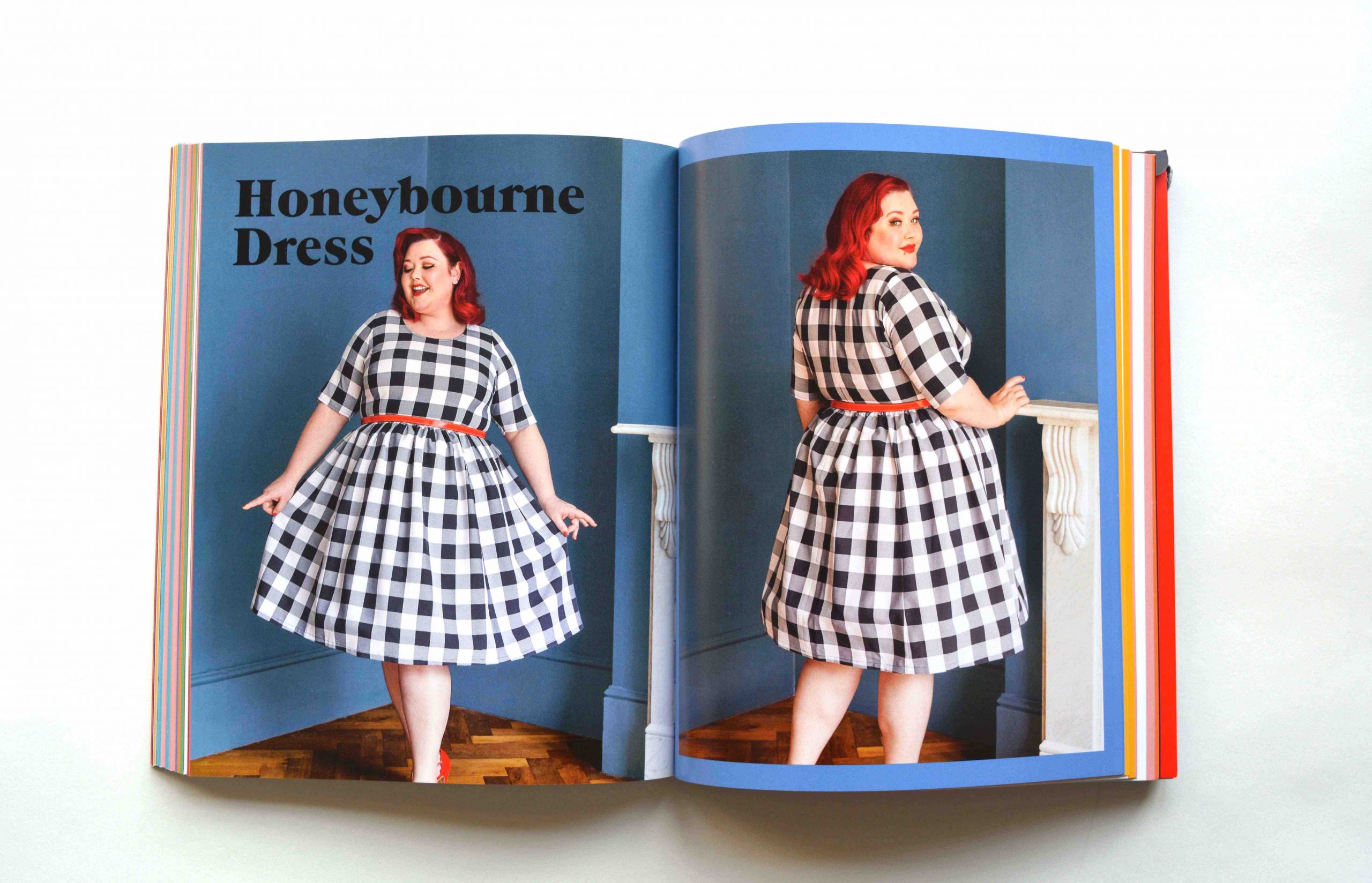 Stanway T-shirt
Raglan t-shirts can be hard to fit if you've got big bust but this top has been designed especially for this. Learn all about knit full bust adjustments, as well full bicep adjustments on a raglan sleeve.
Foxhill Dress
Learn how to fit princess seams and more with the Foxhill Dress. It's the ultimate chic-but-comfy dress, made from thick knits like ponte or scuba, with lots of opportunities to achieve a fantastic fit.
Magna Pants
Pull-on slim leg trousers are easy to sew, with an elasticated back and optional side zip. Learn all about adjusting for a full tummy, thin or full thighs and larger calves.
Disclosure: we requested a copy of this book to review from the publishers and it was sent to us for free. We have not been paid to produce this review.