The Great British Sewing Bee 2021 – Sewing Patterns – Series 7 Episode 5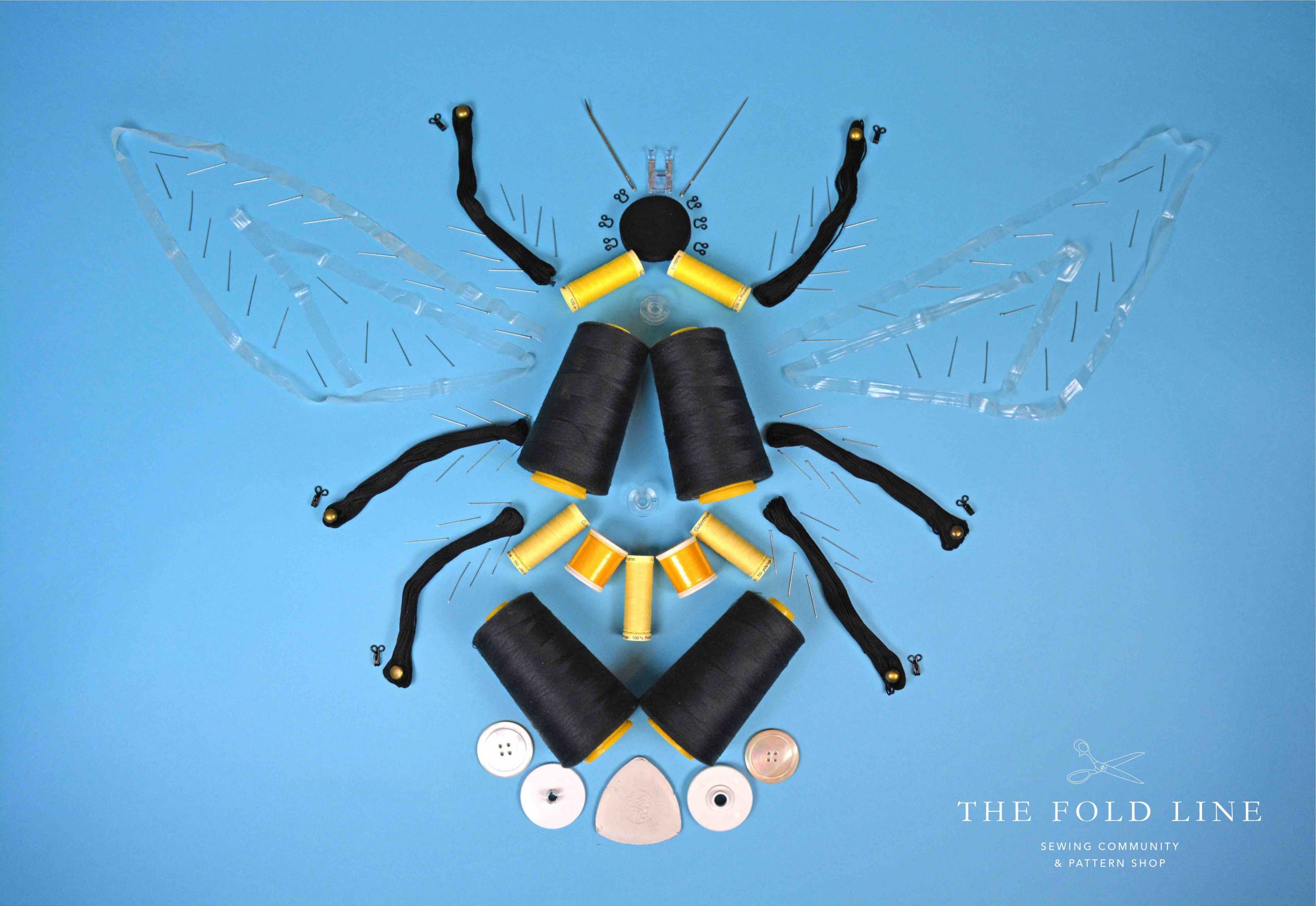 It's week five of the Sewing Bee, how is it half way already?!
This week we move on from global inspired makes to children's clothes. For episode five we have put our detective hats on to discover the sewing patterns from independent designers and commercial pattern houses used in The Great British Sewing Bee TV show. The patterns below are all matches or inspired by the designs used in the fifth episode of the Great British Sewing bee series 7. If you haven't already seen our ultimate guide to the Sewing Bee page do take a look. Unfortunately at the end of episode four we said goodbye to Cathryn after three international challenges.
For episode five the theme was children's garments. The challenges included making a romper suit, an Under the Sea-themed fancy dress outfit from wet suits and a made-to-measure child's raincoat. Take a look at our sewing pattern suggestions below, we've tried to find the exact patterns used but where we haven't been able to  we have plenty of suggestions so that you can recreate these looks at home for your handmade wardrobe. Kate also talks through her favourite pattern options from the episode on YouTube in our special mid-week sewing bee vlog.
If you want to chat about the episode and the challenges then do join us each week in our Facebook group event.
Sewing Bee: Pattern Picks
Pattern Challenge 1: Romper suit
The first challenge of the fourth episode was to sew a romper suit. The history of the romper suit can be traced back to the 1900s in America, where they become popular for toddlers to wear as they are easy to move around in. They were originally described as 'pinafore-like garments'. This was the first time children had worn less formal clothes.  The contestants are challenged with sewing crossover straps, an elasticated back with snap fastenings at the crotch.
For our full range of children's sewing patterns, take a look here.
Penny Romper – Dhurata Davies Patterns
Penny is the sweetest little romper for babies from birth up to 24 months old. The simple design with the classic vibe is perfect to wear on its own on a hot summer day or over a long sleeve vest and tights in cooler weather. It has poppers (snap fasteners) on the shoulders and leg inseam for easy access. Penny also features a front V shaped yoke, inverted front pleat detail, all-in-one sleeve and neckline facings and elasticated hems.
Sizing: Newborn – 24 months. Available in the shop: Yes, PDF or PDF + printed copy shop.
Florrie Woven Romper – Pattern Paper Scissors
This woven romper is a super comfy and stylish all-in-one for your little ones. Easy to layer up, it has tapered legs and an optional gusset. This style is great with a tee underneath or bare-shouldered in the summer.
Sizing: 0 – 24 months. Available in the shop: Yes, PDF or PDF + printed copy shop.
Wild and Free Dungarees – Wild and Free
These casual, harem-style dungarees have options for wide straps, narrow straps, button front, button back, tie back, tie front, patch pockets or in-seam pockets. There is also an optional snap crotch. These dungarees are suitable for children in cloth nappies.
Sizing: 0 – 12 years. Available in the shop: Yes, PDF or PDF + printed copy shop.
Racerback Romper – Elemeno Patterns
Make an adorable romper complete with a snap crotch. It is a really quick sew! I am absolutely obsessed with this pattern–every time my little man wears it people just cannot handle the cuteness!
Sizing: 2-3T. Available in the shop: Yes, PDF or PDF + printed copy shop.
---
Transformation Challenge 2: Refashioning wet suits into under the sea-themed fancy dress outfit
In the upcycling challenge contestants had to use wet suits to create a completely new outfit, an under the sea-themed fancy dress outfit. Specific patterns weren't used for these tasks as contestants had to create a garment from an existing one in a fixed time so it's a bit tricky for us to make sewing pattern suggestions based on these design ideas.
---
Made-To-Measure Challenge 3: Children's raincoat
In the final challenge of week five, all the remaining contestants had to make a children's raincoat in five and a half hours. Modern waterproof raincoats were created by Scottish chemist Charles Macintosh of tarpaulin type fabric, which he termed "Indian rubber cloth". Raincoats are waterproof garments that protect the wearer from the elements and can be made from other breathable weather proof materials. For each contestant we have tried to find the pattern they used in the BBC1 TV show and also have some other suggestions of similar sewing patterns you could use to make your own version.
Farie's unicorn raincoat
Features: Rainbow poppers, cotton lining and unicorn mane.
Rebecca's rain-cloud raincoat
Features: rounded hood and patch pockets
Pattern: a similar pattern would be the Mini Jacques Raincoat by I AM Patterns. I am Jacques, a classic unisex raincoat with a hood. My zipper is hidden by a placket which closes with snap fasteners. I have two big patch pockets to carry your essentials. I am fully lined. In a raincoat fabric, I am a staple for the seaside, and in other fabrics I'll be perfect for a trip into town or a walk in the countryside.
Sizing: 3 – 14 years. Available in the shop: Yes, paper, PDF or PDF + Copy shop.
Adeena's dinosaur raincoat
Features: dinosaur lining, wooden toggles and suit bag material.
Pattern: School Days Jacket and Coat – Oliver and S. Heading off to school through inclement weather? This unisex hooded jacket and coat pattern handles the elements as either a raincoat or a winter jacket. Pattern features patch pockets and choice of duffel closure details. Optional removable quilted lining can be made with or without sleeves for additional warmth.
Sizing: 6 months – 8 years. Available in the shop: Yes, PDF.
Damien's aquatic raincoat
Features: purple lining, magnetic strips and sea-themed shower curtain.
Adam's boat raincoat
Features: detachable hood, whistles and boat pockets.
Pattern: Andie Anorak  – Rebecca Page.
Sizing: newborn – 12 years. Available in the shop: Unfortunately not.
Serena's fun raincoat
Features: pocket flaps and raglan sleeves.
Pattern: Mini Collection – Pauline Alice. The Mini Collection includes three different patterns – a tunic, overalls and a coat – perfect to create a complete outfit. The tunic, inspired by the Breton seamen's jacket, buttons in the back and has front and back yokes, gathers and pockets. The overalls have fastenings at the sides and inseam for practicality and a small front pocket. The lined coat has a hood, raglan sleeves and pockets with flaps.
Sizing: 3 months – 3 years. Available in the shop: Yes, paper pattern.
Raph's French-Guatemalan raincoat
Features: zip and Guatemalan woven strips.
Pattern: Raincoat – Sewing Sanctuary.
Sizing: 2 – 10 years. Available in the shop: Unfortunately not.
Andrew's reversible raincoat
Features: contrast cuffs and pocket flaps.
Pattern: Reversible hooded jacket – Puperita.
Sizing: newborn – 10 years. Available in the shop: Unfortunately not.
Related posts
The Great British Sewing Bee 2022 - Sewing Patterns - Series 8 Episode 4
Read post