New Years Sewing Resolutions 2021
Happy New Year everyone, I have to say I wasn't sure what to write at the start of this blog post. As we tentatively step into the new year, I'm sure you are ready to dust the cobwebs off your sewing machine and start some creative endeavours. We've been chatting to indie designers in our sewing community to find out what their New Year's sewing resolutions are..
I'm planning for 2021 to be a year for me to take stock and breathe a bit. To slow down, take time and get stuck into things I haven't been able to get to over the last few years.
In 2021, my daughter Rowan will start a few kindergarten mornings each week, so I'll finally have a more dedicated and regular work schedule (rather than the haphazard timings of the last one and a half years). With that said, I want to be more deliberate with my time in 2021, so I'm planning a leisurely release schedule for new patterns and expansion packs, with time set aside to focus on updating and releasing some of my older patterns in my 
new extended size range
.
I'll also be spending a bit more time sharing new tutorials and pattern hacks so that sewers can get the most value out of their JLH Patterns, starting with the 
Willa Wrap Coat Sew Along
.
And while 2020 has been an incredibly turbulent time, I'm still proud of what I was able to accomplish. I feel like I was able to round out my offerings a lot with the addition of the new extended 
JLH Curve sizes
, along with my first 
culottes pattern
 and my first 
coat pattern
. Here's to a year of more firsts and more time!
2020 had its ups and downs, but I'm proud of what's been happening at Forget-me-not Patterns. It's been really great seeing people respond so positively, which in turn has helped me take more leaps and back myself more (I find that many creatives I know struggle with self-doubt, and this is definitely true for me)!
This year I worked on transitioning towards full time on Forget-me-not, and I am looking forward to continuing that. Focus is the keyword for 2021! More than anything, I want to focus on releasing as many designs as possible, and continue to provide multiple fit styles (as well as adding extra fit options for existing patterns).
It can be tough running a business, and this year I did neglect my own personal sewing quite a bit! So for 2021, I want to aim to give myself the time to sew for myself. It's really important to keep some personal sewing time; after all, my passion for sewing is what has brought me here!
I'm also looking forward to sharing more with the amazing sewing community online, who have so much to offer. Thanks to everyone who has reached out with positive words and kind thoughts, as well as sharing your gorgeous makes; it means the world.
2020 has definitely been a year of challenges! However, despite all the difficulties we've faced, these troubled times have also brought a welcome space for introspection.
Personally, I found I need creativity in all shape and form to feel balanced. Whether it's the thrill of creating a new sewing design or the meditative qualities of painting, these are just some of the things that bring me joy and a sense of purpose.
In 2021, I want to follow my intuitions and cultivate more joy in my work. In terms of sewing it means curating a wardrobe that makes me feel good and is more ecologically conscious, without compromising on comfort and practicality.
Joy can also be found in the little things and for me, being surrounded by inspirational art and mood boards is key to kickstarting and sustaining new projects. This is why I want to explore all aspect of the creative process and create new things regardless of the medium used. It might mean more illustrative work or diving into designing fabric patterns but it'll all be tied together by a desire to live a more artistic life.
And finally, I believe that when you help others on the same path, everyone develops their skills even further. With that in mind, next year, I want to find new and exciting ways to help fellow Makers craft a creative life. Because we can certainly all benefit from a little more creativity in our lives!
Thank you for all your support during 2020. It has been the strangest year for the whole world but the sewing community has rallied together and shown support to one another as we so often do. For us at Maven, we had big plans for this year and we have managed to move into our lovely new studio and bring Eve in full time, which after 5 years of being in the kitchen has been delightful. Going into 2021 we hope to continue to develop our patterns which are founded on the need for practical clothes that stand the test of time and trend. We hope that in our new sewing space we can start ticking off some of the projects we have been quietly chipping away at for the last few years! For 2021 we would like to continue our journey of only sewing what we need to fill the gaps in our wardrobes so that we are being consistently conscious of only producing what we need. Mrs M has fallen in love with tapestry and fancies some knitting too for 2021, but with so many other projects, we'll keep you posted!
On Opian's side, 2020 has allowed me to move forward in updating the existing sewing patterns with the new size range and the new brand identity. My plan for this new year is to finish the other patterns in order to harmonise the collection. Moreover, every new beginning of the year, I always want to launch lots of new patterns. However, development always takes longer than I would like. It used to bother me a few years ago, but now I'm in tune with this pace.
On a personal side, I would love to sew the clothes that have been on my to-do list for many months/years. Preferring to sew my own patterns, it's a long process! I also hope that this will be the year when I can reduce my working time at my day job in order to dedicate more time to Opian.
In any case, let's keep this year 2020 unique and happy new year 2021!
For me personally, one positive to come from this crazy year is that I had the opportunity to launch Fieldwork Patterns, something I had been working towards but never seemed to have enough time to properly focus on.
I've also had time to reflect on what's important to me and appreciate how much I enjoy making patterns and creating and sharing new styles, especially with the input of my daughter, Georgina. It's been great to have something new and exciting to do in such uncertain times.
I have so many ideas for Fieldwork Patterns and really hope 2021 is the year I can take the business to the next level, I especially want to encourage and support new sewists who are keen to make the move away from fast fashion and create or adapt their own clothes, it would be great to run some local workshops or if possible a sewing retreat here on the Isle of Wight. I am currently developing a number of new styles, the first will be a giveaway pattern to celebrate the first year of Fieldwork Patterns and to thank the sewing community for being so supportive and welcoming. Wishing a happy and healthy 2021 to all!
As we move into a brighter 2021 I am brimming with ideas for pattern hacks, sewing tutorials, and (of course) new patterns! We will have our first gender-neutral pattern design coming out early in the new year and I could not be more excited about it. There are several more patterns in our pipeline and I know 2021 is going to be a big year for us as we continue to grow our collection. I also plan to continue growing our resources on our blog and on Instagram. You'll see more videos and fun projects from me on all our channels. On the personal sewing side, I am so excited to explore quilting and use up more of my fabric scraps. I also plan to continue working on the new non-sewing hobbies that I discovered in 2020 – woodworking and gardening. Cheers to 2021!
Spring 2021 will be the 5 years anniversary of Readytosew ! I'm not particularly good at keeping to New Years resolutions but I always have some plans and for the year 2021 I want to focus on engaging and sharing more with the sewing community and other indie sewing pattern companies. 2019 and 2020 has been two really challenging and difficult years on a personal and professional level and I aim at peace and tranquility for the year to come.
I like to pick a "word/phrase of the year" at the start of each new year. I've chosen "New Horizons" as my phrase for 2021. I look forward to moving into a new home and setting up a whole new studio space from scratch. My dream for this space is that it is organized, inspiring, and efficient for all things Amy Nicole Studio – from filming tutorials to testing new patterns & photographing makes. I am also hoping to release 3-4 new patterns in 2021 and develop a more concise system for releasing patterns on a quarterly schedule. Personally, I'd like to continue learning the guitar and honing my knitting skills. Lastly I have some long-planned project ideas for using up my scraps that I want to experiment with this year. Here's to a fun and productive 2021!
Looking at my goals for this past year is almost laughable… 2020 has been quite a year and I have to say, I'm totally ready to say goodbye and run straight into 2021 like I'm about to win the Chicago Marathon. (I think we all are, right?!)
As I look anxiously towards the new year, the first thing up on my 2021 goal list will be publishing a new collection of patterns. I have 4 (practically ready) patterns that have been sitting on my to-do list for the entire year! Total agony. The Madcap Jacket – Woven Edition is among them and it's time to get that broad out into the world.
This year has been a crazy one so I'm adding this next one back on my list… Working on more collaborative projects. I really enjoy working with other makers, pattern makers and creative businesses. There's something magical when combining creative superpowers, I really dig that energy and I need more of it.
Cheers to sewing more in 2021!
Every year, I tend to make gran plans that I find myself lacking the follow through to actually… follow through! If this year has taught me  anything, it is that I need to be more flexible and much more realistic with my goals! So for 2021, I am keeping things simple (or at least
trying to!) and focusing on just a handful of projects for the year. One of those is really growing my blog content and offering more valuable resources for sewists there. I have a head full of random tips and tricks for sewing, gardening, sustainable living, etc. and it was just recently that I realized I hadn't been sharing much of it. So that is my main goal for next year: to share more! Oh, and possibly finally fill the holes in my poor wardrobe. I don't have much to wear during the coldest or hottest months, haha!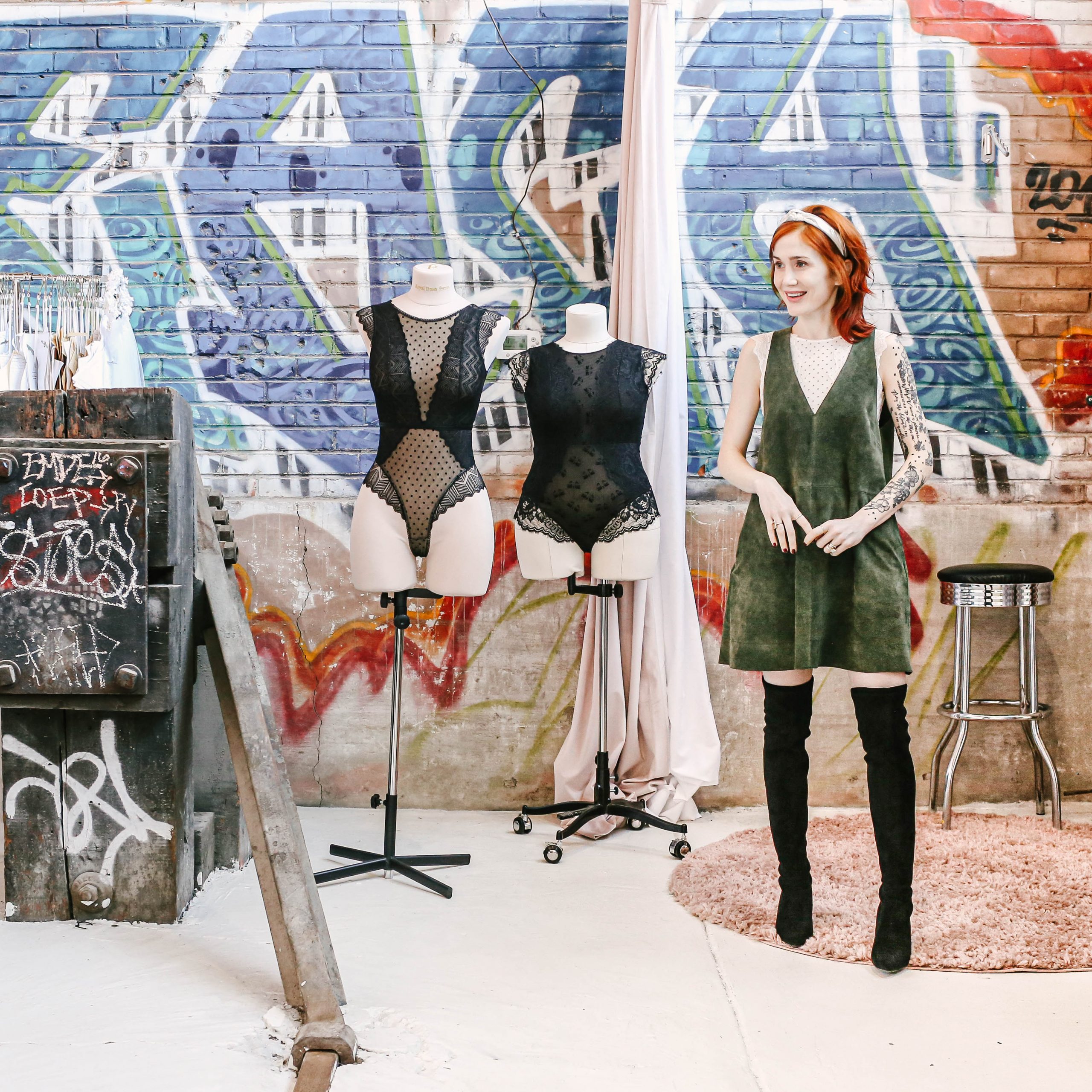 This year has been one for the books – there have been sad stories, but also good stories. When the pandemic first started, I was a mixed bag of emotions that ranged from extreme stress to uncertainty, faith and hope that we'd get through COVID-19, depressed, lonely, etc. I'm generally a positive person, so it was hard in the middle of a worldwide crisis to say this to myself every day, "Where there is turmoil, there is opportunity." Before COVID-19, virtual was not a thing for Madalynne, but now, it's commonplace. I released 4 online classes from March to June and went live each week, sometimes more, on Instagram with a bra making tutorial. My followers got to know me in a way that they never did before, and I got to connect with bra makers around the world who I otherwise wouldn't have. Madalynne also brought on two employees to the team to keep up with all the orders, and we have a blast in the studio every week. I hope in 2021, Madalynne continues on its same trajectory – more online classes, lingerie patterns, bra making fabrics and trims, and more.
After all the crazy wedding sewing this year, personally, I'm looking forward to sewing quicker and less stressful projects. Since getting married in September, I've sewn 4 Tiffany jumpsuits by Mimi G, 2 Wilder Gowns, a few vintage Simplicity dresses, and many lingerie pieces.
On the Folkwear business front, we plan to release a few new patterns in 2021 – and we have some fun ones we are working on.  We are planning to re-release some older patterns that have been re-graded and up-sized, as well.  We are also planning on making more of our patterns available as PDFs, in addition to our printed patterns.  Personally, I also plan to make our 227 Edwardian Gown for myself, with voile and lace insertion but with a bit of a modern twist.  This will be a slower and more meticulous project than I normally sew, but I am looking forward to it.  I want to improve my handwork skills in 2021 and plan to have videos showing some of the handwork techniques used and taught in Folkwear patterns.  On a personal front, I also want to do some non-work sewing and plan to make a pair of jeans for myself
Wow, so 2020 was an interesting year to say the least! We launched Pattern Paper Scissors at the beginning of the pandemic. It was a lifeline for me as I was able to remain creative, and help others get their creative kicks too. The end of this year is now here and so is a new addition to our family, another girl to join us called Ottolie.
My 2021 will be getting used to caring for a newborn again, and taking my eldest daughter to pre school, but as many of us know childcare does not stop those passions to create and I think its so important to maintain that creative outlet and find time for ourselves where possible!
We'll be finding time to do some upcycles using our old loved clothing, or any scraps we've been hording. We're also launching a few new easy-to-wear and fashion focused kids patterns for the spring.
Our bigger aim for the remainder of the year is to get some more adult patterns launched, especially some twinning ideas for the whole family! And I'd love to start running some lessons on sewing for kids gifts and such like, but we'll see how that goes with our newbie on board.
Lastly, one of my favourite things is seeing what everyone's made. I can't wait to get cracking with all of the above, and to keep finding amazing new makes on social media that everyone has done, its such a fab community! Happy New Year to you all!!
You Made My Day Patterns will start its 3rd year by launching new patterns, there is un upcoming pants pattern and a couple of blouses…
With the usual You Made My Day Patterns… nice pleats, statement sleeves, nice volumes…
All the previous patterns will have new tutorials that will be even more clear with technical drawings and step by step explanations. Some of them will be accompanied by a video tutorial to even go further.
You Made My Day will be beautifully expanding its 2019 and 2020 publishing projects by participating in a new one.
Our patterns are a statement of fashionable confort for every women daily routine, and we'll keep pushing our boundaries to bring you unique yet everyday patterns
Happy New Year!
SIZE:me Sewing is a very new business and 2021 will be my first full year. I have lots of plans and challenges in store.
For me the easiest part is the designing and developing patterns, in fact I'm already working on the Vienne Collection and hope to release the 4 patterns in February/March. I'm really excited about these patterns especially my very first dress!
The biggest challenge for me may seem very basic to some, but I'd really like to improve my photography to help my social media presence. Brand awareness is absolutely key to SIZE:me but it's not something that I've done before so it'll be a steep a learning curve.
I've set a goal of 3k Instagram followers and 1k Facebook followers by the end of 2021 so if you don't already follow me please pop over and say Hi.
I'm really looking forward to everything 2021 has planned for me and hope it's a successful year for everyone.
Donna x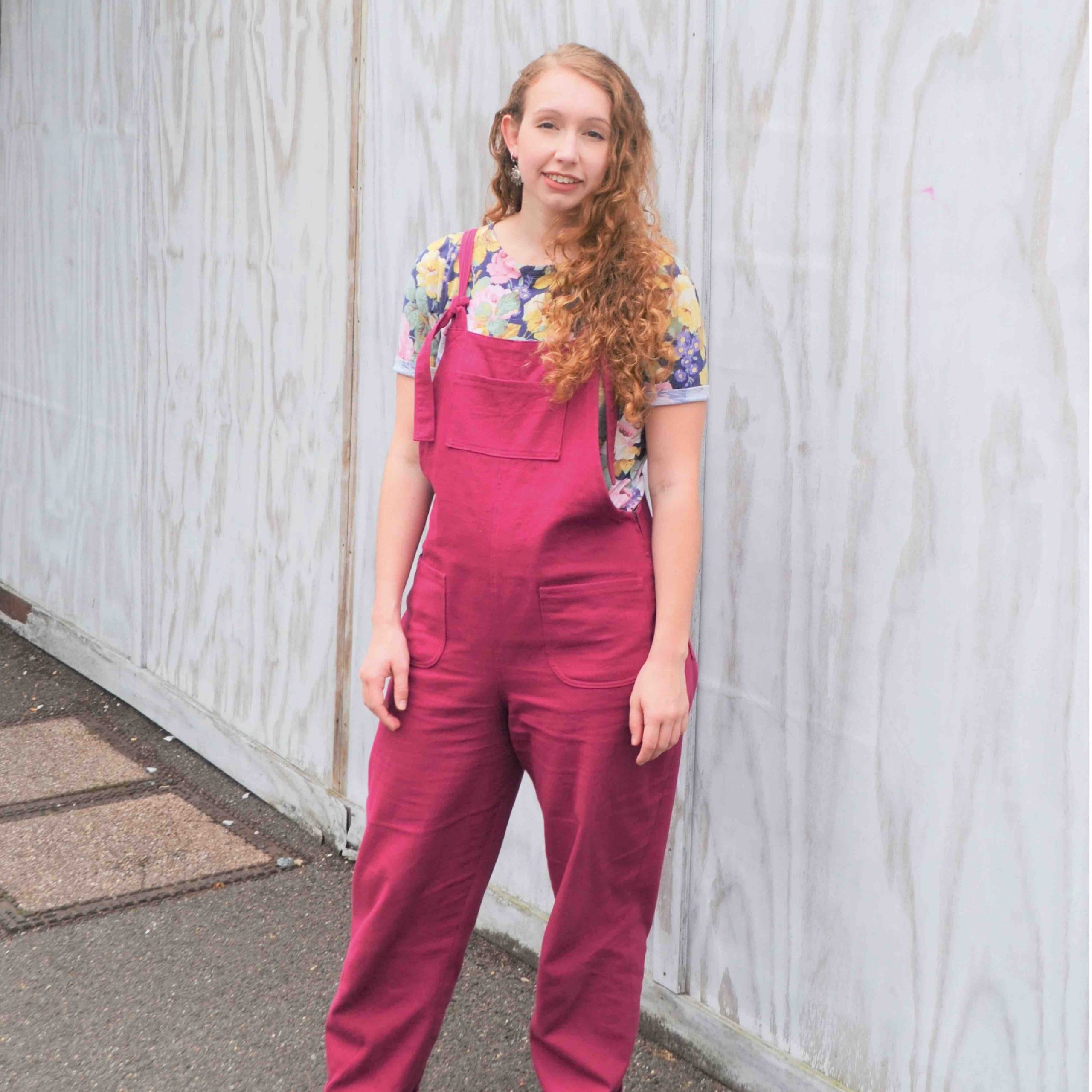 What a year it's been! I launched Stitched In Wonderland in August and have had such overwhelming support from the sewing community.
My sewing resolution is to keep pushing ahead and finding new ways to expand the company. It can be tempting to slow down and stay within my comfort zone, but I want to keep growing Stitched In Wonderland and bringing exciting things to my customers. I've got some fantastic designs planned for 2021 that I can't wait to get started on!
2020 was such a hard and unexpected year but I'm really proud of everything that I was able to accomplish. Staying at home for nine months turned out to be great for my productivity. In 2020, I updated two existing patterns, released three new patterns and launched my improvisational quilting e-course. The e-course has been in the works since 2018 so it feels really amazing to have it out in the world.
One thing I learned from the upheaval of 2020 is that you really can't predict what's going to happen in the future and it's important to take one day at a time, to appreciate the present moment and be grateful for all the blessings that are already here. Going into 2021, I'm feeling hopeful but also a little reticent to set big plans and goals because I just don't know what the year will bring.
I do want to continue working on my improv quilting course and the principles behind it–teaching garment sewists how to use their fabric scraps in new ways and to think about how to incorporate sustainability into their sewing practice. I also want to do more to support the #sewingtall community and create a course for beginner sewists. Plus, I have loads of ideas for new sewing patterns that I want to work on.
With all those ideas for new things to do, my goal remains the same pretty much every year – staying focused on one project long enough to actually finish it. Plus, I want to maintain a good balance of work vs rest time, and computer vs creative time. Oh, and I also want to keep working on using my stash fabric. I wish everyone a happy and healthy 2021!