British Sewing Bee Final 2020 – Series 6 Episode 10 – Sewing Patterns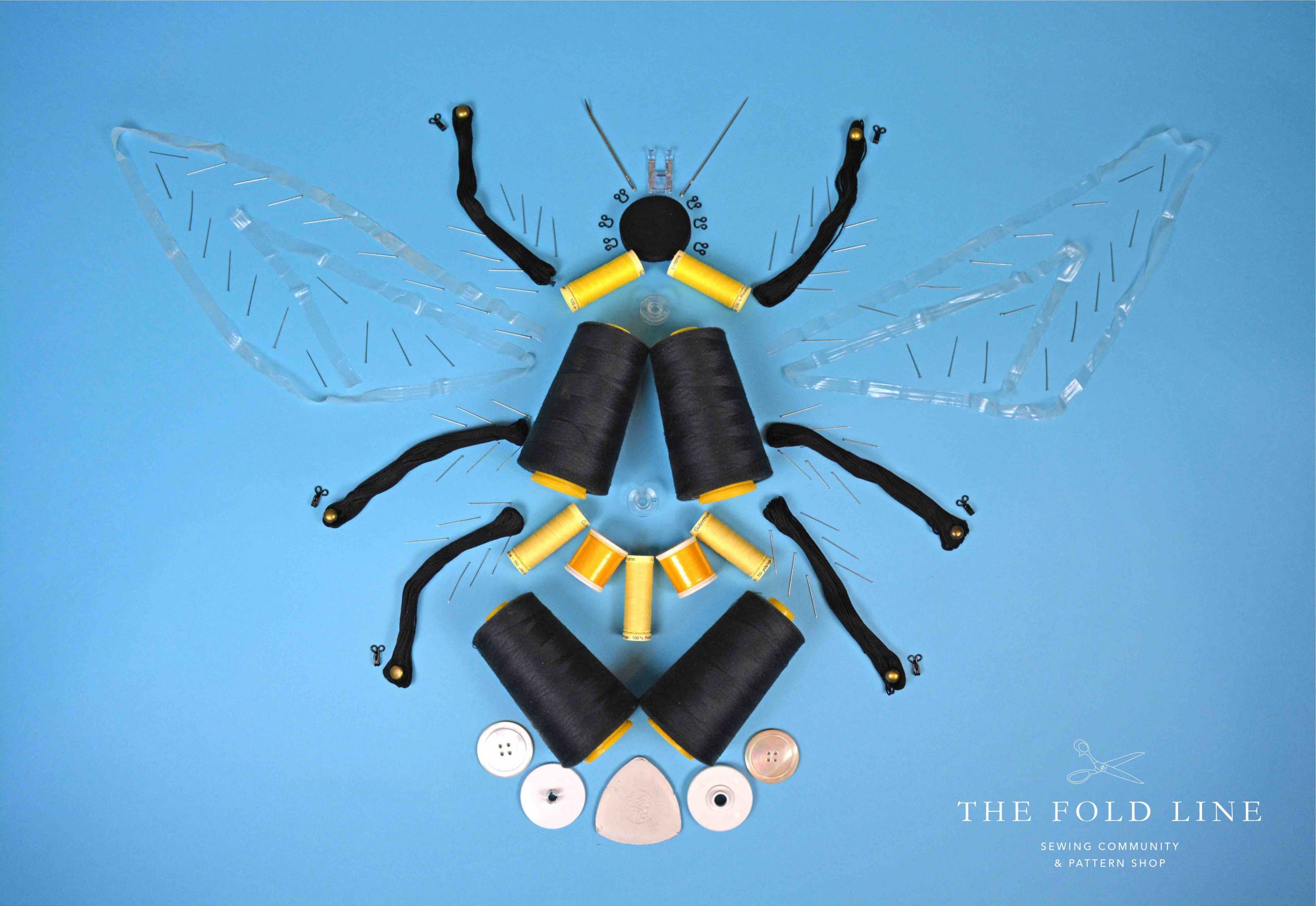 How are we here already,? It's the final episode of the Sewing Bee!
We are so thrilled to have been watching the Sewing Bee each week on BBC 1 although now we have reached the final episode. We have searched high and low to bring you the best selection of sewing patterns from independent designers and commercial pattern houses. These are all inspired by the the tenth episode of the Great British Sewing bee series 6. If you haven't already seen our ultimate guide to the Sewing Bee page do take a look, we've got loads of exciting Sewing Bee goodness including a review of the book that accompanies the series!
In this tenth episode there are three contestants remaining, after we sadly said goodbye to Liz in week nine. The sewing bee theme for week ten is celebration wear! The challenges included making a little boy's kilt without a pattern, transforming party dresses into carnival outfits and making a made-to-measure cut-out evening gowns for their model using yards of luxury fabrics. Take a look at our sewing pattern suggestions below, we've tried to find the exact patterns used but where we haven't been able to figure it out we have plenty of suggestions so that you can recreate these looks at home for your handmade wardrobe. Kate also talks through her favourite pattern options from the episode on YouTube in our special mid-week sewing bee vlog.
We've also included some sewing tips and tricks from bloggers and pattern designers in the sewing community to help you with any of the techniques used by the contestants in the TV show. If you are looking for women's dresses not featured in the sewing bee episode this week you can search our shop for sewing patterns here. If you want to chat about the episode and the challenges then do join us each week in our Facebook group event.
Sewing Bee: Pattern Picks
Challenge 1: Kilt (without using a pattern!)
The first challenge of sewing bee week ten was to sew a boy's kilt without using a pattern. With no pattern to use, contestants had to calculate how to create equal pleats and fit the kilt to their mannequin. The kilt is a traditional garment of Scotland originating from as early as the 16th century. It's a wrap skirt usually finishing at the knee and has subsequently evolved to include pleats, straps to fix it at the side and made from a wide range of tartan fabrics. The colour of the tartan fabric represents belonging to a clan or region. We weren't able to find a children's kilt pattern but here is a suggestion for womenswear. 
Folkwear – 152 Scottish kilts
Pattern: The 152 Scottish Kilts and Men's Jacket and Vest sewing pattern from Folkwear. The romance of the Scottish Highlands is alive and well in this authentic kilt, kilt skirt, and Prince Charlie jacket and vest. To complete the ensemble, knit the lacy vest for women and the argyle socks for men. The pattern includes complete instructions for measuring, pleating, and constructing the kilt and kilt skirt, and pattern pieces for cutting out and instructions for sewing the jacket and vest. For the Kilt, choose medium-weight worsted twill tartan wool. For the Jacket and Vest, choose suit-quality medium-weight wool or blend. Jacket lapels should be heavyweight silk (peau de soie or similar quality).
Sizing: All sizes // Jacket and Vest: Men's 36 – 48 // Knitted Vest: Women's S – L. Available in the shop: No, available directly from the designer. 
Assembly Line – Three Pleat Skirt
Pattern: The Three pleat skirt has a pleated front and a plain back which gives a flattering fit. It features right side pocket and left side zipper opening. Make in mid to heavy weight fabrics such as denim, cotton twill, lightweight canvas.
Sizing: XS-L, approx. UK size 8-20. Available in the shop: Yes, paper pattern.
New Look – Skirt 6659
Pattern: Skirt sewing pattern in two lengths. Skirts with waistband, fasten at the side and have stitched pleats to one side front and back. View A is knee-length and View B midi-length with side front split.
Sizing: XS-L, approx. UK size 8-20. Available in the shop: No, available directly from the designer Sew Direct. 
Burda Style – Skirt 6466
Pattern: Pleated skirt with waistband – the pleats run all around your body. The pleat underlay pieces are stitched on separately to let you play with colors and fabrics.
Sizing: 8-20. Available in the shop: No, available directly from the designer Sew Direct.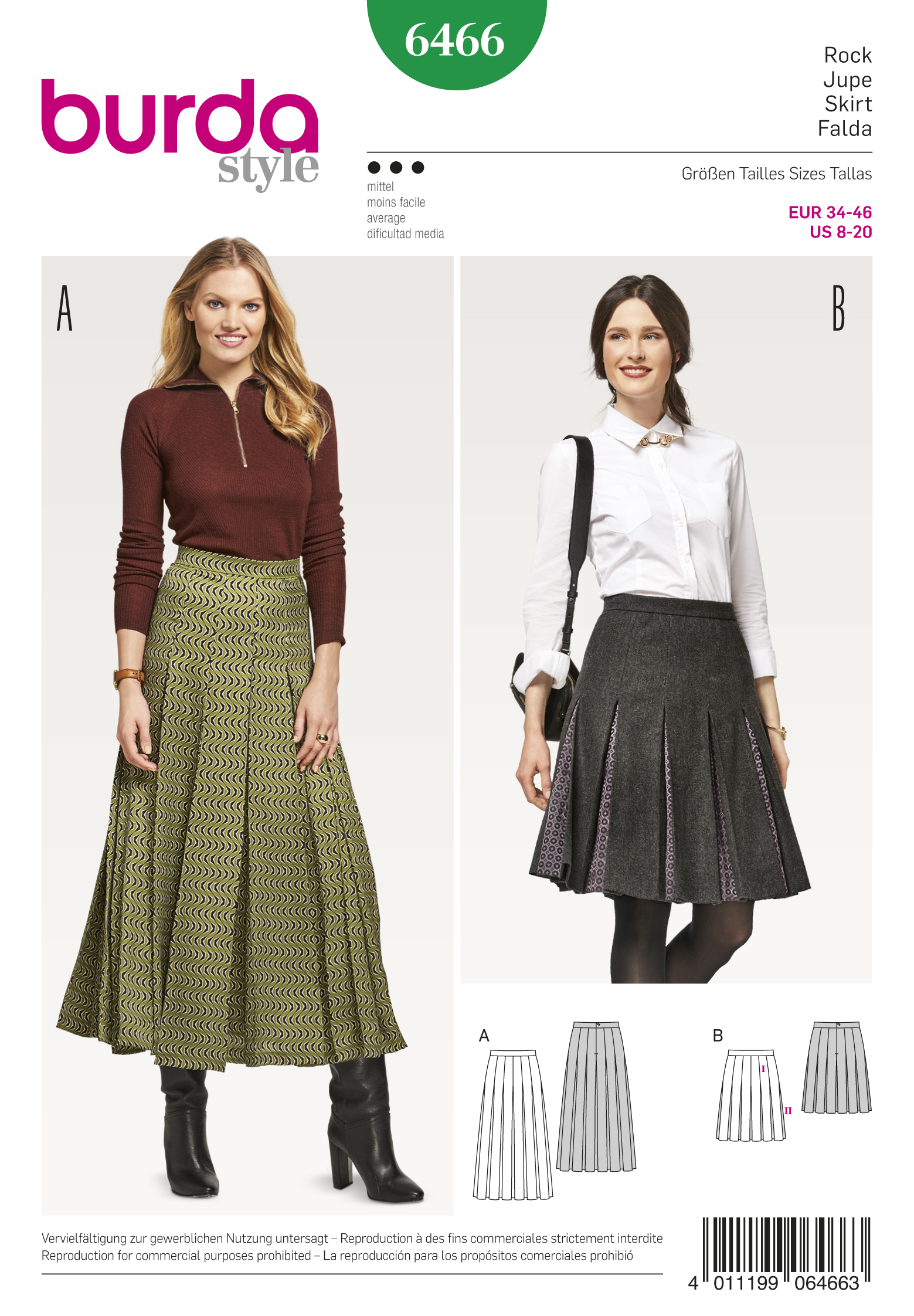 ---
Challenge 2: Transforming party dresses into carnival outfits
In the upcycling challenge contestants had to use party dresses and transform them into carnival outfits. Specific patterns weren't used for these tasks as contestants had to create a garment from an existing one in a fixed time so it's a bit tricky for us to make sewing pattern suggestions based on these design ideas.
---
Challenge 3: Made-to-measure red carpet gown
In the final challenge of week ten, all the contestants had to create a cut-out evening gown for their model using yards of luxury fabrics. For each contestant we have tried to find the pattern they used in the BBC1 TV show or some suggestions of evening gown patterns you could use to make your own versions.
Clare's '1930s Hollywood' Red Carpet Gown
Features: Bust cut out, red silk crepe backed satin and 16 panel bodice. 
Pattern: #3301 1930s Evening gown. Get ready for 1930s Hollywood! This fabulous vintage pattern is from 1933. It is a wonderful evening gown that could easily be adapted into a wedding gown. The side skirt piece is cut to take advantage of bias drape. The back is low cut but not too daring. We were able to find a "convertible" bra at a major department store that worked fine with the finished dress. The front neckline is a flattering V-neck with a triangular cut out for added glamour. The fit is what you might expect. There is 4″ of ease at the bust but only 3″ of ease at the hips. Lightweight or dress weight fabrics with a nice drape would be appropriate. Bodice is self lined and the skirt is fully lined.
Sizing: Bust 30-34″, 36-40″ and 42-46″. Available in the shop: No, available directly from the designer Decades of Style.
Matt's 'Leather and Gold' Red Carpet Gown
Features: Black and gold brocade skirt with faux leather harness and bodice cut out.
Pattern: Self-drafted. If you would like to recreate Matt's outfit you could try combining the skirt of the original 1956 Vogue Pattern V8729 and bodice of the Vogue Patterns V1616.
Vogue Pattern V8729. An original 1956 design, this lined dress is close-fitting through the bodice, back extending to forward shoulder. Underskirt A, B: Hook and eyes on yoke, no zipper. Make with chiffon, georgette, point de esprit or voile.
Sizing: 6 – 12 and 14 – 20. Available in the shop: Yes, paper pattern. 
Vogue Patterns V1616. One shoulder dress is close-fitting through bust and fully lined with interfaced partial underlining, boning with self bias covering, invisible side zipper, princess seams, neckline and armhole stays, drape detail, lower edge extending into train and very narrow hems throughout. Make with crepe, velvet or crepe back satin.
Sizing: 6-14 and 14-22. Available in the shop: Yes, paper pattern.
Nicole's 'Feathers and bling' Red carpet gown
Features: Bejewelled neckline with sequinned feather skirt and side silt. 
Pattern: Simplicity S8330. Arrive at your next special occasion in a gorgeous open back mermaid style gown or choose a classic little black dress. This pattern is versatile enough to give you both looks. The sleeveless halter dresses can be made short, long with a leg slit or with a mermaid tail of tulle. Dresses features an invisible zipper and a button and loop closure on neck band. 
Sizing: 4-12 and 12-20. Available in the shop: No, available directly from the designer Sew Direct. 
---
Sewing Bee: Tutorials and top tips
Here are tutorials from indie designers and bloggers to help you get to grips with the techniques used to make the patterns in the show. Each week there are some tricky skills that the sewing bee contestants have to tackle, so it's a great opportunity to give these a go for yourself and build on your sewing knowledge.
How to sew pleats
Seamwork share a tutorial on how to create your own pleats.
Sewing with silk and drapey fabrics
By Hand London share their nerdy sewing tips on using silk and other drapey fabrics.
Related posts
The Great British Sewing Bee 2022 - Sewing Patterns - Series 8 Episode 4
Read post