The Great British Sewing Bee 2020 – Series 6 Episode 8 – Sewing Patterns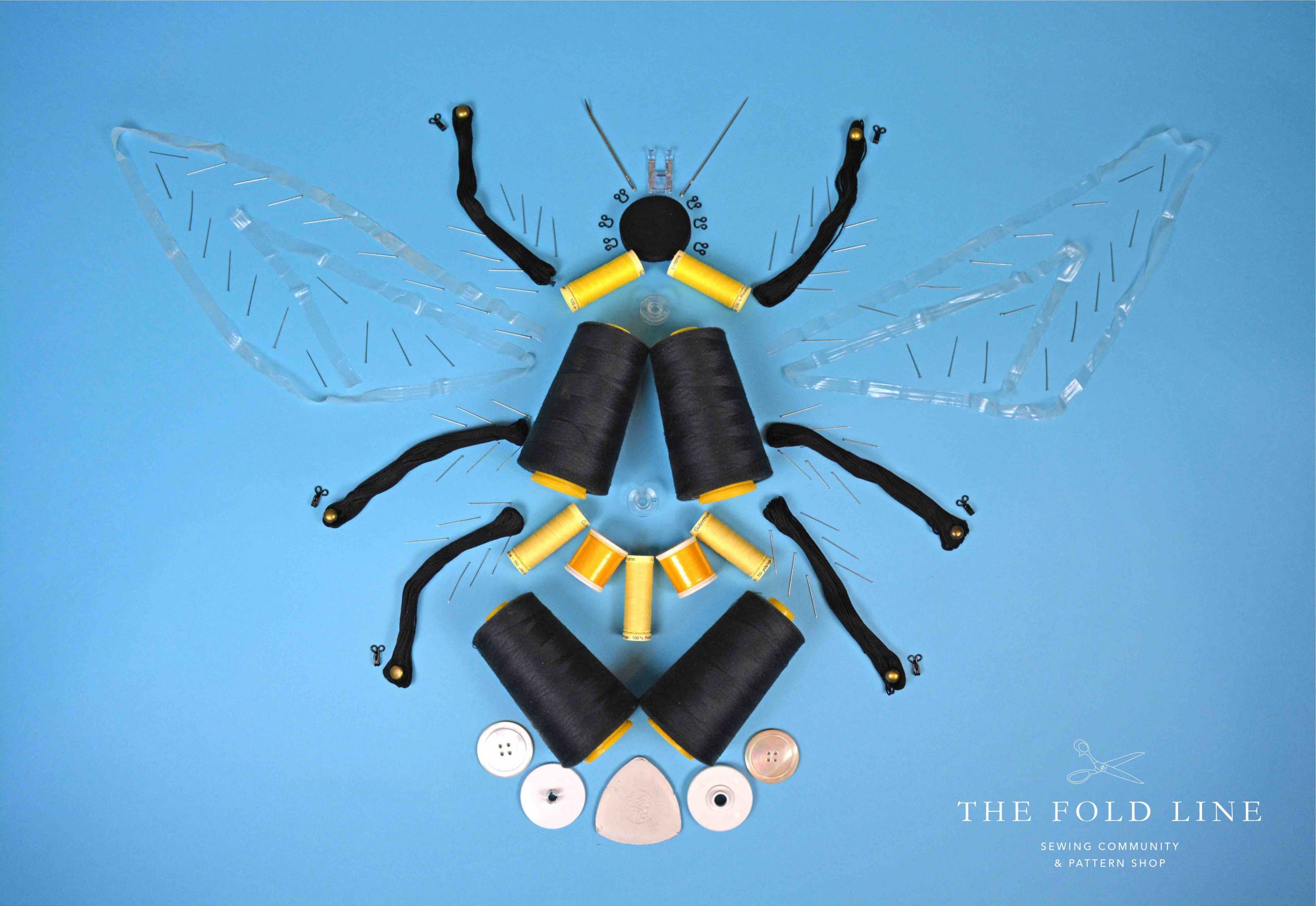 Here we go, it's week eight of the Sewing Bee!
We are so excited to have the Sewing Bee to look forward to each week on BBC 1, just what we all need right now. We have searched high and low to bring you the best selection of sewing patterns from independent designers and commercial pattern houses. These are all inspired by the the eight episode of the Great British Sewing bee series 6. If you haven't already seen our ultimate guide to the Sewing Bee page do take a look, we've got loads of exciting Sewing Bee goodness including a review of the book that accompanies the series!
In this eight episode there are five contestants remaining, after we sadly said goodbye to Therese in week seven. The sewing bee theme for week eight is sewing global! The challenges included making a Filipino Terno blouse, transforming Provencal table cloths from France into new outfits and making a made-to-measure Flamenco skirt from southern Spain. Take a look at our sewing pattern suggestions below, we've tried to find the exact patterns used but where we haven't been able to figure it out we have plenty of suggestions so that you can recreate these looks at home for your handmade wardrobe. Kate also talks through her favourite pattern options from the episode on YouTube in our special mid-week sewing bee vlog.
We've also included some sewing tips and tricks from bloggers and pattern designers in the sewing community to help you with any of the techniques used by the contestants in the TV show. If you want to chat about the episode and the challenges then do join us each week in our Facebook group event. If you are looking for women's jackets or dresses not featured in the sewing bee episode this week you can search our shop for sewing patterns here. We also have a blog post where we share fantastic coat and jacket sewing patterns whatever your sewing level!
Sewing Bee: Pattern Picks
Challenge 1: Filipino Terno blouse
The first challenge of the sewing bee week eight was to sew a Filipino Terno blouse. This blouse looks very elegant but is difficult to sew because the heavier weight fabrics are tricky to work with to achieve the large butterfly sleeves and covered buttons. The Filipino Terno blouse has a complex cultural history and we weren't able to find any patterns that have specifically been designed reflecting the traditional design and heritage of this garment. Instead we are sharing some modern blouse sewing pattern suggestions below which feature a gathered sleeve design or square neckline.
The Friday Pattern Company – Square Neck Top
The Square Neck Top sewing pattern from The Friday Pattern Company is an easy make designed for knit fabrics. The top has front darts with a square neckline and facing and overall dolman silhouette. The hem falls just below waistline. Make with knit fabrics with at least 10% stretch.
Sizing: approx. UK size 6-20. Available in the shop: Yes, paper or PDF pattern.
Fibre Mood – Norma Blouse
The Norma Blouse sewing pattern from Fibre Mood has lavish three-quarter length balloon sleeves that are full at the shoulders, have puffed wrists and gathered seams. This short V-neck blouse effortlessly steals the show when paired with a high-waisted skirt, jeans or trousers. All kinds of fabrics work, but it goes without saying that your statement sleeves will stand out more in a stiffer fabric, such as poplin, raw silk, nylon, organza, etc.
Sizing: EU 32 – 58 / US 0 – 26 (approx. UK 6 – 26/28). Available in the shop: Yes, PDF and we can print the A0 copy shop version for you too.
The Friday Pattern Company – Sagebrush Blouse
The Sagebrush Top is an elegant and easy-to-sew blouse that is a joy to make and wear. Loose without being baggy, it has the type of breezy fit you'll want to wear all summer. Generous puff sleeves and gathers across the front make it comfortable to move in. The tie at the back neckline makes it cute! The Sagebrush looks great tucked into something high waisted. The Sagebrush Top is designed for woven fabrics such as cotton voile, rayon challis, linen that isn't too heavy, silk, and cotton shirting. If you choose a more rigid fabric, it will have more structure. If you choose a drapey fabric, it will be more flowy.
Sizing: XS – 7X (approx. UK 6 – 34). Available in the shop: Yes, PDF and we can print the A0 copy shop version for you too.
---
Challenge 2: Transforming Provencal table cloths from France into new outfits
In the upcycling challenge contestants had to use Provencal table cloths from France and transform them into new wearable outfits. Specific patterns weren't used for these tasks as contestants had to create a garment from an existing one in a fixed time so it's a bit tricky for us to make sewing pattern suggestions based on these design ideas.
---
Challenge 3: Made-to-measure Flamenco Skirt from southern Spain
In the final challenge of week eight, all the contestants had to make a Flamenco skirt from southern Spain to have a figure hugging fit and dramatic ruffles using lots of fabric. For each contestant we have tried to find the pattern they used in the BBC1 TV show or some suggestions of skirt patterns you could use to make your own versions.
Matt's 'Modern Scuba' Flamenco Skirt
Features: Scuba fabric, deep waistband and side flounces in contrast red and yellow.
Pattern: Self-drafted.
Clare's 'Formal Curtain' Flamenco Skirt
Features: Clare used curtain brocade, knee-high ruffle and boned high waistband.
Pattern: We couldn't find the exact pattern used by Clare but a close match is Burda Style 2486 Flamenco Dress (out of print).
Sizing: EU 36 – 48 / US 10 – 22. Available in the shop: No, out of print, try third party reselling sites such as Ebay and Etsy.
Nicole's 'Global' Flamenco Skirt
Features: African wax print fabric, ribbon trim waistband, tiered ruffles and gold-trim hem.
Pattern: Nicole adapted the 140 Flamenco Dress from Folkwear. A sensational fashion for dancing or dress-up, with lavish flounces that move with flash. The Dress has princess seams for a semi-fitted silhouette; the princess seams start from the shoulders rather than the armholes to facilitate arm movement.  Flounced cap sleeves, V-neck front, scoop back neckline, and four layers of flounces attached to foundation tiers complete the garment. The Skirt has back waist darts and raised waistline and up to three flounces.  Make it with all three flounces or just one flounce for a salsa-hot mini. Make simple-sew fabric Rose accessory to attached to dress or pin in hair. Suggested fabrics include Silk or polyester douppioni, taffeta, faille; other fabrics with body and slight stiffness. For lightweight drapey fabrics, lightly interface flounces.
Sizing: X Small to X Large. Available in the shop: No, directly from the designer.
Liz's 'Gothic' Flamenco skirt
Features: Tight-fitting waist, three full ruffles and high low hem in contrasting red and black.
Pattern: McCalls M6770 Steampunk Jacket and Skirt Costume (out of print). This pattern comes with a jacket, bustle/capelet, skirt and pants. Lined jacket: Collar, lapels, princess seams, shaped hemline, back slit, loops with lacing and button trim on sleeves. Bustle/capelet: Band. Skirt: Flounce (wrong side shows), and shaped hemline. Pants: Mock-fly zipper and purchased bias tape for elasticised casing. Designed for lightweight to medium-weight woven fabrics.
Sizing: 6 – 12 and 14 – 18. Available in the shop: No, try third party reselling sites such as Ebay and Etsy.
Mark's 'Wrap' Flamenco Skirt
Features: Waist tie and two long panelled ruffles.
Pattern: Simplicity 8606. A wrap skirt with length variations with or without ruffle. Great as a beach cover up or day to evening. Length options include mini, knee, midi and maxi.
Available in the shop: No, direct from the designer Sew Direct.
---
Sewing Bee: Tutorials and top tips
Here are tutorials from indie designers and bloggers to help you get to grips with the techniques used to make the patterns in the show. Each week there are some tricky skills that the sewing bee contestants have to tackle, so it's a great opportunity to give these a go for yourself and build on your sewing knowledge.
How to make fabric covered buttons
Watch this video tutorial from Melly Sews about how to create fabric covered buttons.
Gathered sleeve tutorial
Hey June Handmade shares a gathered sleeve head tutorial.
Related posts
The Great British Sewing Bee 2022 - Sewing Patterns - Series 8 Episode 4
Read post