Sew The Trends – Spring
---
Hi Pals, Kate here and this week I'm chatting over some sewing pattern ideas for Spring. This time of year can be tricky with random weather and it's always difficult to know when to put away the jumpers.
With this in mind i've done a round up of outfits I think would work really well over this transitional period. I had a look at what was going on on the high street and picked a range of sewing patterns that will work for layering that you can take forward as the sun starts to make an appearance.
You will find some cami tops, jumpsuits, workwear jackets, blazers and midi-length skirts, which will let you mix and match. With some casual wardrobe basics mixed with a little tailoring, I hope I've included some patterns that'll  inspire your next make.  Overall there is definite late 80s, early 90s vibe to the high street. All the patterns that are mentioned in the video are below so you have have a proper look.
This wardrobe staple is all over the high street in lots of different variations, from tops with delicate lace trims to gathered shoulders and button up fronts. Most of the cami tops had a v-neck and were often styled with t-shirts underneath. We have three great patterns that are perfect to recreate this trend.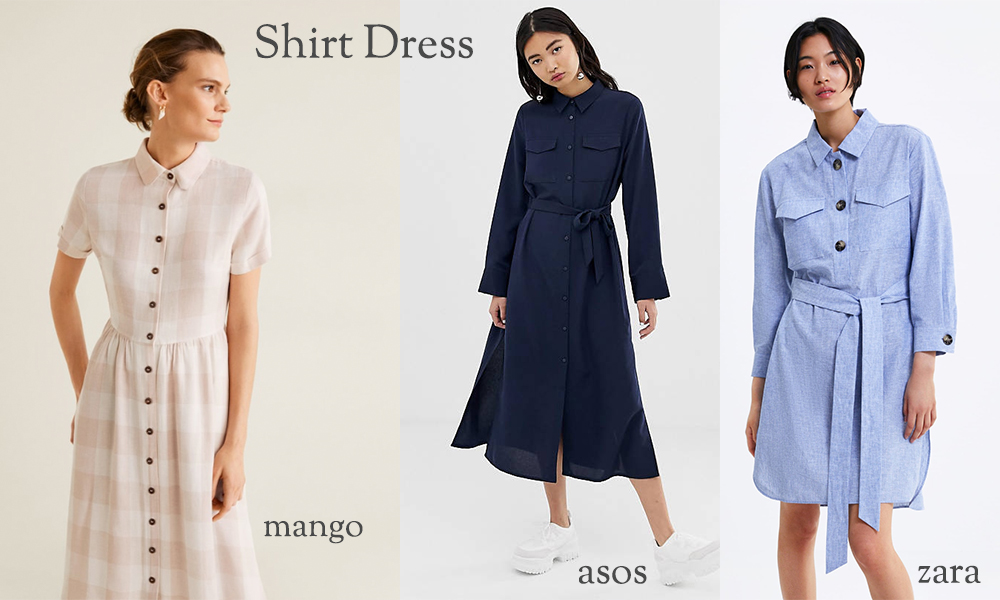 Shirt dresses are reimagined for high street this season in two main styles, a classic 50s style shirt dress with gathered skirt or a more utilitarian relaxed fit shirt dress with large buttons and a slight military feel.
As seen on the Great British Sewing Bee this year, we saw workwear jackets in thick green linen and canvas fabrics with a boxy shape and large statement buttons.
Blazers on the high street all had a relaxed fit, with classic tailoring details and were made from linens and crepes in plain and tonal colours. Challenge your sewing skills and get to drips with welt pockets this year.
Jumpsuits continue to feature on the high street and we noticed three different styles. Firstly the classic wrap jumpsuit with wide legged trousers. Next up was a v-neck wide strap jumpsuit with belt to clinch in the waist. The third design was a boxy men's style boiler suit, which were made to feel more feminine with the use of soft, drapey fabrics.
This season's skirts are structured with button down front, or structured with a midi length wrap.
Tops are very relaxed this year with oversized t-shirts, boxy cropped tops and generous floaty sleeves.