Great mid-season extra layer
 My perfect sweater?
The LB Pullover is growing on me.  Easy to wear.  Elegant and comfortable.  Too boxy (draughty) and with too wide a neck to be snug in winter, but a great mid-season second layer. The boat-shaped neckline puts me in mind of summer holidays and it would make a great extra layer to grab on cooler days.
Comparison
You can see it here with five other sweater patterns all from The Foldline.
Top Row: SouthBank by Nina Lee; LB Pullover by Paper Theory; Toaster #1 by Sew House Seven.
Bottom Row: Orono by Itch to Stitch; Talvikki by Named; Jocko by Ready to Sew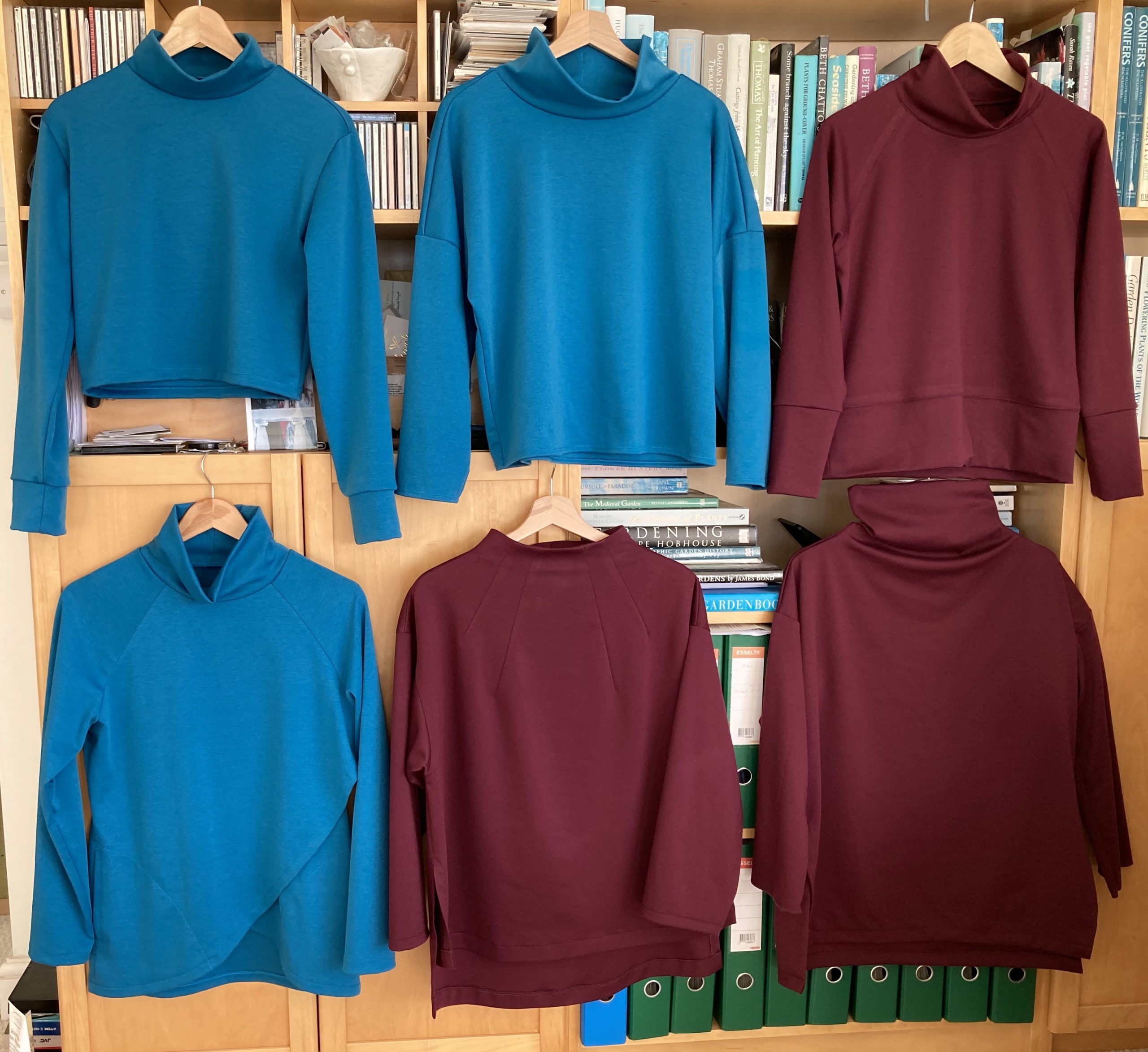 Making up
Delightfully simple.  I cut an unaltered size 12 with Option A the turtle neck.    The fabric was a plain coloured ponte roma from the ClothSpot.  I used a 4-thread wide overlock stitch for the main construction, and twin needle on my sewing machine for the hems.  This was the quickest garment I have ever made!  It went together like a dream.
Fitting and alterations
I needed to shorten the sleeves by 1 inch and because I only realised this after I had sewn in the sleeves I reduced the sleeve hem from 1" to 0.5" as well in order for the turning to lie flat.
On me, with a D cup and forward sloping shoulders, the boxy sweater hung unevenly at the waist dipping upwards at centre front and centre back.  I had the same issue with Paper Theory's Kabuki Tee shirt.  To counter this, I shaped the hem of the sweater to get a horizontal line and, as with the sleeves, trimmed the hem from 1" to 0.5".  While this detracts from the weight of the hem and the chunky look, it will mean the difference between a garment that gets worn and one that doesn't.