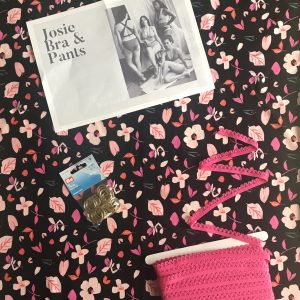 Apologies in advance – this is a very long post! I absolutely love this pattern and there is a lot to tell you about why! ?
Bras! For such a small item of clothing – it can be so tricky to find the perfect fit!! For years I've struggled to find a bra that provides the right support, is comfortable enough to wear all day (I hate underwires!!!) and doesn't cost a bomb! So, I thought I would try to make my own…
The pattern:
I've never made any undergarments before so I had a look online for patterns for an adventurous beginner and stumbled on this one.
It's the Josie Bra and Pants by Made My Wardrobe.
There were quite a few things about this pattern that I liked – a longline length bra, no underwires, racer back straps with no hooks and high waisted pants. It all seemed straightforward enough and along with all the extra resources mentioned below, after my research, I felt confident enough to give it a go.
Inclusive sizing was another reason why I chose this. My bra size is 28DD usually and I struggle to get a good fit from "the Shops" but this pattern states "you can make the under-band in one size and the cups/back strap in another size. The pattern will still work so long as the cups and underband are less than two sizes apart."
After looking at the finished measurements, I decided made the under-band in size 8 and cups in size 12 for more coverage. For the pants I decided to make a size 10 at the upper hips grading to a 12 at the hips.
Fabric/notions:
As I only needed 0.55m of fabric, I treated myself to this Dashwood Studio cotton jersey. I love the colours and modern floral pattern. It has a substantial weight and feels great against the skin.
Written instructions for the pattern:
Each step is broken down and fully explained with detailed written instructions accompanied with clear illustrations.
There are also separate instructions for jersey only version or jersey and lace version so there is no need to skip steps or figure out what to do next for the version you are making.
My worries about sewing 6.5m of elastic (yes 6.5m!!) were calmed after seeing that there are four pages in the booklet explaining how to sew elastic, providing instructions for three methods – very helpful for those who are new to sewing under garments.
The construction process:
There is a "pay as you feel" workshop on Made My Wardobe's website consisting of four sew along step by step videos which I watched and referred back to when sewing my bra and pants – definitely recommend watching these if you are making this set as they were all incredibly helpful!
As this was my first time making such garments, I took my time with the sewing. The construction was straightforward, mainly it's straight lines so it wasn't too difficult. It only took a few hours to make too, which was surprising for my first try – I started cutting at 4 and was packing my machine away by 8!
However there is no sugar coating that it's fiddly to sew the all the elastic – there were times I said some naughty words ? my mother would have scolded me for!
I think I struggled with the elastic because it's so narrow and yet the pattern calls for two parallel lines of zig zag stitches. My machine only has one stitch length and the elastic is so narrow I couldn't figure out how I was meant to squeeze them parallel… So as you may be able to see on the insides, they overlap! There is no denying there is some really messy bodged together sewing in some places but it was my first attempt at sewing jersey and elastic so I'm not going to be too disheartened. Next time it will be better!
If you're sewing with elastic, two tips I would recommend are to put the needle through the elastic and fabric before putting the foot down and also to tug gently at the threads behind the foot when you start sewing to help it "kick start" without getting eaten by the machine.
Oh and also make sure you're stretching the elastic because I forgot twice and had to recut two of the cups!!
Final thoughts:
As I said at the very beginning, I love this pattern!
It is so comfortable and provides the right amount of support I need. I won't be wearing this to the gym or out for a jog, but it's perfect for everyday wear or loungewear. The fit is great too, at no point does it dig or pinch. The cross back is a nice unique look compared to plain straps, and it looks super cute too! ?
Next time I might alter the pants though as they are a bit too "Bridget Jones" if you get me!
This was my first time sewing with jersey – I've always been nervous about sewing stretch fabrics in case it gets pulled out of shape or ruined but I think it was a great introduction opening a whole new world of possibilities!
Would I make this again?? Yes!!
There is a tutorial online for making these pants into "Period Pants" which I will be making in the future. I've already cut out another jersey set for more practice and also ordered some mesh and lace for the "fancy" version.
Thank you for taking the time to read, I hope this was useful and provided some insight ?