A plaid Willa Wrap Coat for autumn!
I tested the 18D Willa for Jennifer Lauren and I love the result! The design of the coat is so clever – it's quite structured with set-in sleeves and that large, dramatic collar, but then has a wrap front, which makes it really easy to fit.
The coat comes in an extensive sizing range – there is the Original 6-24 and cup sizes A-D and then the new Curvy range 16-34 and cup sizes D-F. The coat has both princess seams and a small bust dart which gave me a really nice fit at the bust, and the provided cup sizes saved me a bit of work adjusting all that.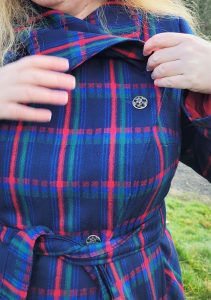 The only change I made to this coat was to shorten the sleeves slightly, but that's normal for me. The length is perfect – it covers my bum nicely! The coat is also fully lined and the instructions are really great in this regard. Special mention to the setting-in sleeves instructions – they went in perfectly first time! Woo!
Of course, I made life tricky for myself by choosing a plaid before I'd looked closely enough at the pattern. It took me a while to work out how to match the plaid as best as I could and I've put all the gory details on my blog post here, as well as more constructions details, if you're interested. Overall, it's a great coat pattern and it always gets commented on when I'm out and about.