The Great British Sewing Bee 2020 – Series 6 Episode 7 – Sewing Patterns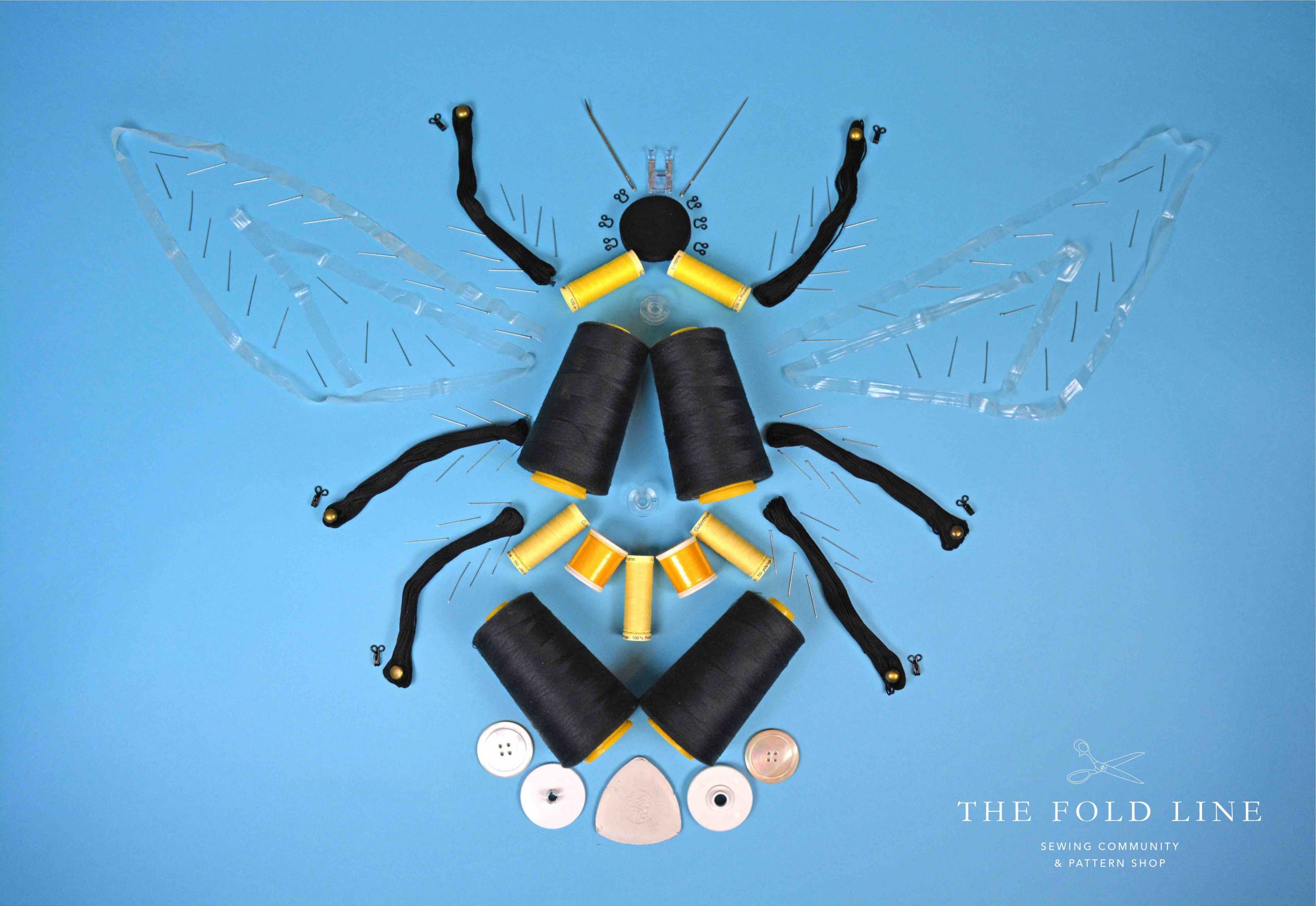 Here we go, it's week seven of the Sewing Bee!
We are so excited to have the Sewing Bee to look forward to each week on BBC 1, just what we all need right now. We have searched high and low to bring you the best selection of sewing patterns from independent designers and commercial pattern houses. These are all inspired by the the seventh episode of the Great British Sewing bee series 6. If you haven't already seen our ultimate guide to the Sewing Bee page do take a look, we've got loads of exciting Sewing Bee goodness including a review of the book that accompanies the series!
In this seventh episode there are six contestants remaining, after we sadly said goodbye to Peter in week six. The sewing bee theme for week seven is the 1980s! The challenges included making a woman's power jacket, transforming high-vis work clothes into party outfits and making a made-to-measure cocktail dress. Take a look at our sewing pattern suggestions below, we've tried to find the exact patterns used but where we haven't been able to figure it out we have plenty of suggestions so that you can recreate these looks at home for your handmade wardrobe. Kate also talks through her favourite pattern options from the episode on YouTube in our special mid-week sewing bee vlog.
We've also included some sewing tips and tricks from bloggers and pattern designers in the sewing community to help you with any of the techniques used by the contestants in the TV show. If you want to chat about the episode and the challenges then do join us each week in our Facebook group event.
If you are looking for women's jackets or dresses not featured in the sewing bee episode this week you can search our shop for sewing patterns here. We also have a blog post where we share fantastic coat and jacket sewing patterns whatever your sewing level!
Sewing Bee: Pattern Picks
Challenge 1: Women's power jacket
The first challenge of the sewing bee week seven is to sew a women's power jacket. This was a tricky task for the contestants because it involved 14 pattern pieces. The pattern used in this episode has shoulder pads and oversized lapels. Looking back over the last few decades, we can see that power dressing started in the late 1970s in America. This fashion style allowed women entering the workplace to display confidence and establish their professional careers in an environment dominated by men. The styles were quite masculine initially with tailored jackets and suits having padded shoulders. Floral prints were out and toned down fabrics such as polka dots and pinstripes were popular in classic uniform colours. Public figures such as Hilary Clinton, Princess Diana and Margaret Thatcher all embraced the power suit dress style. On TV, shows such as Dallas and Dynasty in the 1980s exaggerated the power dressing fashions of the time. Here we have some suggestions of power jacket sewing patterns you could sew for yourself or family and friends from this BBC1 sewing bee episode.
Butterick – B6738
This is the closed match we could find to the first challenge, the line drawing is very similar. The jacket has self-fringed edges. This pattern also comes with a dress and top, which have waistband and top stitching. Both the slim skirt and straight trousers have back zip to complete this workwear outfit.
Sizing: 6 – 14 and 14 – 22. Available in the shop: No, directly from the designer Sew Direct.
Cali Faye – Brenna Coat
The Brenna Coat combines a contemporary cut with minimal sensibility.  This modern feminine coat has just enough room to provide ultra comfort with smart style.  No matter if you dress it up, or dress it down, this coat is a statement maker. Make with light weight wovens such as wool, flannel, fleece, corduroy, broadcloth or linen.
Sizing: XXS – XXL, approx. UK 4 – 14. Available in the shop: Yes, paper pattern.
DG Patterns – Wallis Blazer
The Wallis Blazer is a fitted, unlined knit jacket with long sleeves and v-neck style collar. The blazer sits on the high hip. Make with medium to heavy knit fabric depending on the style you would like to create with your pattern. We recommend jersey knit, double knit, cardigan knit, Ponte Roma or other blends.
Sizing: US 4 – 30 (approx. UK 6/8 – 32/34). Available in the shop: Yes, PDF pattern.
Vogue® Patterns – V1590
This is a semi-fitted jacket with self-belt and contrast upper collar. It also comes with a close-fitting skirt that has an elasticised waistband. Make with pique or eyelet, laser-cut scuba knit or stretch lace.
Sizing: A – J (approx. UK 8 – 32). Available in the shop: Yes, paper pattern.
Vogue® Patterns – V9365
This unlined jacket is fitted with notched collar, shaped hem and snap closure with inside ribbon and snap. Top B and Dress C are fitted with back zipper and hook and eye and front facing with tab. The armholes and back neck are finished with bias tape.
Sizing: 6 – 14 and 14 – 22. Available in the shop: Yes, paper pattern.
Helens Closet – Pona Jacket
The Pona Jacket is a modern outer layer that is easy to make and style. An extra-wide facing allows this unlined jacket to drape open in the front – no closures necessary! Pona has an oversized blazer feel, complete with pockets and a statement lapel. Make a modern, cropped Pona in linen for warmer weather or a longer jacket in wool for fall and winter. Pona is a perfect beginner jacket pattern! Make  with light to medium weight fabrics with no stretch, such as mid-weight linen or cotton, corduroy, and wool. Pona can be made in a lighter weight, drapey fabric such as Tencel twill for a more fluid look.
Sizing: US 0 – 30 (approx. UK 6 – 30). Available in the shop: Yes, PDF pattern and we can print the copy shop version for you too.
Deer and Doe – Lupin Jacket
Lupin is a short draped jacket. It is lined and has welt pockets, a cinched waist and shoulder tabs. Make with chambray, lightweight wool, linen or suede.
Sizing: EU 34 – 46 (approx. UK 6 – 14/16). Available in the shop: Yes, paper pattern.
Vogue® Patterns – V1560
This very loose-fitting, lined jacket has a collar and collar band, and the fitted trousers have a fly front and tapered legs. Make with crepe, wool flannel or gabardine.
Sizing: 6 – 14 and 14 – 22. Available in the shop: Yes, paper pattern.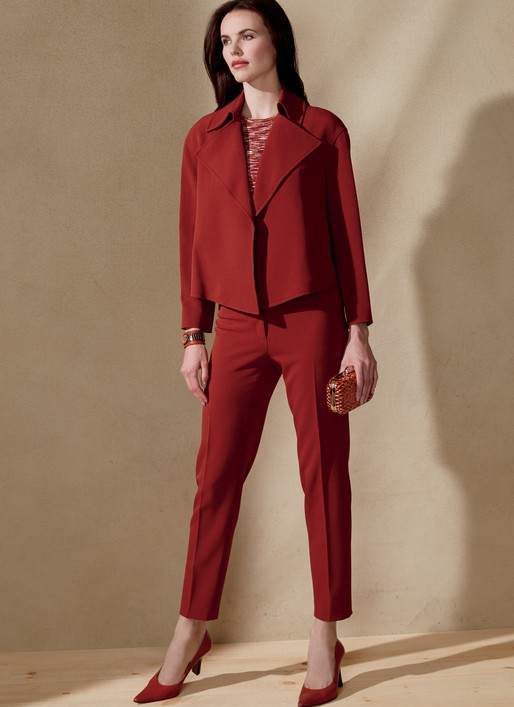 ---
Challenge 2: Transforming high-vis jackets into part outfits
In the upcycling challenge contestants had to use high-vis jackets and transform them into stylish and wearable party outfits. Specific patterns weren't used for these tasks as contestants had to create a garment from an existing one in a fixed time so it's a bit tricky for us to make sewing pattern suggestions based on these design ideas.
---
Challenge 3: Made-to-measure cocktail dress
In the final challenge of week seven, all the contestants had to make a 1980s inspired cocktail dress. Cocktail dresses became popular as women started to work more in office environments. The companies they worked for started to host more parties for their staff and clients to socialise. These dresses were more luxurious and elaborate than day dresses or office wear and could be modified with different accessories for multiple occasions. The styles varied enormously from a simple 'little black dress' to luxurious coloured fabrics with costume style jewellery, depending on the fashions of the decade. For each contestant we have tried to find the pattern they used in the BBC1 TV show but at the end we also have some other suggestions of cocktail dress patterns you could use to make your own versions.
Liz's '80s Cartoon Hero' Cocktail Dress
Features: Organza bows on the shoulder and hip with a ruffle skirt and taffeta bodice.
Pattern: Butterick 4343. This is a close-fitting, lined, tapered dress with neckline variations. You can choose above mid-knee or evening length and the dress has has princess seams.
Sizing: 6 – 12 and 14 – 18. Available in the shop: No, available directly from the designer Sew Direct.
Matt's '80s Soap Opera Diva' Cocktail Dress
Features: Large frill sleeves with peplum and fabric is gold lame.
Pattern: Self-drafted.
Mark's 'Vintage 80s' Cocktail Dress
Features: Cinched waist with contrasting purple draped over skirt frill.
Pattern: Simplicity 9910 (out of print). This 1990 Simplicity Dress with has peplum and drape variations.
It is knee length with a long sleeved dress with back zipper and hem-line vent.
Available in the shop: No, try third party reselling sites such as Ebay and Etsy.
Nicole's '80s Split and Shimmer' Cocktail Dress
Features: Electric blue high shine PV with contrasting white high shine PVC and shoulders with pads.
Pattern: We thought this was a vintage Simplicity pattern but have been unable to find the number, please do let us know! A clost match you could hack would be the Style 1627 made in 1988. This close-fitting dress comes in two lengths with lace trim at neck and cuff edges plus a centre back zip. You can choose a flared or slightly tapered skirt.
Sizing: 8 – 14 or 16 – 22. Available in the shop: No, try third party reselling sites such as Ebay and Etsy.
Clare's '80s Puffball' Cocktail Dress
Features: Puffed sleeves, velvet dress and silver lame diagonal skirt frill.
Pattern: A close match you could hack would be the Vogue® Patterns 1993 designed with Givenchy. This lined dress finishes above mid-knee or evening length and has a shaped neckband. The dress also has princess seams, back zipper and above elbow sleeves with stiffening at cap and cuffs.
Sizing: Individual sizes. Available in the shop: No, try third party reselling sites such as Ebay and Etsy.
Therese's '80s Black and Gold' Cocktail Dress
Features: Giant shoulder bows with a detachable peplum with gold contrast lining.
Pattern: McCalls 6838. This dresses has princess seams, a close-fitting, underlined and lined, boned bodice, skirt variations and an invisible back zipper. There is also an overskirt with a very narrow hem (wrong side will show). The belt has a bow, knot and hook and eye closing.
Sizing: . Available in the shop: Yes, paper pattern.
---
Sewing Bee: Tutorials and top tips
Here are tutorials from indie designers and bloggers to help you get to grips with the techniques used to make the patterns in the show. Each week there are some tricky skills that the sewing bee contestants have to tackle, so it's a great opportunity to give these a go for yourself and build on your sewing knowledge.
Top tips for pressing your makes
The team at Tilly and the Buttons share their top tips for pressing your makes.
Free shoulder pads pattern and tutorial 
Heather and the team at Closet Case Patterns share a free pattern for shoulder pads.
Related posts
The Great British Sewing Bee 2022 - Sewing Patterns - Series 8 Episode 4
Read post