This is the Norma Blouse from Fibremood Magazine Book 9
It features lavish three-quarter length balloon sleeves that are full at the shoulders, has puffed wrists and gathered seams. So it is pretty much bang on trend right now!!
A very much 'going out' type blouse rather than 'working from home', which is my life right now, but one can dream!
Those of you that know the pattern will recognise that I've made a few changes, or more like 'additions'. Not that there was anything wrong with the pattern. I made up a size 38, straight up with no modifications to the fit except lengthening the bodice by 2.5 inches. I could see on Instagram that it was rather cropped. I was concerned about the lack of bust darts, but I shouldn't have been.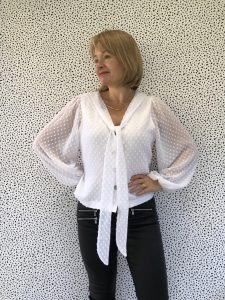 There's more details about lining the bodice and the hacks I carried out on my blog post here.
It's a pattern I'll be returning to again!!