To help get your sewing patterns and fabric stash organised we've designed some free downloadable tools to get you started.
These include Fabric stash tags, Button cards, Ribbon and trim cards, Size measurement cards, Sewing projects lists, Fabric stash library cards with tags, Pattern card notes and Pattern library cards (to organise by designer or pattern type). We recommend you print them out on card suitable for your printer so they will last longer (and select to print multiples per sheet to save on paper). Why not print them on coloured card to brighten up your sewing supplies? Happy Sewing!
GET ORGANISED: FABRIC STASH AND LABEL
---
Note down all the fabrics in your stash and attach a tag label to each listing the type of fabric, width, length, any project ideas you have and whether it has been prewashed ready for sewing. This will save time when you are looking for suitable fabric for a project as you will know how much you've got just by checking the label.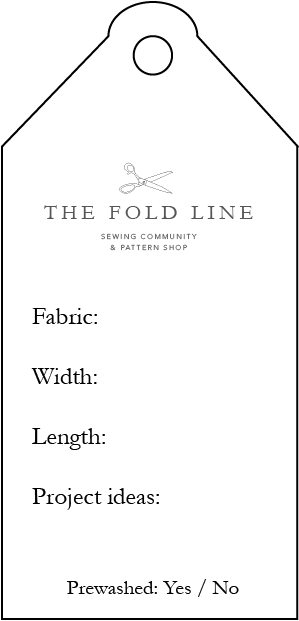 ALL BUTTONED UP: BUTTON CARDS
---
Get your haberdashery buttons organised so that you don't lose matching buttons. You can make small holes in the circles on the button card to thread your buttons and keep them together ready for your next project. Vintage buttons would usually come attached to button cards so they were easily stored but in more modern times we often buy them loose and they can easily get lost in your haberdashery supplies.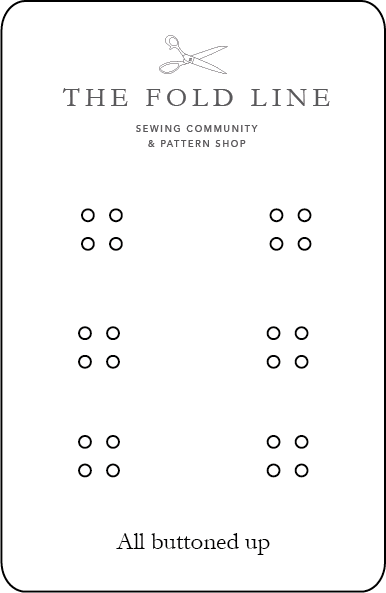 WRAP ME UP: RIBBON AND TRIM CARDS
---
Don't let your lovely ribbons and trims get in a tangle in your sewing box, wrap them on a card instead and stack them neatly for easy reference.
MY SIZE: MEASUREMENT CARD
---
Have your measurement card on a notice board or keep in your sewing box so that you can quickly refer to your measurements when deciding what size of a pattern to cut out. You can also take it with you when shopping for quick reference.
MY SEWING PROJECTS
---
What exciting sewing plans do you have for this year? Write everything down on your Sewing projects card. Include the pattern name, designer, size to cut out, fabric you want to use and any alternations you want to make. There is even a spot to stick a swatch of fabric too so you won't forget.
STASH LIBRARY: CARDS AND TAGS
---
Do you want to get your overflowing fabric stash super organised this year? Is your New Year's resolution to use up fabrics in your stash? Look no further than our Stash library cards and matching tags. You can add details of the fabrics in your stash, such as fabric type, width, length, any project ideas and their is even a spot for a fabric swatch sample. Write the number on your Stash library card to match the tag, which you can attach to your fabric.
MY PATTERN: CARD NOTES
---
Make notes about patterns you've made and include them in the pattern envelope so you won't lose them. Next time you come to make that pattern you've got all the details you need for any fitting adjustments you've made and what size you cut out.
MY PATTERN DESIGNER LIBRARY CARD: ORGANISE BY DESIGNER
---
Organise your patterns by designer and use these pattern library card dividers to list all the patterns you have by each designer.
MY PATTERN LIBRARY CARD: ORGANISE BY PATTERN TYPE
---
Organise your patterns by pattern type e.g. trousers and use these pattern library card dividers to list all the patterns you have of each type.