This is my first commercial pattern from the Big 4 and happy to say that it was a success with only a few minor snags.
I decided to go for View A – a flounce across the front yoke which is carried through over the upper arm. Not one to usually tone down the drama, but I did choose to omit the frill down the sleeve, I figured there was enough going on, plus I knew I would want to layer with cardigans so it would just get in the way.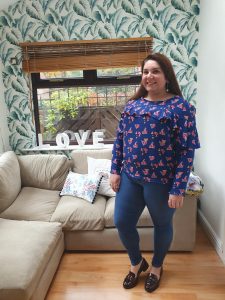 On the whole, the instructions and accompanying pictures did explain each step quite well. My only criticism is that that at no point does it tell you to finish the seams (with exception of the narrow hems on flounces). I know that this seems quite basic, and as an experience
d sewer something that you just do automatically but had this been back when I first started dressmaking then I would have been quite stuck.
Minor thing, it also doesn't tell you directly to do gathering stitches on the shoulder cap, rather to "ease between the notches". Again, not so clear for beginners.
Instructions aside, the actual construction was relatively straightforward. I did find the neck, and particularly the sleeve binding a little fiddly, so my top-stitching is not the neatest, but hey, I can live with that.
Finally, instead of the button and elastic on the back, I hand-stitched on a simple hook-and-eye for ease when I don't have someone to do up the button for me! Thankfully I didn't have to make any fitting adjustments.
The pattern definitely needs to be made in fabric with a lot of drape for the flounces.