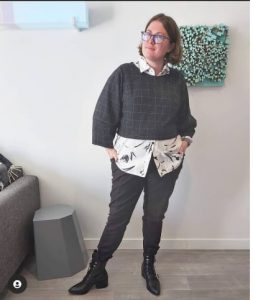 I decided to create a hybrid version of view A with the sleeves of view B minus the ruffled shoulders. Michelle Sews has an awesome tutorial on how to adjust the sleeves to remove the gathers.
For the two versions I've made I've used a non-stretch wool ponte. Both garments are mainly sewn on the overlocker apart from hemming, neckband and darts. I used pre-made bias binding around the neckline.
After reviewing the size chart, and reading a few reviews, I decided to size down two sizes! The sizing chart recommended a size 14 but I made a size 10 with the C-cup pattern pieces. The sizing is perfect for me – I wouldn't want it any bigger.
More information on my blog emmasatelierblog.com