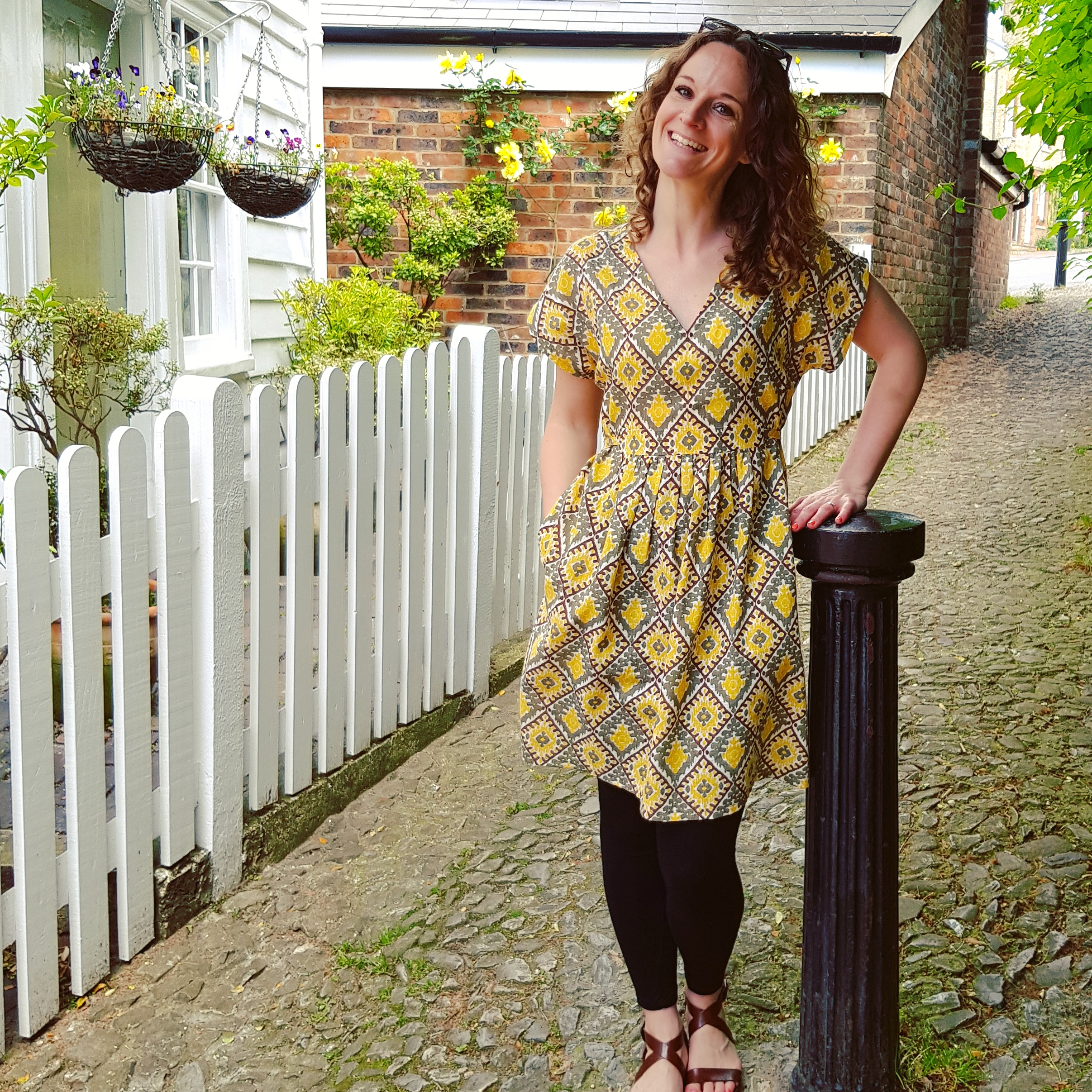 Whether you're jetting off on holiday or enjoying the sunshine where you live, a Charlie Caftan is the perfect 'warm weather' addition to your wardrobe. Try not to be put-off by the front panel if you are a less experienced seamstress – if you take your time and aren't phased by a little unpicking, you will be fine!
The fabric I used is the real star of this make – it's a beautiful printed cotton fabric from India. Fibers to Fabric very kindly offered me a fabric of my choice from their shop for my next make. Their range of Ikat and printed designs is amazing there were dozens I would have loved to pick! The pretty tiled design and my favourite golden yellow shade made this the winner and it's even lovelier in the flesh. It has a wonderful lightness and drape to it and it is beautifully soft – absolutely perfect for the Charlie Caftan! It's easy to order online from the Fibers to Fabric Etsy shop and despite travelling all the way from India it arrived in less than a week to the UK with no customs charge. I will definitely be buying some of their other gorgeous designs soon!
I found the instructions easy to follow, although compared to other indie companies they are not as detailed in places. Several other reviewers have mentioned additional resources that are available on the Closet Case Patterns website to help with construction – I managed with just the printed instructions and didn't use any of them, but it's nice to know they are there if you get stuck! The only element of construction I struggled with was pattern-matching at the centre-front seam on the bodice. When I cut my fabric on the fold the bottom layer was not properly line-up and the design was way off! Luckily I had enough fabric to cut the piece again – this time I traced the pattern piece out so I could cut it on the flat and make sure everything would match up. This worked really well and was totally worth the extra time and effort to get it right as it's so prominent on the dress!
I made view B of the Caftan in a size 4 (I am a UK size 8/10) and the single alteration I made was to only turn 5/8″ for my hem and sleeve hems for a bit more coverage. I think for my next version of the pattern I would raise the v-neck by about an inch – it's lower than garments I usually wear and made me feel a little exposed as I'm not used to it!
The finished garment is just as I'd hoped – floaty, pretty, super comfortable and versatile. I have some other lovely lightweight cotton in my stash that I think is now destined for a maxi-length version!