#1: Warm, with cuffs to die for!
Comparison
You can see it here with five other sweater patterns all from The Foldline.
Top Row: SouthBank by Nina Lee; LB Pullover by Paper Theory; Toaster #1 by Sew House Seven.
Bottom Row: Orono by Itch to Stitch; Talvikki by Named; Jocko by Ready to Sew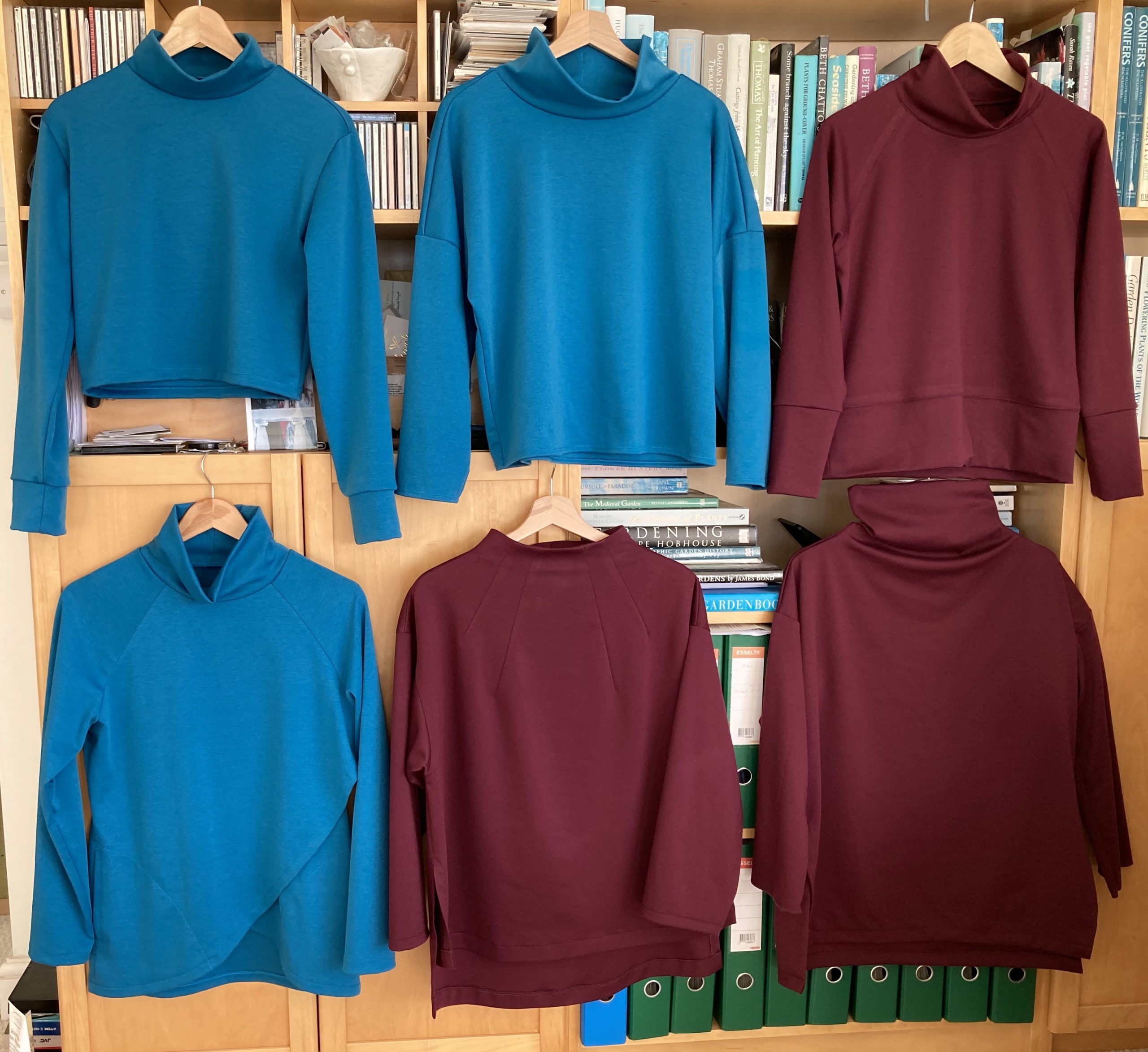 My perfect sweater?
The best thing about Toaster #1 is the long cuffs – when you pull the sleeves up they stay where you put them! I have worn this a lot.   It is comfortable, and warm, because, with the high neck, fitted cuffs and bottom band, the cold air can't get in.  It reminds me a lot of a sweatshirt but is a bit more fancy.  In ponte roma fabric, it is good for practical outdoor activity, e.g. gardening.
Making up
I cut this in size M, my smaller hip size was irrelevant and slightly larger waist accommodated within the ease.  I shortened the sleeve pattern by 1"at the elbow.  The seam allowance is five eighths of an inch.  There was a lot of switching between single- and twin-needle sewing.  The sleeve-cuff join was too small in diameter to fit over the arm of my sewing machine so I wasn't able to topstitch this seam.
Fitting and alterations
Despite my initial alteration, the sleeves were still too long and needed to be shortened by an additional inch.  I debated shortening the cuff but opted to shorten the sleeve and maintain the styling of the long cuff.  The sleeves and cuffs are quite narrow so although there is plenty of room in the underarm, I would struggle to wear a long-sleeved T-shirt underneath this sweater.  Were I to make it again I would consider reducing the depth of the bottom band and possibly sewing it on with a slight stretch for a tighter fit.