Sew Reporter – 7th November
Happy Sunday gang! The temperature has really dipped in the UK and it's making us want to hibernate (and sew!). Who's doing some seriously cosy sewing this weekend? We hope you are!
We are bursting at the seams with fabulous new patterns we've added to the shop this week. We've had a fabulous new design from Friday Pattern Company that is perfect for the cool collar trend, a sweatshirt from Sew Liberated that will make you look at quilting in a new way, and a lovely new pick and mix design from Selkie Patterns where you can play designer.
Oh, and we have a selection of new designs from Simplicity and Vogue. . Phew, we have been busy!
---
Oh, we love a Bakerloo Dress! That collar is screaming out to be made a fuss of, and Natasha made sure this one stood out by using a contrast fabric for the ruffle. Check out Natasha's review on our site!
How incredible is this make? Raven Maureen used the Mimi G x Simplicity pattern S9052 and a whole lot of creativity to sew this stunning raincoat. Read all about it on Raven Maureen's blog.
You have to stand back and appreciate a completed jacket sewing project as so much goes into it. Pins and Needles NZ wowed us with this incredible Sienna Maker Jacket by Closet Core Patterns, it is a triumph! This review shares plenty more pics and thoughts on how it was to sew. Do check it out!
Sewstainability has made the Men's Fairfield Shirt by Thread Theory twice now, and says "It is a slow and steady sew but the finish is so satisfying. I will definitely be making more!". That fabric choice and pattern matching are just perfect!
We spotted that sweater dresses are trending at the moment, so we are keeping our eyes peeled for great pattern ideas, like this make by All The Little Happy Things! Melinda used the Jersey Dress from Peppermint patterns and a lovely merino jersey. We love it!
Pintucks take patience… quite a lot of it to be exact, but the result is well worth the effort. How amazing is Leslie's Melissa Dress by Kate's Sewing Patterns? That patience has truly paid off with this dress and Leslie shared details of the process in this review.
---

We have LOADS of new patterns to peruse this week, maybe pop the kettle on before you begin your browsing session!
Do you already have a specific design in mind? Or do you need some help finding the perfect pattern for your fabric? You can search all the patterns in our database using our newly updated sewing-specific search tool.
We've had a lovely drop of new patterns from Simplicity…
We've also added a batch of new Vogue patterns to the shop…
---
If you would like fitting tips from an expert in the field, Fina Makes blog post – Top 10 Tips For a Perfect Fit could be a handy read! Fina Makes has carried out fittings on thousands of different bodies throughout her career, so has picked up some tricks along the way! The blog post has a helpful video accompanying it so it's really easy to follow along!
---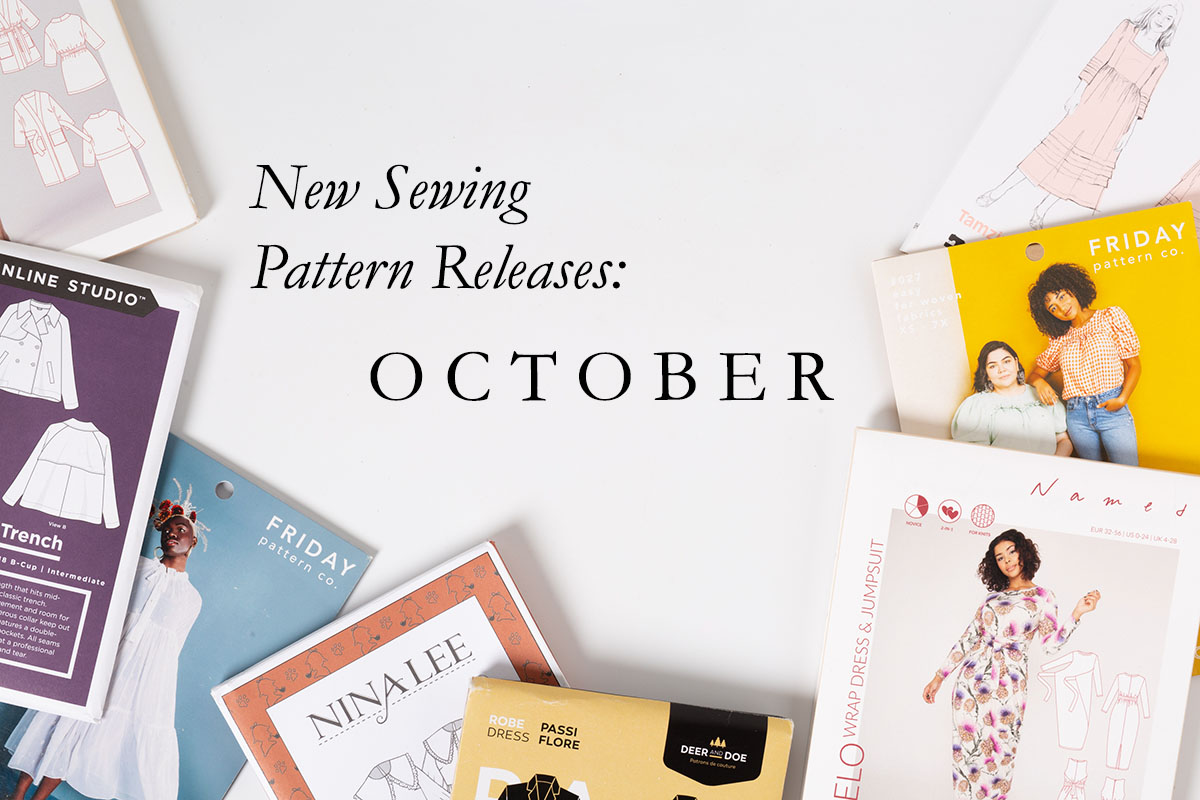 Fancy some weekend browsing? You're in luck as our latest blog post sharing our October sewing pattern releases is on the site! Whether you are thinking about adding outerwear, underwear or cosy wear to your handmade wardrobe, we've got you covered with these newbies! Go check it out!
---
It's that time of year where cinema releases are just so good that you find you want to see everything! We are definitely adding Spencer to our list of things to watch. The costume peeks that we have seen are just amazing, so we can't wait to see them on the big screen!
We enjoyed this article with the movie's costume designer, Jacqueline Durran (who also created THAT iconic Atonement dress), which discusses sourcing vintage Chanel for the movie and granting Kristen Stewart's wildest pirate-sailor dreams. It's a fun read!
---
Rachel and Kristina from the Fold Line team both recently visited the RA Summer 2021 exhibition and came back so inspired by what they saw. There were lots of textiles to feast their eyes on and the good news is there is a wealth of stuff online to nose at. You might find you lose an hour looking at it all!
---

The Secret Sewing Swap is back for 2021! Hosted by @sewinginpyjamas, the swap is a way for the sewing community to connect during the holidays by secretly swapping gifts! The emphasis is on spreading joy, not adding stress!
All the details can be found on @sewinginpjamas Instagram posts, and if you would like to take part you need to sign up for the swap before November the 15th! You can also follow the hashtag to join in the fun #SecretSewingSwap.
---
---

We've had a batch of new patterns from Wardrobe By Me so we thought it was the perfect time to reintroduce this wonderful pattern indie pattern company to you! Founded by Christina Albeck who has 25 years in the fashion industry, Wardrobe By Me designs modern garments that are easy to style for women and men. Wardrobe By Me is based in Denmark, and the Danish design tradition is evident in the contemporary style of the patterns.
---
Come and join our sewing Facebook group where we are chatting about sewing plans, new patterns and helping each other out with projects.