Sew Reporter – 24th October
Happy Sunday sewing pal! Hopefully, you can squeeze in a little sewing this weekend, or maybe even some mending or project planning… there is always something to be done isn't there? As it is the season for coats and jackets, we've pulled together 10 of the sewing communities favourites so you can browse them all with ease!
We've spotted lots of things to watch, read, listen to and do that we think you might like. We also thought we'd round up some lovely makes from the Olya Shirt and Dress sewing pattern by Paper Theory to celebrate the sizes extending up to a UK 30. We reeeeeally want to make one now. Have a wonderful Sunday gang!
---
The popular Olya Shirt and Dress sewing pattern by Paper Theory has a new, extended size range! Olya is a relaxed, loose-fitting shirt or dress with traditional details and a classic silhouette but unusual and innovative style lines. Olya is easy to wear and designed to be a versatile wardrobe staple with longevity.
The Olya Shirt and Dress now comes in sizes UK 6 – 30 (according to our standardised size chart) and you can shop it here! We thought we'd round up some lovely Olya makes from our reviews on the site and makers from the sewing community!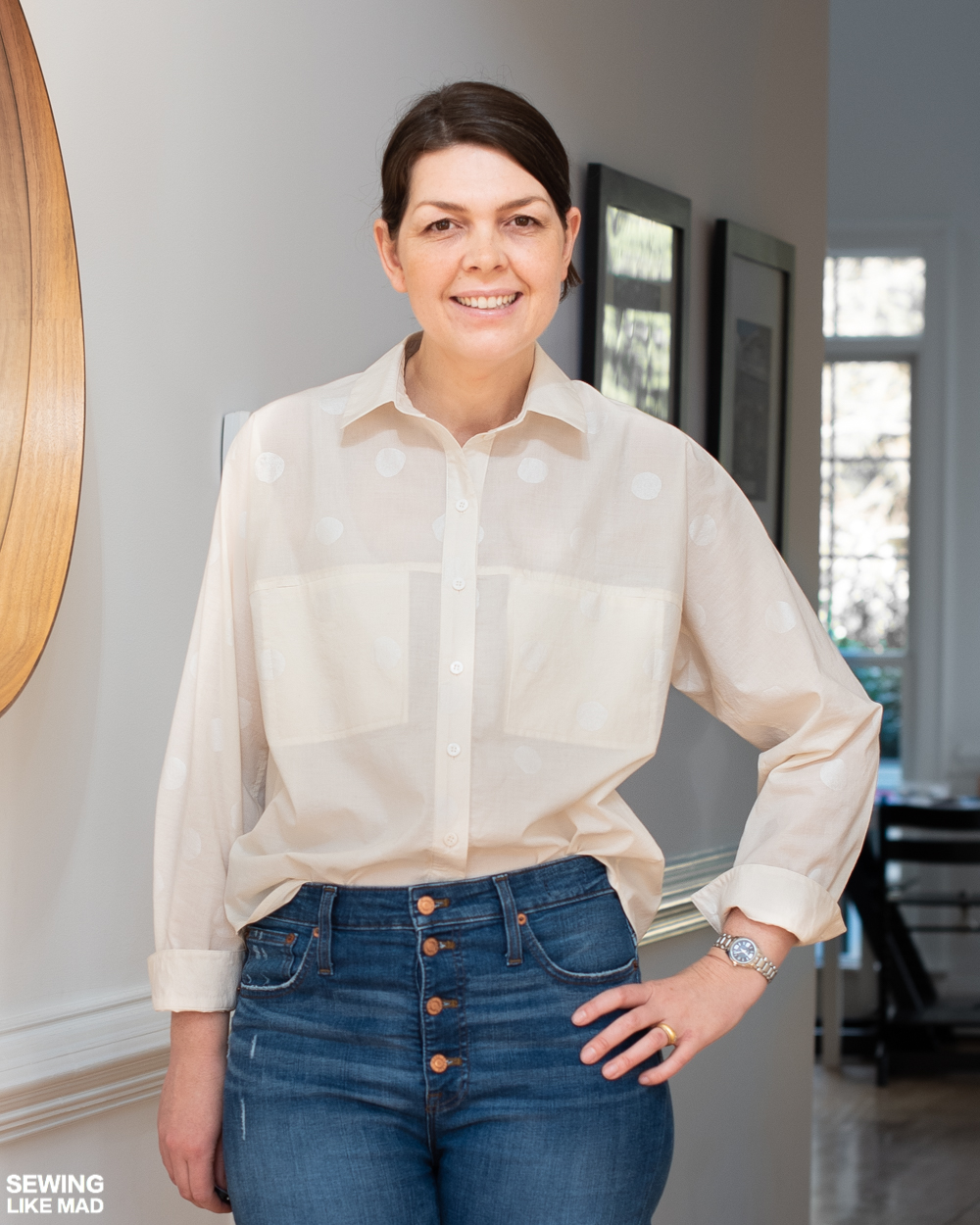 Sewing Like Mad made the Olya Shirt by Paper Theory in an incredible Japanese cotton and in this review said "I could not love this pattern more. It's super well-drafted and smack full of interesting details."
Mel sewed this stunning Olya Shirt Dress by Paper Theory in a Tencel/linen blend that gives it a real luxe look. Mel described this project as "challenging, but worth it!".
Mel made this gorgeous Olya Shirt Dress from a lovely natural coloured linen and shared the whole process and her thoughts on her blog – Melt.Stitches – do check it out!
Emilia made this chic Olya Shirt by Paper Theory from a crisp cotton poplin fabric and said "Wearing shirts almost daily, I am always looking for new takes on this classic piece. The Olya shirt did not disappoint!" in this review.
Champ Stitches made this lovely pink pinspot Olya Shirt by Paper Theory and said "This pattern was so much fun to sew!" in this review!
Nisan has sewn an impressive collection of Olya Shirts by Paper Theory, and we think this one HAS to be our fave! Nisan cleverly utilised the pattern pieces and lines to play with colour blocking and the result is pretty striking! Check them all out on Nisan's blog –  The Social Fabric.
Heritage Ninja sewed "A shirt dress for all seasons", making this Olya Shirt Dress by Paper Theory from a light-weight black denim and said "I like this dress for its sharp, clean, unfussy lines, and also the causal oversized fit – so it covers all bases" in this review!
Coco's Loft played with print when making this fun Olya Shirt by Paper Theory, and the result is wonderful! Read all about the making process on Coco's Loft blog!
---

After a bumper week of new things, it's been a little quieter this week but we do have some lovely new designs you might like.
Do you already have a specific design in mind? Or do you need some help finding the perfect pattern for your fabric? You can search all the patterns in our database using our newly updated sewing-specific search tool.
---
Restock O'Clock!
We've restocked some popular printed patterns this week!
---
I think we can all agree that winter is most definitely here and if you haven't started thinking about sewing a coat yet fear not there is still time. We've rounded up ten of the sewing communities' most popular coat and jacket patterns to inspire your next sewing adventure! Enjoy!
---

---
We reviewed the eagerly awaited Ahead of the Curve book by Jenny Rushmore of Cashmerette on the blog and it's definitely worth a peek!
Ahead of the Curve aims to teach you how to change your clothes to fit your body, rather than feeling you have to change your body to fit your clothes. It is the first sewing book focusing on empowering curvy and plus size makers to feel body confident through sewing a wardrobe that fits.
Book cover © Quadrille (Hardie Grant) / Photographer Brooke Harwood
---
We are thrilled to bits that the new Wes Anderson film is out this weekend at the cinema. The French Dispatch is a love letter to journalists set in an outpost of an American newspaper in a fictional twentieth-century French city that brings to life a collection of stories published in "The French Dispatch Magazine". Wes Anderson's films are always a delight for the eye, and full of costumes and colour combinations that leave us inspired!
---
SewBrum 2021 is just around the corner and there is still time to join the fun! This year, the sewing meet-up SewBrum will include a combination of online and in-person activities.
SewBrum is a free-to-attend meet-up of people who love to sew in Birmingham, UK, which is now in its eighth year. You can find all the details of the SewBrum event here, and @charlotteemmapatterns is sharing lots about the event.
Sew Brum 2021: Friday 29th- Sunday 31st October.
---
---

If you want to take your sewing skills to the next level at your own pace, Pattern Cutting Deconstructed could be for you! Founded by the wonderful Monisola who has over 20 years of industry experience, they aim to teach pattern-cutting skills to budding pattern cutters, students and fashion design business owners in a fun and interactive way!  The Pattern Cutting Deconstructed kits remove the technical challenges involved and deliver hackable patterns that stimulate your creative vision, whatever your level of skill.
---
Come and join our sewing Facebook group where we are chatting about sewing plans, new patterns and helping each other out with projects.