Find My Pattern: episode 6
Kate here and welcome back to another instalment of find my pattern! Those new to this feature, the premise is that you send in images of ready to wear garments you need in your life and I put my best detective hat and and hunt it our for you.  As a self proclaimed pattern nerd… I'm here to help.
I put out a request on Instagram and got loads of lovely emails asking me to help they find what they are after!  I whittled down a shortlist and after a few hours I managed to find some pretty good options.
Sam is looking to recreate this top on the left and we thought that the Coeli Blouse from Pauline Alice would be a pretty good match. she's just need to add a tie at the waist.
Lauren sent in this lovely top with tie at the waist. Although I couldn't tell whether it was woven or jersey I think that the Lauren Top from Fibre Mood would be a fantastic option.
Hayley wanted to recreate this fantastic wide legged jumpsuit and I can see why. After a lot of searching I think that the McCalls 8047 is bang on!
This was a hard Search For Rayleen and although I don't think I found the perfect pattern, I think I've got a good starting point for the neckline and those amazing sleeves. I thought that the McCalls 8034 ticked quite a few of the boxes.. what do you think?
I loved this top that Elie sent in from Sezane. She wanted to find a similar fabric and I thought that a Broderie Anglaise was the way to go for that scalloped edge. In terms of the pattern I got something bang on – the McCalls 7630.
This was such a tricky hunt! Kelsey wanted to to find the green overalls, although I don't think this pattern was perfect. I think it's a good starting point and hope it inspire you to get making. This is the Rachel overalls from Schnittchen.
This comfy jumpsuit would be amazing to lounge around in! Although the Vogue 1664 looks very formal from this picture. It's a jersey pattern and could definitely be adapted to make what Richelle is after.
Andrea wants to make this beautiful jacket she saw in the film Emma, there wasn't a lot of choice in terms of patterns. The one that i thought would be a good starting point is the McCalls 7493.
Gay sent in this outfit from the film the Phantom Thread and I can see why! I spent a long time looking for this and think I've got two great starting points. The first is the McCalls 8037  and the second is the Park Lane dress from Nina Lee.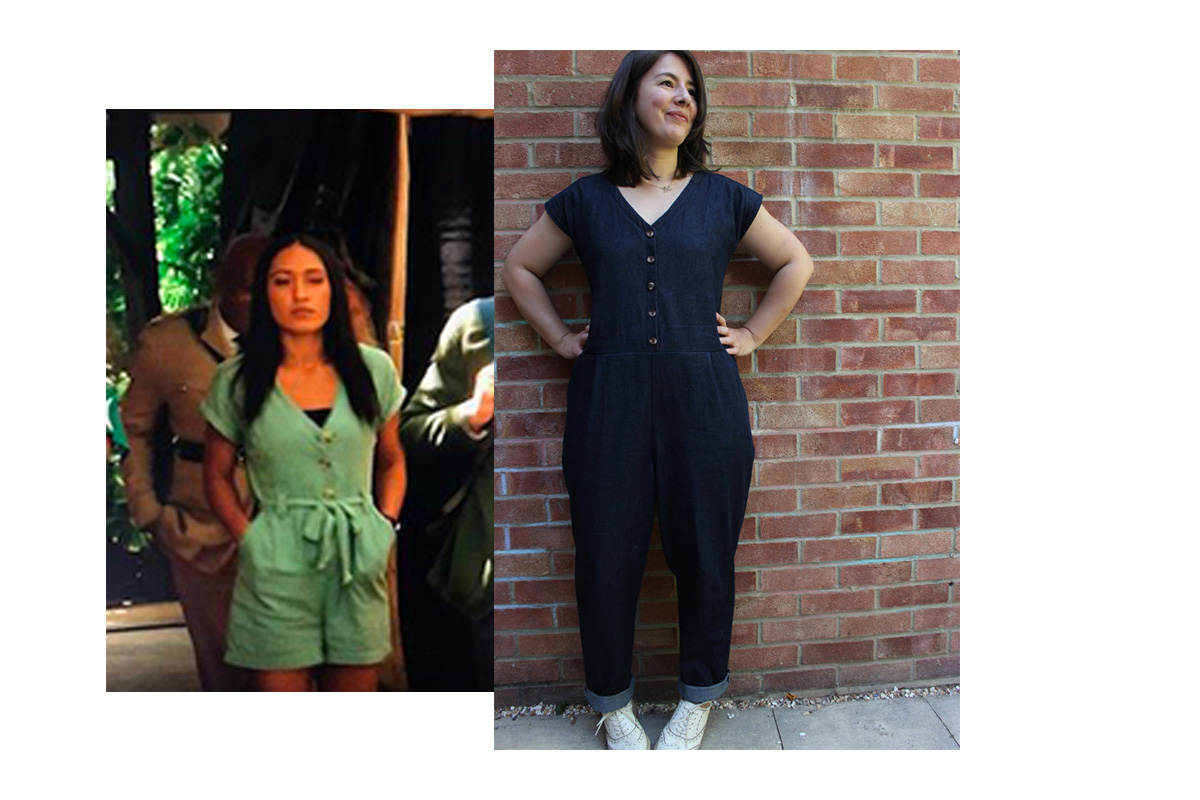 Sara want't to make this cute jumpsuit and I can see why! I hunted high and low and think that the Roberts Collection from Marilla Walker is a good starting point. She's need to add a belt and make it into shorts but to be this is pretty close.
Uzma wants to make this lovely rusty dress she saw on Etsy. I think I got a pretty good match with the Overlap shirt dress from Dhurata Davies.
Lynn wanted to make the jacket for her daughter in law and asked me to help. After a lot of searching I think the closest I could find is the Vogue 1740.
Related posts
Find That Pattern: And Just Like That
Read post