Sew Reporter – 11 October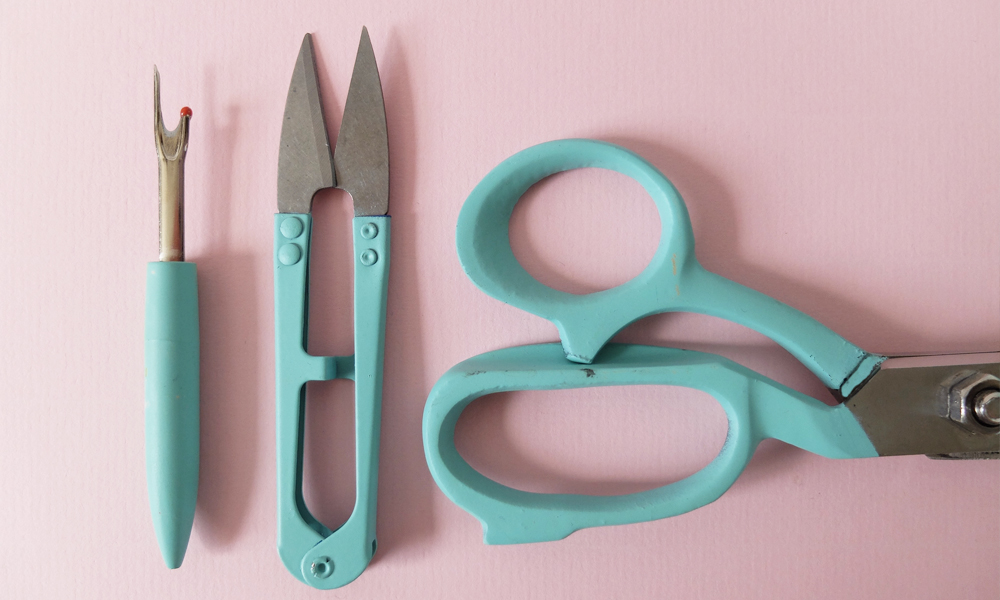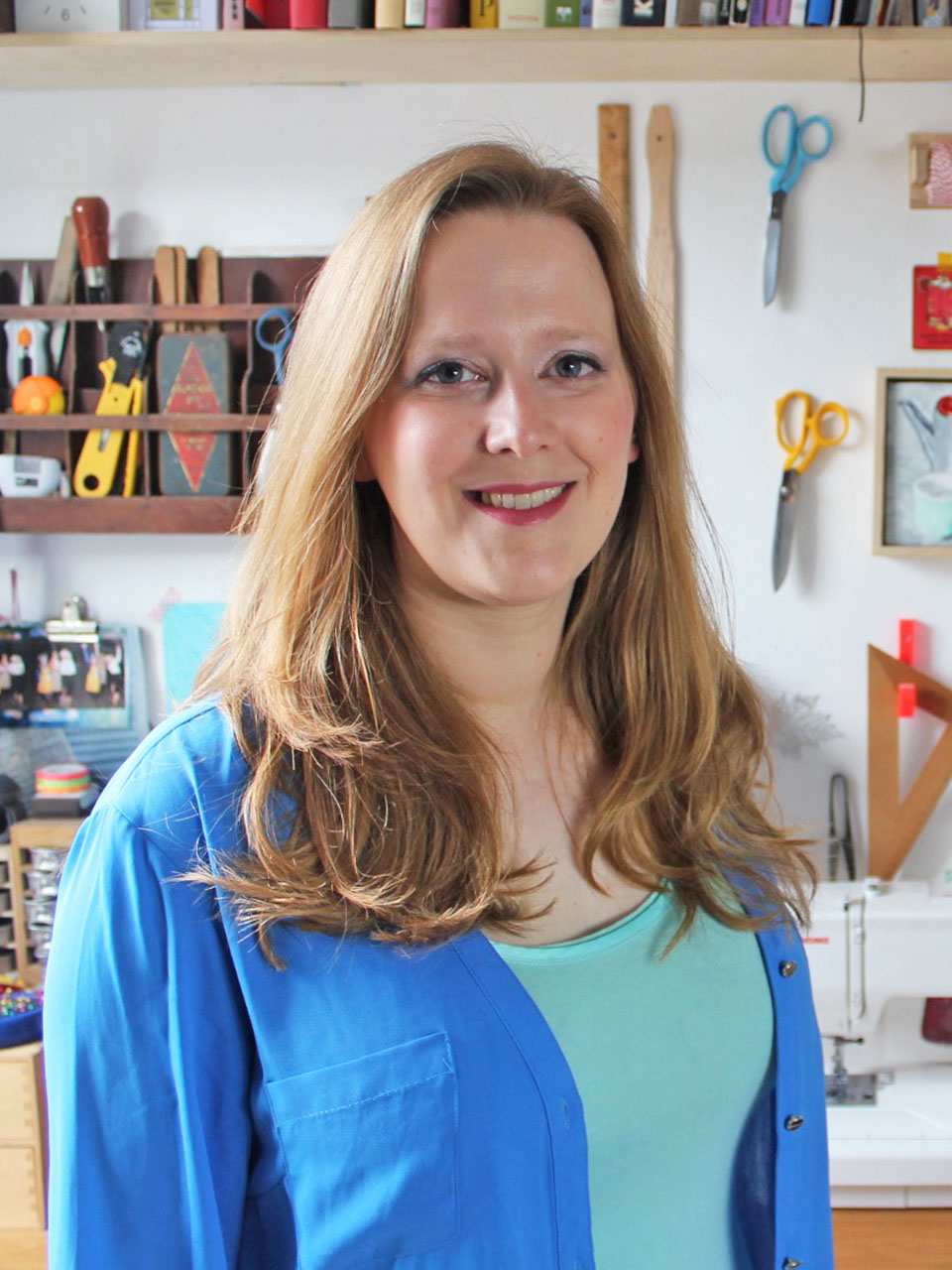 Hello all, happy Sunday. If you are gearing up to sew today then we hope to be there in spirit and provide you with all the inspiration and entertainment you might need!
Also on the blog this weekend: The Sew Down – October. Kate brings you a run down of some of the interesting stuff we have found, bought, read and watched in the world of sewing.
Have a great Sunday!
---


Let's start off by sharing  this pretty epic version of McCall's 8037 made by the wonderful Tabitha Sewer!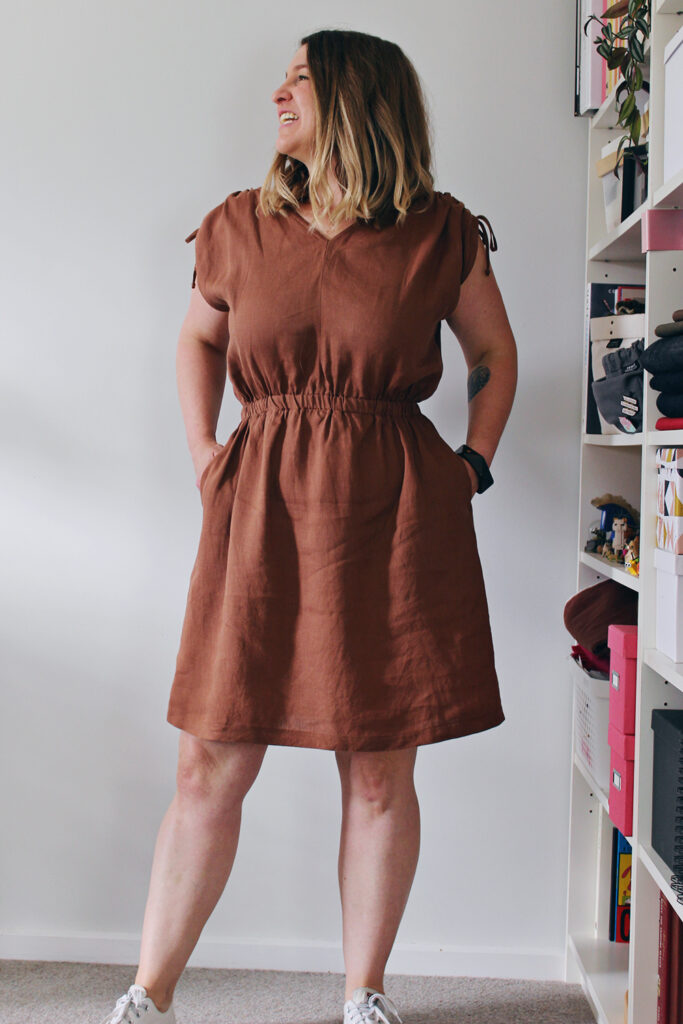 Amanda at Bimble and Pimble made the Seamwork Kimmy Dress in the most delicious linen. It's such a beautiful every day staple!
A stripey Helen's Closet Blackwood Cardigan, what's not to love? Beck from I Sew, Therefore I Am sewed the perfect addition for this already wonderful outfit.
Manju aka SewManju is looking as chic as ever in her new McCalls 7977 top, which she made in a black net fabric with large scale spots. Head over to her blog to see the second version she made in a white cotton broderie anglaise. Swoon!
Marcie at Oonaballoona  is here to inject some colour into your day. Just imagine swishing around in this dress… Pure bliss!
Meg at Cookin' & Craftin' is ready for colder days in her Seamwork Oliver sweater. The ice-blue boiled wool and this pattern look like they're made for each other… So cosy and warm!
It looks like the True Bias Calvin Wrap Dress is having a moment in the sewing community and we are here for it. This version by Erica Bunker is absolutely stunning!
Patricia aka PatsyPoo Makes talks about how lockdown has changed her style, and she sewed this True Bias Roscoe dress to suit her new need for loose fitting clothes. We could not love it more!
This. Is. Gingham. Perfection! Katie, who blogs as Katie Makes A Dress, sewed the Closet Core Patterns Elodie wrap dress and nailed it.
We already loved the Belemnite Dress by Marilla Walker, but then @seams_that_way went and took it to the next level by adding Liberty London details. It's stunning!
---

Here are the latest new sewing pattern releases from independent designers in the sewing community. We are passionate about championing indie designers in the sewing community and we are always looking for new sewing pattern designers we can feature. With over 200 designers from around the world creating patterns for us to sew with, there is a lot of choice. If you need some help finding your next sewing project search for more ideas using our sewing-specific search tool.
---

We love nothing more that sitting down at the end of the day and watching sewing blogs, it's always fun to see what patterns other makers have been sewing up or what they've bought in their fabric hauls! Each week we share sewing videos from the sewing community where you can pick up tips, sewing advice and catch up on the latest high street and fashion trends. You'll also be able to see what other makers in the community have been up to.
It's us! The Fold Line: The Sew Down – October
Lisa at Sew Over It: September 2020: What I've Been Making
Sheona at Sewisfaction: See all our sewn up shop sewing pattern samples!
Lisa at And Sew On: Where Have I Been? A crafting catchup! 
Karina at Lifting Pins & Needles: Sewing a unique neckline. Terra Tunic (Love Notions). Out of my comfort zone. Did I like it?
Victoria at Victoria Lucille Anne: Fabric Haul from Pretty Mercerie Part 2 | Blues and Reds | Fabric and Pattern Pairing
Kealy at Voice Of A Creative: Sewing Works in Progress and Unfinished Objects- Which Makes Should I Finish?
Lindsey at Inside the Hem: September Makes | Everything I sewed last month!
---


There is nothing better than listening to people talking about their favourite hobby while we sew. Grab yourself a cup of tea, get the sewing machine warmed up and sit down to listen to the conversations of sewing bloggers, indie designers and other makers on topics from how to design a new sewing pattern to sorting out your fabric stash. Here we have curated a list of sewing podcasts hot off the press this week. Have a listen this weekend for your weekly dose of making inspiration.
Sewing with Threads with Sarah: Meet Doris Raymond, the Fairy Godmother of Fashion Inspiration | Episode 33
Love To Sew with Helen and Caroline: EPISODE 165: SEWING LOUNGEWEAR
un:CUT with Alice, Atia and Juliet: 12. Planning your makes with special guest, Tilly Walnes from Tilly and the Buttons
Sewing For The Weekend with Beth and Nina: Saybrook Saves the Day!
Dressed: The history of fashion with April and Cassidy: Dressed in Dreams: A Black Girl's Love Letter to the Power of Fashion with Dr. Tanisha C. Ford
Stitch Please with Lisa: Modern Quilting with Carole Lyles Shaw
Bande a Part with Rebecca & Beatrice: Savage X Fenty
Sew Organised Style Podcast: Mending mayhem
Sewing Out Loud with Zede and Mallory: Should You Stretch Knits as You Sew?
---


Each week we also share all the new fabrics, haberdashery and kits from independent sewing businesses that we work with. You'll find the latest fabric collections to hit the shelves, new haberdashery sales, offers and other exciting launches. Take a look at all the products that small businesses have curated from your perusal this week.
We spotted a new range of beautiful twills containing TENCEL™ fibres from meetMILK over at Sew Me Sunshine. These autumnal colours are absolutely lush and now we're dreaming of a colour blocked dress or jumpsuit!
This 100% wool fabric from Fabrics Galore is SEW gorgeous! The colour is just stunning and we think it would make such a beautiful coat.
The Draper's Daughter is taking animal prints to the next level with these fantastic rayon linen blends from Kokka.
Make your to do list / sewing plans / fabric wish list look all pretty with  this super cute note pad from Pink Coat club! Because we're sure we all have sew much to do, sew little time…
Get into the mood for the festive season with these lovely mid-weight cottons from Cloth & Candy.
This beautiful red floral rayon from Lamazi Fabrics. stopped us in our tracks. The print is amazing and it would make a stunning dress!
We love the style and the details of Simplicity 9047 from Sew Direct. The big buttons look fab, and the top of the pockets turn into the belt loops!
This classic teal blue stretch cotton jersey fabric from Cloth Spot would be fantastic to make some autumnal wardrobe staples with!
---


We keep a handy list of sewing events, exhibitions and meet ups happening in the sewing community all over the world on our sewing social calendar here.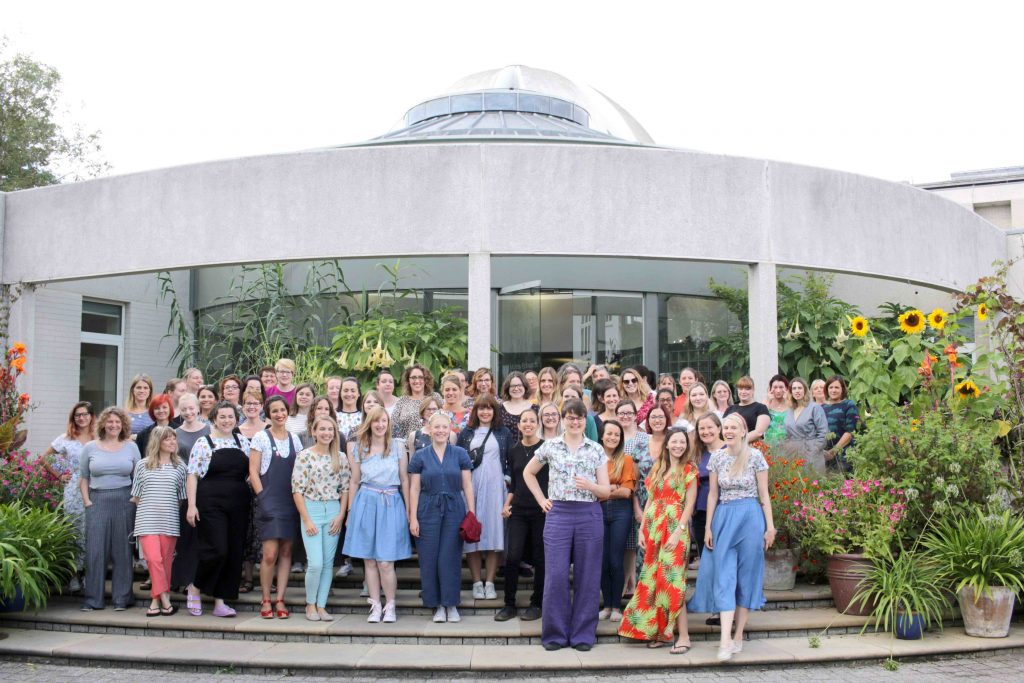 ---


Come and join our sewing Facebook group where we are chatting about sewing plans, new patterns and helping each other out with projects.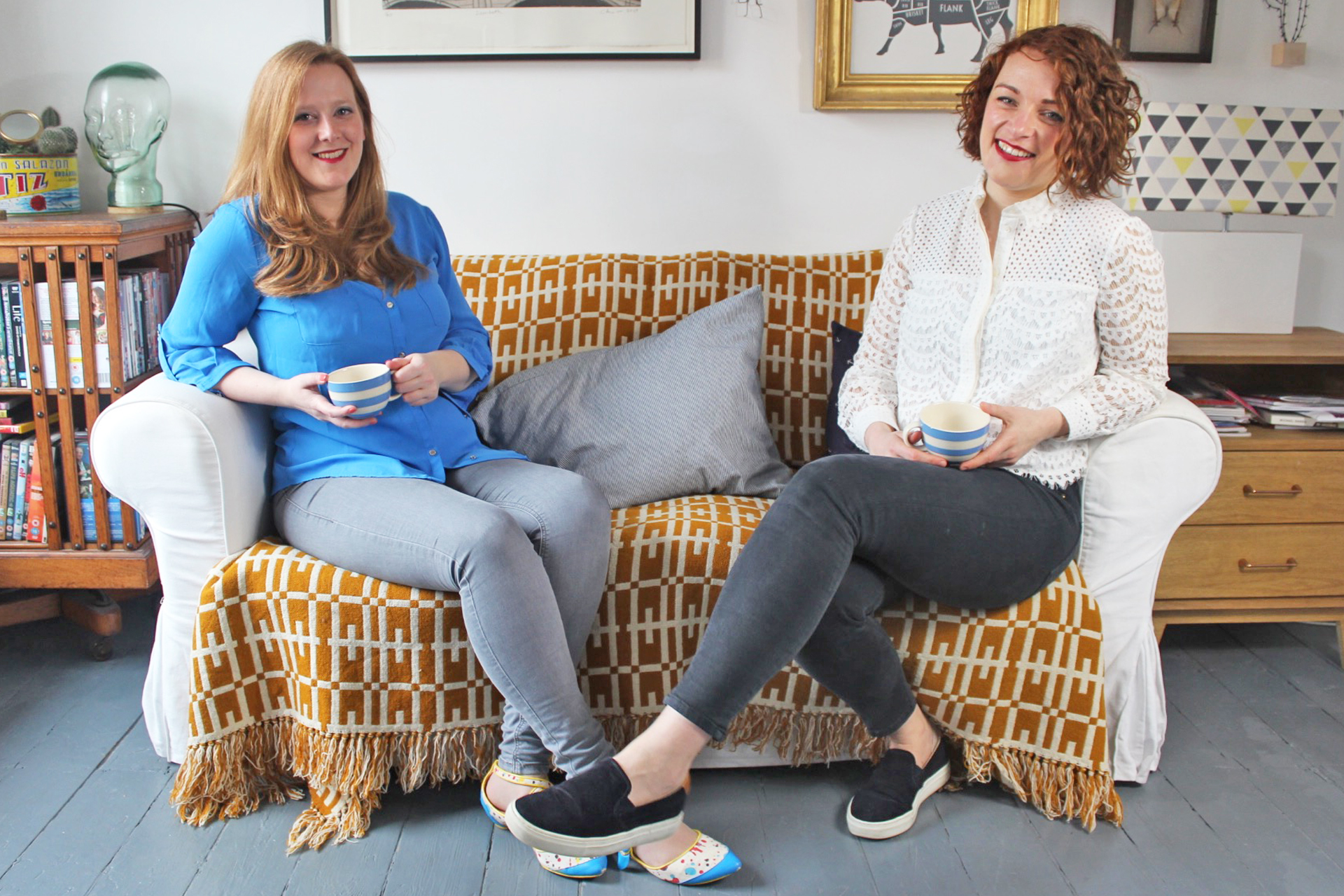 ---