Sew Reporter – 17th of May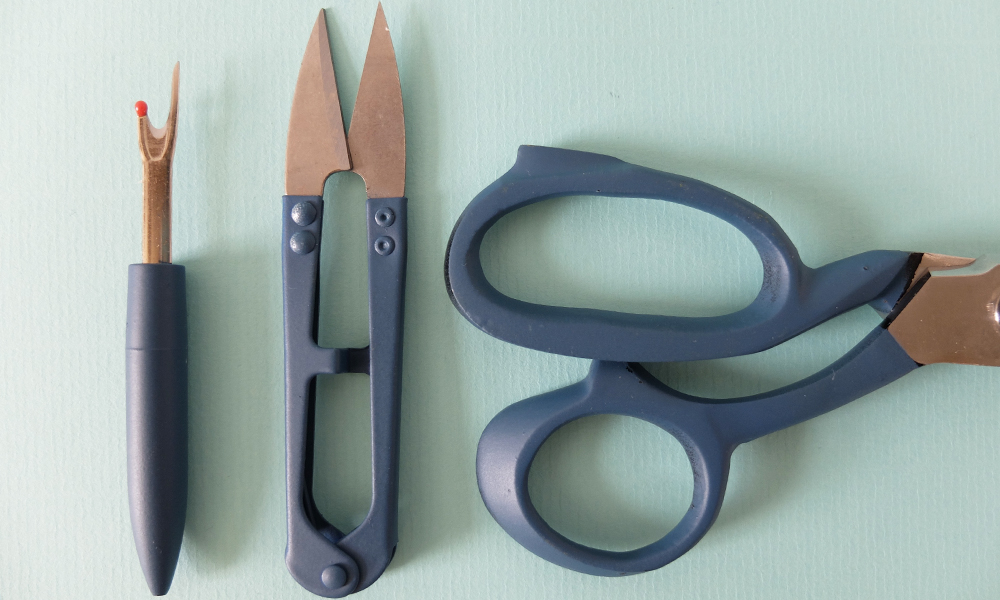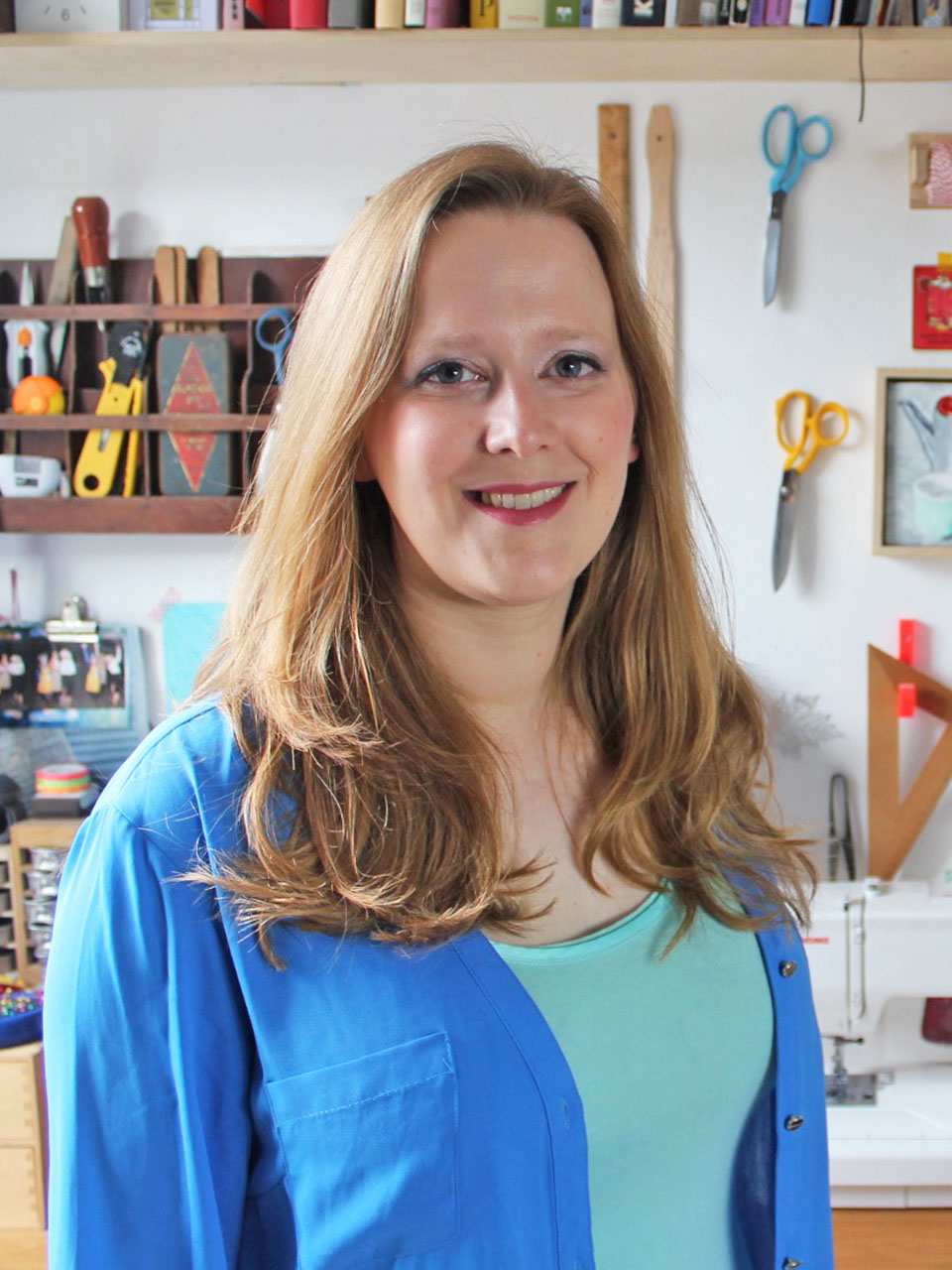 Hey hey! We hope hope you are all doing well. Hands up if you watched episode 4 of the Sewing Bee on Wednesday! It was Sportswear week and as always, we put together a blog post with all the patterns that were inspired by this weeks episode.
Did you see that Patrick Grant has launched the Big Community Sew campaign to create face coverings for those who need them and to provide information for makers like you and me to create our own. You can read all about the initiative here.
Also on the blog this weekend: comfortable garments that don't look like loungewear, with a hint of chic – it's The Lockdown Edit! We've gathered some beautiful patterns for you to create a capsule lockdown wardrobe with clothes that are easy to make and even easier to wear!
---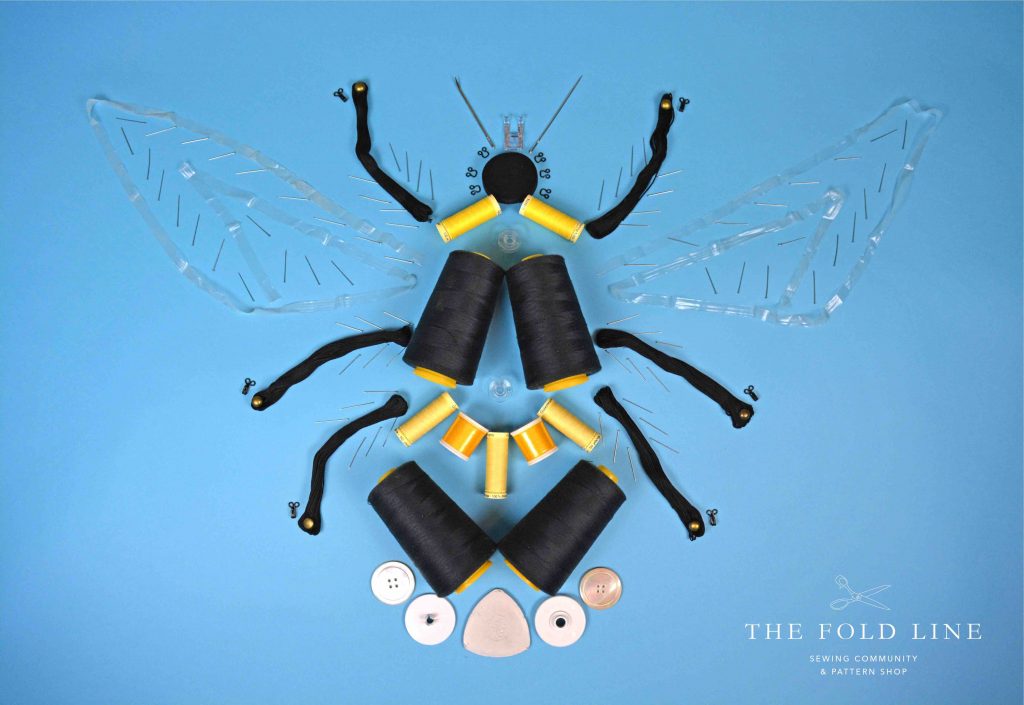 Are you watching the Great British Sewing Bee series 6? We have searched high and low to bring you the best selection of sewing patterns from independent designers and commercial pattern houses that featured in this weeks episode, so you can re-create your favourite 'Bee' look at home! For the nr. 1 fans: check out our ultimate guide to the Sewing Bee page. We've got loads of exciting Sewing Bee goodness including a review of the book that accompanies the series!
---


All the heart eyes for Susan at Susan Young Sewing and her absolutely beautiful Bias T-shirt Dress from Trend patterns! She looks like a vision! Head over to her blog for more photos and lots of tips for sewing with tricky fabrics.
Katie of What Katie Sews made a Friday Pattern Co. Adrienne blouse and loved it so much, she immediately made a second one. It's gorgeous!
A fabulous mother & daughter look from Holly at Holly Dolly Darling. Holly played with the stripes for her self drafted dresses and she smashed it! Head over to her blog for more beautiful photos.
Meg from Cookin' & Craftin' dyed her fabric with indigo using the Shibori technique before making it into the Quince Robe from Seamwork. It's a pattern and print match made in heaven!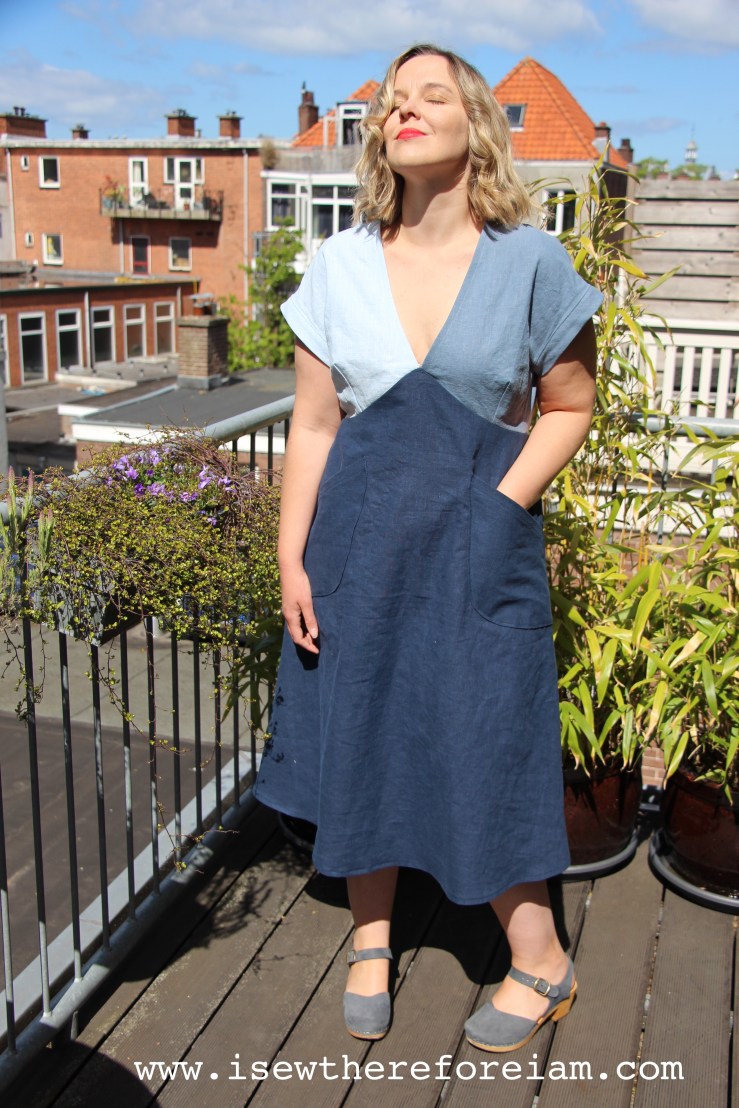 Beck from I Sew, Therefore I Am is sunbathing in her wonderful linen Lois Dress by Tessuti Patterns!
Isn't a comfortable loungewear set what we all want to wear right now? This sunny set is made by Emily from Self Assembly Required and she used the Grasser pattern 513 for the top and she drafted the bottoms herself!
Kate's aka Kate Eva made a By Hand London Hannah Wrap dress and the details are totally swoon worthy!
Amy of Amy Nicole Studio refashioned a maxi dress into this fab skirt for the #restylingathome2020 challenge and she nailed it! Head over to Amy's blog to see the 'before' photo.
Erica aka Erica Bunker shows us how to do comfort and chic. She made the True Bias Rio Ringer T-Shirt Dress and we would love 7 of these, pretty please!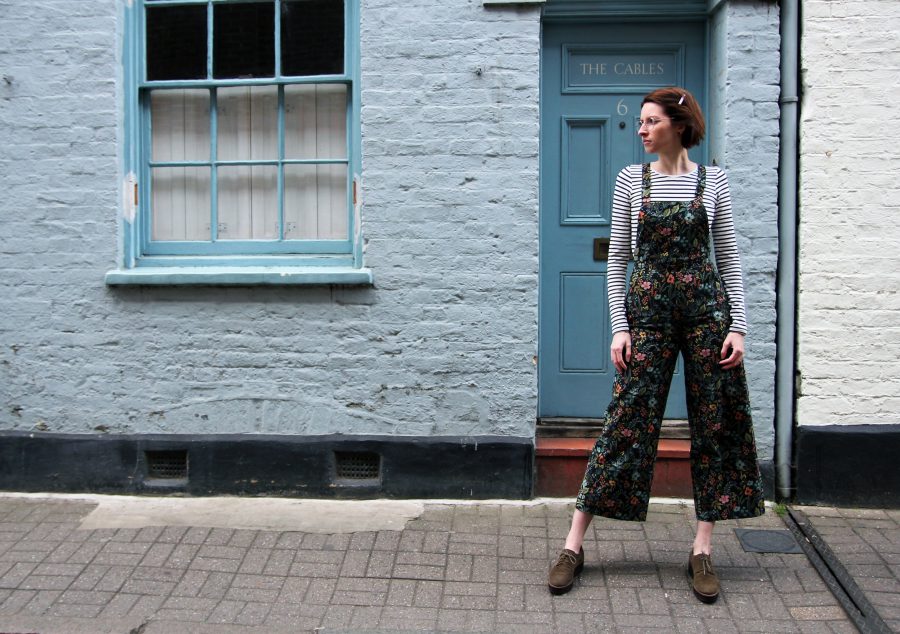 We are totally loving the stripe and floral situation that is going on here! Barbara at RockingStitch made the Closet Case Patterns Jenny Overalls and paired it with a Megan Nielsen Rowan bodysuit. Check out her blog for more detail shots.
This is the Closet Case Patterns Cielo top and it's beautifully stitched by Laura from @cottonreelstudio. Head over to the website to read her pattern review.
Kate @timetosew left a review about this wonderfully pink Ivory dress by Fibre Mood! The details on this pattern are amazing and we NEED it in our lives right now.
---

Here are the latest new sewing pattern releases from independent designers in the sewing community. We are passionate about championing indie designers in the sewing community and we are always looking for new sewing pattern designers we can feature. With over 200 designers from around the world creating patterns for us to sew with, there is a lot of choice. If you need some help finding your next sewing project search for more ideas using our sewing-specific search tool.
---

We love nothing more that sitting down at the end of the day and watching sewing blogs, it's always fun to see what patterns other makers have been sewing up or what they've bought in their fabric hauls! Each week we share sewing videos from the sewing community where you can pick up tips, sewing advice and catch up on the latest high street and fashion trends. You'll also be able to see what other makers in the community have been up to.
Ayisha at The Crafterpreneur: What I Made in April (Sew and Tell)
Helen at Stitch My Style: Is It Cheaper To Make Your Clothes?
Victoria at Victoria Smith: Pretty Mercerie | French Fabric Haul
Lizzie at Lizzie B: Sew & Tell May 2020
Tamlyn at Sewn On The Tyne: What's in the box this month? | Sew Hayley Jane May '20 unboxing
Lisa at And Sew On: This Week's Makes!
Jo at Joey Sewy: My dressing room and me-made clothes | How much of my wardrobe is made by me?
Kealy at Voice Of A Creative: April 2020 Makes – What Have I Been Sewing?
Lindsey at Inside The Hem: Sew My Style March 2020 | Leisl & Co Gelato Top
Adele at Button & Pip: My Handmade Wardrobe: Button up skirt Review || AD
---


There is nothing better than listening to people talking about their favourite hobby while we sew. Grab yourself a cup of tea, get the sewing machine warmed up and sit down to listen to the conversations of sewing bloggers, indie designers and other makers on topics from how to design a new sewing pattern to sorting out your fabric stash. Here we have curated a list of sewing podcasts hot off the press this week. Have a listen this weekend for your weekly dose of making inspiration.
Sew and Tell with Meg, Amanda and Kate: Online Fabric Shopping: Tips & Trials — Episode 39
Love To Sew with Helen and Caroline: Episode 145: Mending
Sewing For The Weekend with Beth and Nina: Introducing Beatrice
Dressed: The history of fashion with April and Cassidy: Fashion History Now #7
Bande a Part with Rebecca & Beatrice: Fashion Interpretations
---


Each week we also share all the new fabrics, haberdashery and kits from independent sewing businesses that we work with. You'll find the latest fabric collections to hit the shelves, new haberdashery sales, offers and other exciting launches. Take a look at all the products that small businesses have curated from your perusal this week.
We love these floral jerseys from Fabrics Galore, they would be so perfect for a wrap dress! The print is super cute and we love the colours. Which one is your favourite?
We. Are. In. Love. This new cotton print from Lulou Designs is designed by Bonnie Christine for Art Gallery Fabrics and it's LUSH!
Are you thinking of making trousers, dungarees or a fitted skirt? A cotton with a little bit of stretch is the way to go if you want to be extra comfortable. This print from Sew Me Sunshine is gorgeous and ticks all our boxes!
We spotted a new kit over at Cloth Spot! It's this gorgeous Melilot Shirt from Deer & Doe and the kit includes everything you need to make a shirt in one of their 6 gorgeous silk fabrics. The kit even comes with thread, interfacing, buttons, and a needle. It doesn't get easier than this!
You've got one more week to sign up to Sew Hayley Jane's sewing subscription boxes! It's the monthly treat we all need to find on our doorsteps right now. And don't forget to use the discount code FOLDLINE10 to save 10%.
It looks like Pink Coat Club knows us all too well. These Sewing Is My Self Care labels are fantastic!
We cannot get enough of the new Nani Iro prints from The Draper's Daughter. Aren't the above new colour ways simply DIVINE!?!
This new rayon from Lamazi Fabrics made it onto our wish lists! The combination of the little splashes of colour on a black background is perfection and we can imagine totally cool flowy trousers in this.
Scrummy strawberries on a sweet pink base, doesn't that sound lovely? It's about this cotton print from Cloth & Candy and we think it's beyond adorable!
We found the perfect summer skirt! It's New Look 6659, and we just love the really pretty pleated details. It's also perfect for those drapey fabrics that we all love to wear this time of year.
---


We keep a handy list of sewing events, exhibitions and meet ups happening in the sewing community all over the world on our sewing social calendar here.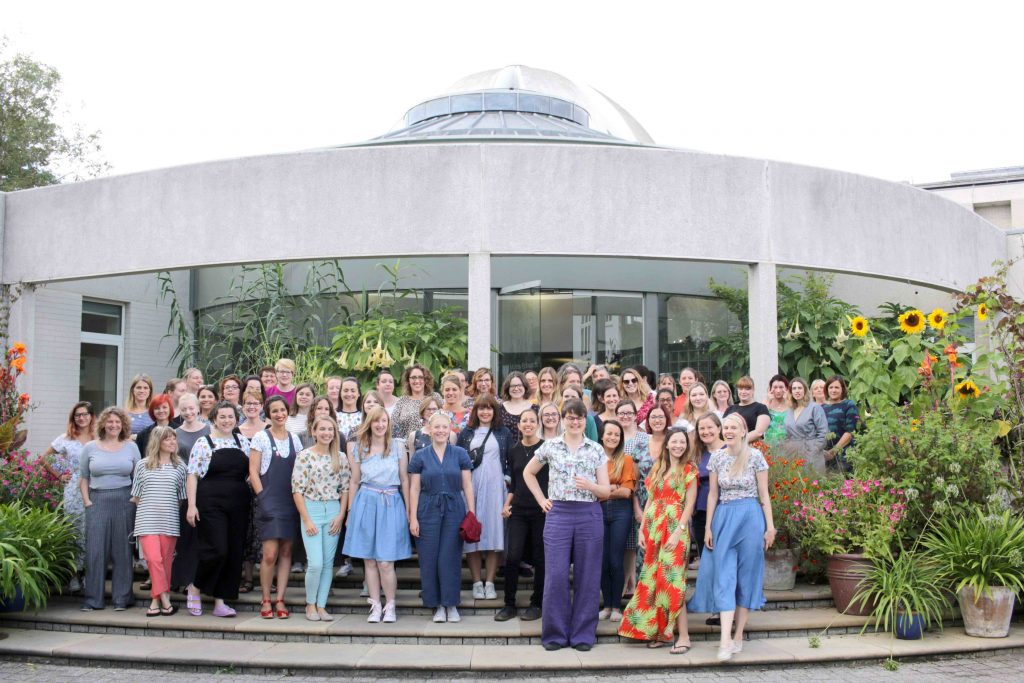 ---


Come and join our sewing Facebook group where we are chatting about sewing plans, new patterns and helping each other out with projects.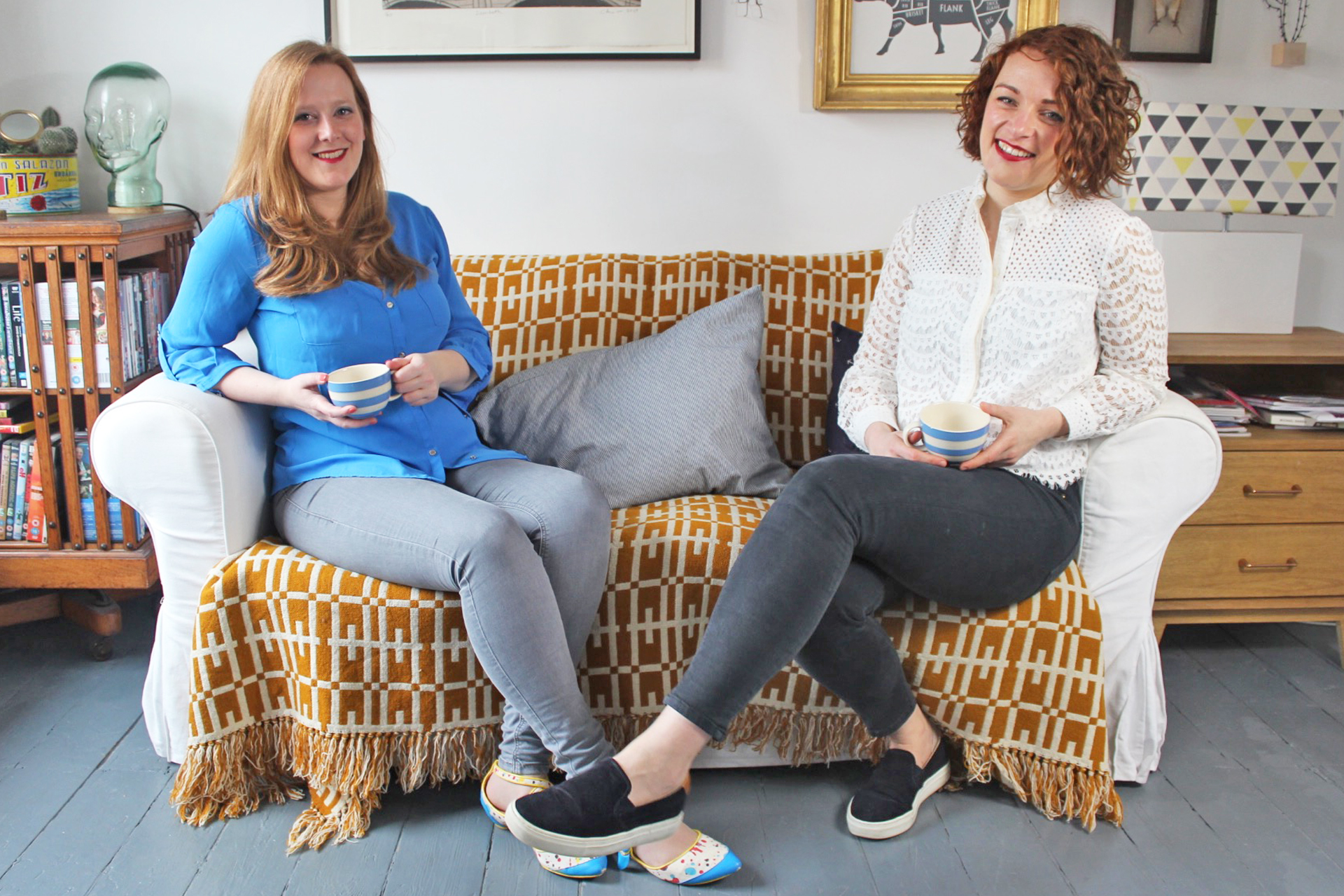 ---