Sew Reporter – 8th March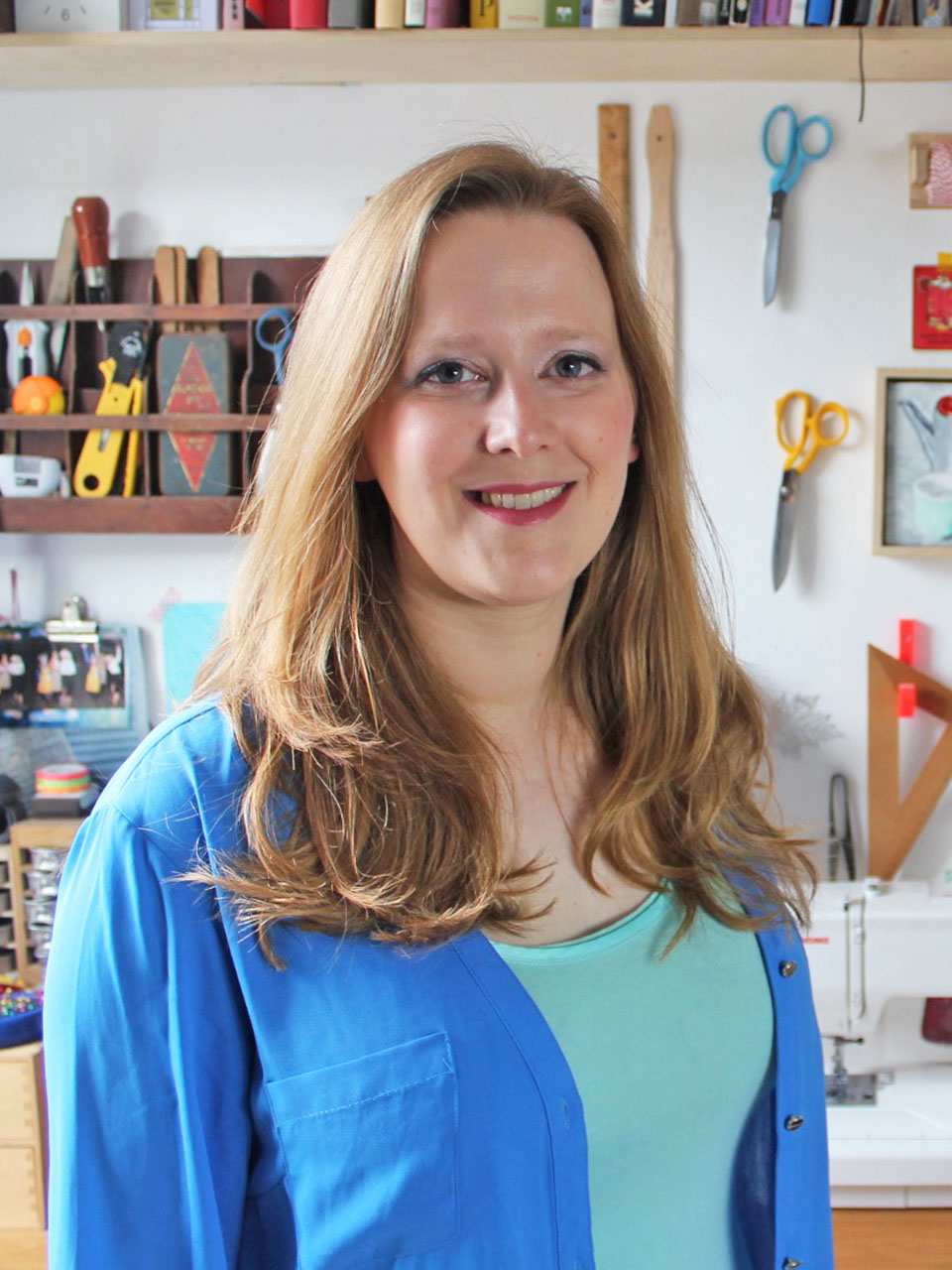 Hi everyone! This week we've got some great new patterns, the new edition of Fibre Mood, inspiring makes, podcasts you should listen to and more things we just think you should see.
February might have been a little quieter in terms of new pattern releases, but that doesn't mean Kate doesn't have some amazing designs to share with you in our New Sewing Pattern Releases video! Have a look and let us know what you think.
So now that your Sunday morning is sorted, grab yourself a hot cuppa (don't forget the biscuits) go forth and be inspired.
---


Kate who blogs as Kate Eva used a mix of By Hand London patterns and a Nina Lee pattern and drafted this beautiful dress herself. We are in awe of this perfectly fitting, floral gorgeousness!
Charlotte of English Girl at Home used double sided sweat-shirting to create this Jarrah sweater from Megan Nielsen. We love how she used both sides of the fabric and it looks like such a cosy sweater too!
This gorgeous snap is from Allie Jackson who made the True Bias Roscoe dress in the dreamiest floral cotton lawn. Swoon!
Okay, so these Closet Case Carolyn Pyjamas are THE BEST! Vicky from Sewstainability picked this cute stripey strawberry fabric and it's a match made in heaven.
Sylvia of the Ravel Out mentions how her new dress is the definition of "business in the front, party in the back" and we could not agree more… That back twist is to die for! It's the Eilidh Twist Dress from Pipe Dream Patterns and Sylvia nailed it.
Get ready for cuteness overload! Holly aka Holly Dolly made her dress using New Look 6616 and she made a matching dress for her adorable daughter Penny. The fabric features a lace print with hidden cats, so this basically cannot get any better…
This self drafted, white linen dress with embroidery from Stephanie at The Style Safari is NEXT LEVEL! Make sure you check out her blog to see more (beautifully styled) photos of the details. The embroidery on this is insane!
Fiona at Diary of a Chain Stitcher made a Paper Theory Olya Shirt and a pair of Anna Allen Persephone pants for her trip to Uganda. She definitely travels the world in style!
Allll the heart eyes for this Nina Lee Park Lane Dress made by Laura from The Petite Passions! This style and colour suit Laura so well, she looks stunning.
We are totally into matching two-piece sets at the moment so we could not love this set from Erica Bunker more! She used Simplicity 9051 and check out her blog for more beautiful photos.
It doesn't get more snuggly than Georgina's @sewinthegarden Helen's Closet Pona jacket! Read her pattern review here, but be warned, you're going to want to make one of these.
Doesn't Laure @laurapop90 look fabulous in her Tilly and the Buttons Bobbi dress? She left a pattern review on our website saying how she can't stop raving about her dress, so that definitely counts as a winner!
---

Here are the latest new sewing pattern releases from independent designers in the sewing community. We are passionate about championing indie designers in the sewing community and we are always looking for new sewing pattern designers we can feature. With over 200 designers from around the world creating patterns for us to sew with, there is a lot of choice. If you need some help finding your next sewing project search for more ideas using our sewing-specific search tool.
---

We love nothing more that sitting down at the end of the day and watching sewing blogs, it's always fun to see what patterns other makers have been sewing up or what they've bought in their fabric hauls! Each week we share sewing videos from the sewing community where you can pick up tips, sewing advice and catch up on the latest high street and fashion trends. You'll also be able to see what other makers in the community have been up to.
It's us! New Sewing Pattern Releases || February 2020 || The Fold Line
Hayley at Sew Hayley Jane: Behind The Scenes; Love Sewing Magazine Reader Review Photoshoot
Jo at Joey Sewy: My February Favourites | Sewing, life and everything else in between
Abi at What Abi Makes: Sew & Tell – My Winter Makes
Karina at Lifting pins & needles: Sewing in "reverse" for easier & neat button plackets & bands. Matilda shirt dress (Megan Nielsen)
Lisa at And Sew On: The Erin Skirt Maker Vlog – My very first buttonholes!
Mel at Handmade By Ditsy Tulip: Little snippets of my creative week
Nikki and Rachel of The Stitch Sisters: Sewing Spring Trends: Coats + Jackets | Dressmaking Inspiration | Spring Sewing Patterns 2020
Kealy at Voice of a Creative: Can I Create My Dream Wardrobe? Wardrobe Assessment with the help of Love to Sew- Separates
Adele at Button & Pip: #THEHACKOFF Ep4 || Sew Over It: Molly Top
Victoria at Victoria Smith: Sewing Room Redo Part 1
---


There is nothing better than listening to people talking about their favourite hobby while we sew. Grab yourself a cup of tea, get the sewing machine warmed up and sit down to listen to the conversations of sewing bloggers, indie designers and other makers on topics from how to design a new sewing pattern to sorting out your fabric stash. Here we have curated a list of sewing podcasts hot off the press this week. Have a listen this weekend for your weekly dose of making inspiration.
Sewing with Threads with Sarah: Fabric Stash Disasters | Episode 26
Sewing Out Loud with Zede and Mallory: Color Blocking
Love To Sew with Helen and Caroline: EPISODE 135: PATTERN TESTING WITH MEG MCCARTHY
Sew and Tell with Meg, Amanda and Kate: No Pattern Necessary — Episode 34
Dressed: The history of fashion with April and Cassidy: Fashion History Now #2
Sewing For The Weekend with Beth and Nina: Draping 101 with Alison Hughes
Bande a Part with Rebecca & Beatrice: Love, Cecil
---


Each week we also share all the new fabrics, haberdashery and kits from independent sewing businesses that we work with. You'll find the latest fabric collections to hit the shelves, new haberdashery sales, offers and other exciting launches. Take a look at all the products that small businesses have curated from your perusal this week.
Who wouldn't want to find a box filled with pretty fabrics and the most amazing sewing goodies on their doorstep every month? No one! Subscribe now to Sew Hayley Jane's sewing subscription boxes and you'll receive your first box in April.
Do you have Sew much to do, but have Sew little time? These Pink Coat Club notepads are so cute for making pretty to-do lists your life will be organised in no time!
This printed needle cord from Cloth Spot is exceptional! The colours and print are just to die for. It's a very lightweight needlecord, which is great for making shirts, tunics, shifts, dresses & pinafores.
French terry fabric is a medium weight knitted fabric very similar to jersey. It has a smooth soft surface on one side, and a looped texture on the back. Pin & Sew have these amazing colours in stock right now, and we are thinking colour blocked sweatshirt?!?
We are going CRAZY for this linen/viscose animal print from Fabrics Galore! It's perfection…
These cotton gauze fabrics from Lulou Designs are available in 9 stunning colours. And if that isn't enough, they have golden dots, feathers or dandelions printed on them!
This viscose leopard print from Lamazi Fabrics could not be more perfect, even if it tried!
Well here's a colour combination we never knew we needed in our wardrobes! This powder pink double gauze with green paint marks from Cloth & Candy. is LUSH!
We fell in love with a beautiful cotton linen mix from Robert Kaufman.. We spotted it over at The Draper's Daughter and the colours and print are amazing.
The perfect present for a sewing friend or yourself: a Beyond Measure Treat Box! Choose from a sewing, embroidery, crochet or knitting themed box. They also include delicious herbal tea, what more could you wish for?
Bring on some warmer weather so we can make and wear this stunning viscose linen from Sew Me Sunshine! The pink stripes & black flowers really pop against the white background. This would make the dreamiest pair of culottes.
These (brand new) trousers from Vogue Patterns are the bees knees! The pattern also includes a full length version. So chic, we love it!
---


We keep a handy list of sewing events, exhibitions and meet ups happening in the sewing community all over the world on our sewing social calendar here.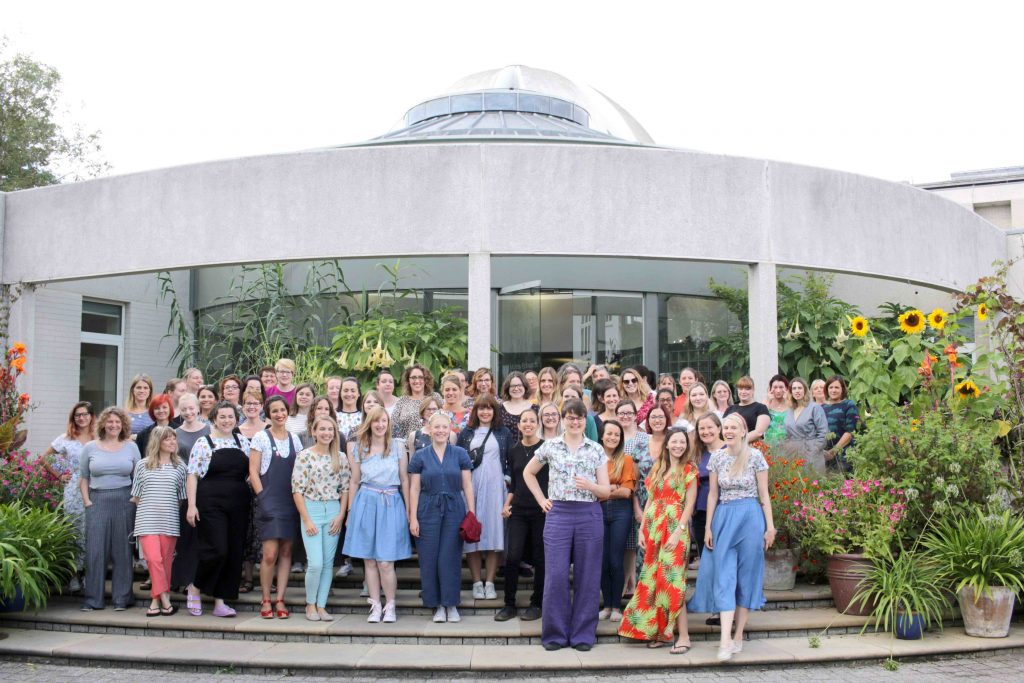 ---


Come and join our sewing Facebook group where we are chatting about sewing plans, new patterns and helping each other out with projects.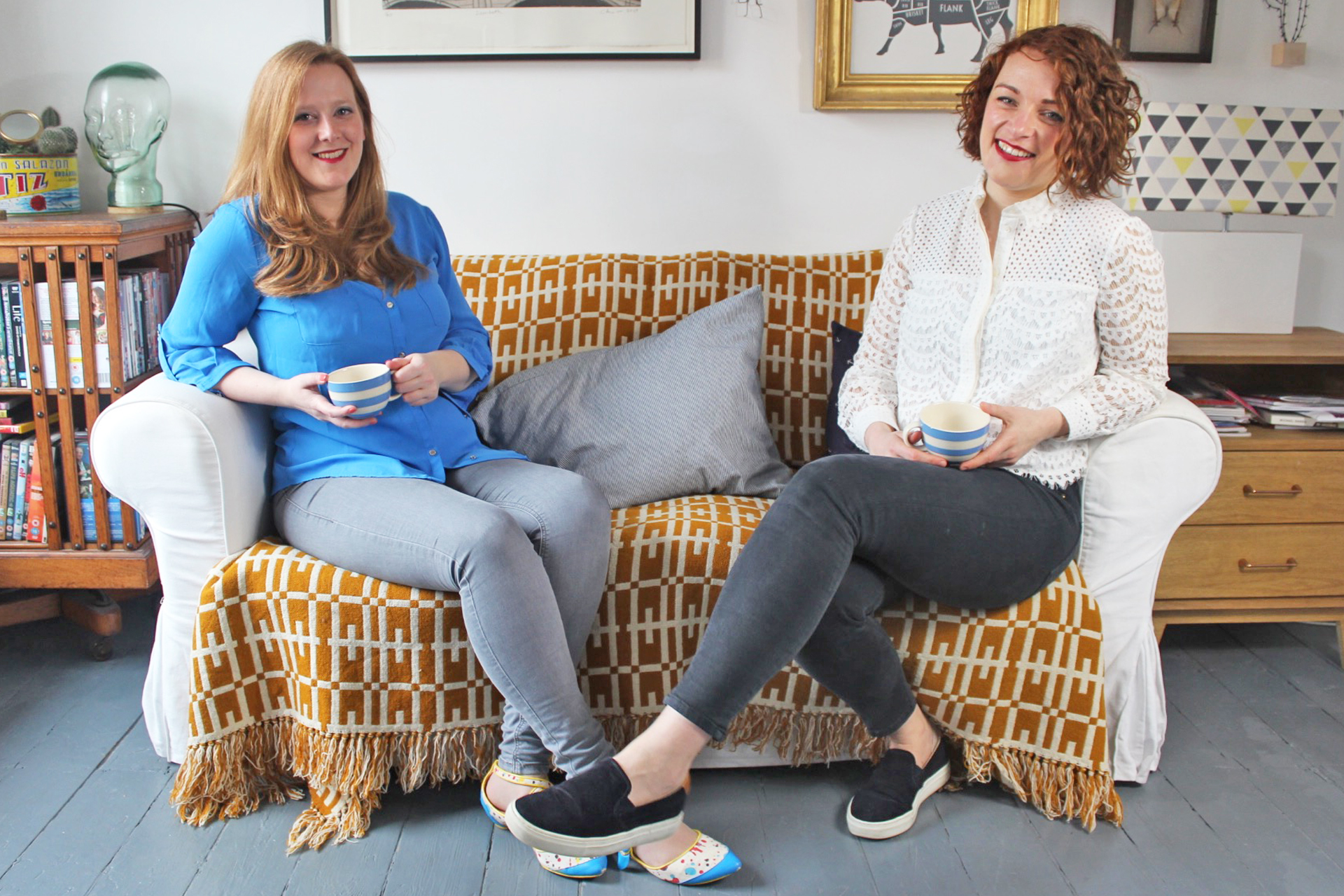 ---