Sew Reporter – 3 November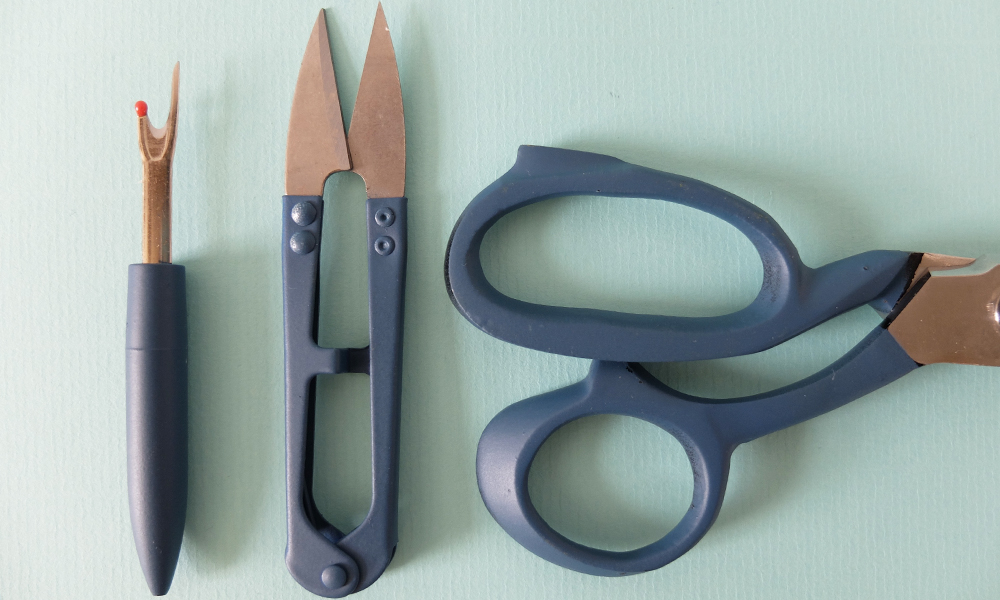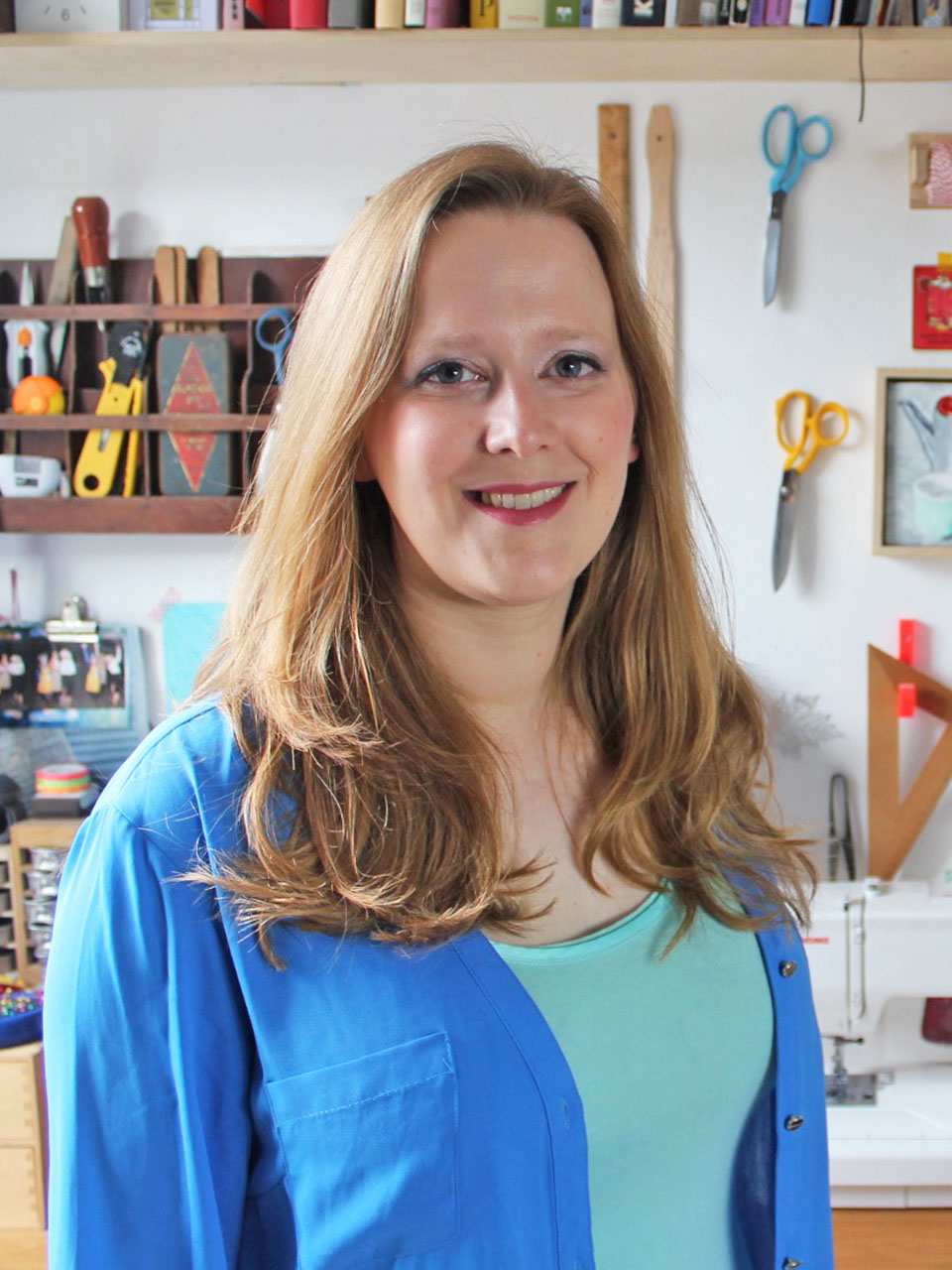 Hello lovely readers. How has your week been? Can you believe it's November already? It certainly feels like winter outside. Brrr! Scroll down for a gathering of this weeks sewing inspiration, and other must see sewing stuff. And don't forget to check this weeks video! Kate will tell you all about the new Indie sewing pattern releases in October.
Enjoy and have a great weekend!
---
We are super excited to have been nominated for a British Sewing Award by Sew Magazine! If you have a spare moment to vote for us – and some of the other amazing businesses in the sewing industry – that would be wonderful. Click here to cast your vote, it only takes a couple of minutes and you can win some prizes too!
---


Yup, it's official, Bianca from Sleepless in Bavaria made THE prettiest Closet Case Pattern Carolyn pyjamas in the whole wide world!
Meg from Cookin' & Craftin' absolutely nailed the Sienna Jacket by Closet Case Patterns! We NEED this jacket in our lives!
Don't we all need a pair of black Megan Nielsen Dawn Jeans in our closet? This wardrobe staple is made by Manju from Sewmanju and you definitely want to check out her blog for a very detailed pattern review.
Marie aka A Stitching Odyssey made this wonderful Friday Pattern Company Wilder Gown in an "accidental Halloween fabric" and it's not only perfect for Halloween, it's also perfect for wearing all year round!
We agree with Zoe (from So, Zo, What do you know?) on the Paper Theory Zadie Jumpsuit; "there is not one single version out there on the internets that doesn't look amazing"! And her wonderful African wax print version is no exception!
Isn't Adelle from Button and Pip looking fab in her new Halla coat? The pattern is for intermediate sewists from the Breaking the Pattern Book by Named Patterns. That collar looks so cosy!
These sleeves are ah-mah-zinggg! Alexis aka The Real Alexis Bailey made the McCall's 7838 top and she paired it with Simplicity 8842 trousers. Check out her blog for all the deets.
This red leopard print shirt dress is the bees knees! Crafty Clyde made the Armidale dress by Style Arc and we're obviously obsessed with her fabric choice..
Jo only started sewing last April and she already ventured into coat making! This Bianca coat by Sew Me Something is really lovely and perfect for this time of year.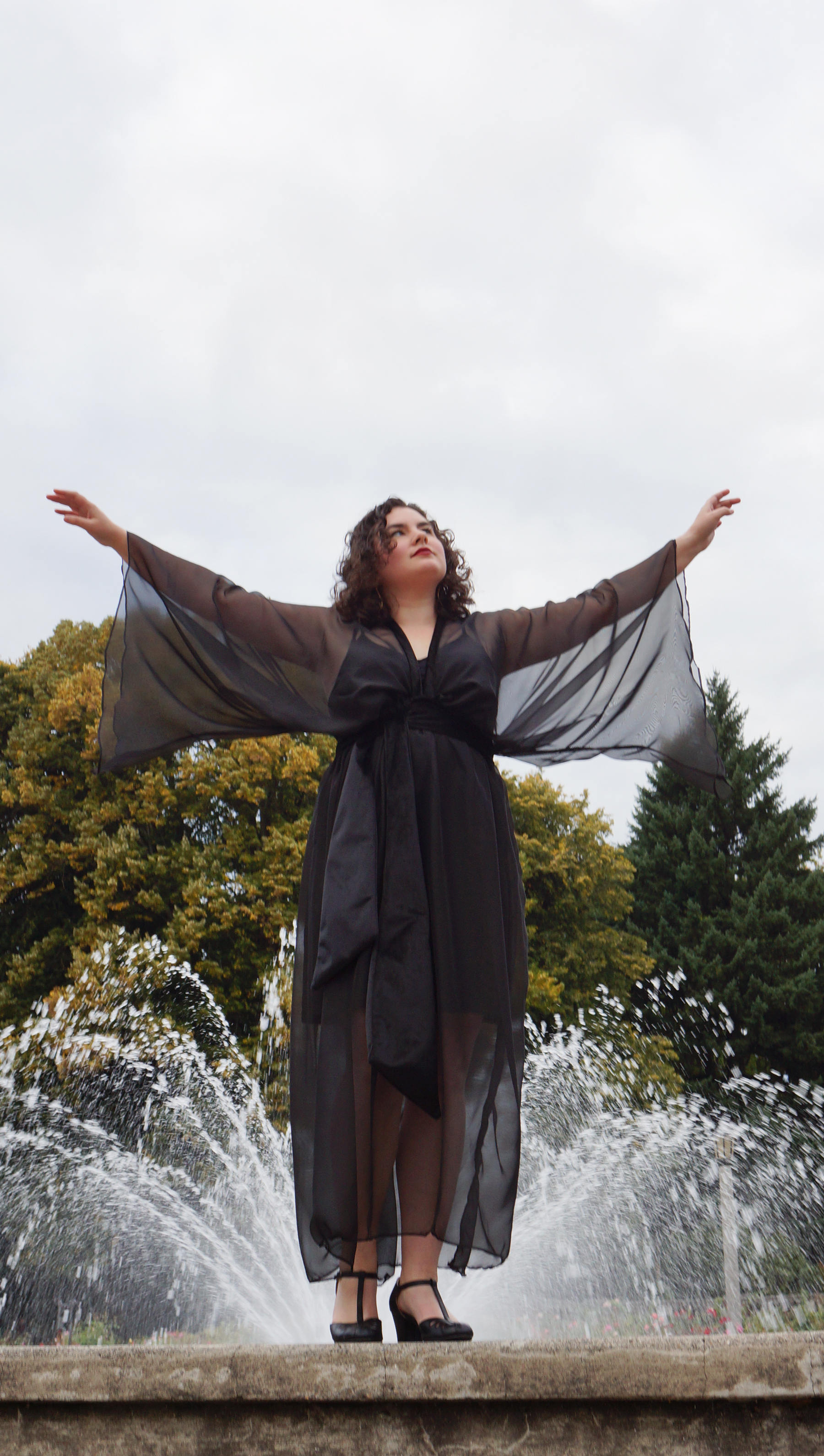 @Kristin.makes.stuff created the perfect outfit for drinking martinis while being a mysteriously wealthy widow 😉 She used the fabulous Vogue dress pattern V1627. You can read Kristin's pattern review on the website!
---


---


Watch the latest vlogs from makers in the sewing community this week…
It's us! New Sewing Pattern Releases || October 2019 || The Fold Line
Adelle at Button & Pip: October Makes || Halla Coat – Named Patterns
Kealy at Voice of a Creative: My New Studio and Sewing Room in Progress Tour
Mel at Handmade by Ditsy Tulip: October makes and work in progress
Lyndsey at Inside The Hem:My Lace B6448 | Sew Your Fall Wedding Guest Dress
Karina at Lifting Pins & Needles: Sewing lined patch pockets. Emily culottes (Itch to Stitch) + 8 Fave winter & summer looks.
Tamlyn at Sewn On The Tyne: Pattern Review! York Pinafore – Helen's Closet | Shop My Stash winning pattern
Sheona at Sewisfaction: My Sewing Plans – Autumnal Fabrics and what I'm sewing
---



Listen to a podcast this weekend for inspiration and sewing chatter while you make…
Wardrobe crisis with Clare Press: Podcast 100, SINEAD BURKE – A NEW PERSPECTIVE: INCLUSIVITY IN FASHION
Sew and Tell with Meg, Amanda and Kate: Sew Spooky — Episode 25
Love to Sew with Helen and Caroline: EPISODE 117: DESIGNING VOGUE PATTERNS WITH CARLOS CORREA
Sewing For The Weekend with Beth and Nina: Hands on Hips
Bande a Part with Rebecca & Beatrice: Cocoons, Kibbo Kift & Tim Walker
Dressed: The history of fashion with April and Cassidy: Fashion History Mystery #35:The Vanderbilt Ball
---


Take a look at all the new fabrics, haberdashery and kits from sewing businesses this week…
These ribbed velvet jerseys from Sew Me Sunshine look so cosy and soft, we want to make super chic lounge wear!
We are obsessed with the new Mind the Maker fabric collection over at Lamazi Fabrics! The colours of this one are SEW GOOD!!
This beautiful intricate geometric circle print fabric from Urban Stax is absolutely stunning! It is original Shweshwe fabric from South Africa and we're dreaming up a dress in this.
Are you in need of a new coat? These new boiled wool mixed coatings from Fabric Godmother are so so good! Check out the other drool worthy colours too!
This galactic glitter jersey from Pin & Sew is out of this world so pretty!
We were immediately drawn to the colours of this beautiful Art Gallery rayon challis from Lulou Designs. Fabulous dressing gown anyone?
Did you see you now get 40% off all McCall's patterns over at Sew Direct?! We love this shirtdress with a gathered skirt. We might just go for it as one can never have to many shirt dresses!
Are we the only ones who get excited when we spot a printed corduroy? It's one of our favourite fabrics and when they come in a super cute print like this one from Fabrics Galore we want to sew all the things with it!
Aren't these prints looking all pretty in blue? Shop the Alma collection by Ruby Star Society fabrics at Cloth Candy!
This beyond gorgeous teal laundered linen from The Draper's Daughter is the kind of fabric you never knew you needed in your life…
We've seen a lot of rainbow fabrics, but this stripey one from Loom & Stars is just so pretty with narrow stripes in pastel colours.
Hoorah! Sew Haley Jane's November sewing subscription box are open! Go on, treat yourself!
If you're looking for a fabric that turns heads, than look no further. This green peacock printed velvet fabric from Cloth Spot is the bomb!!
Have you seen the gorgeous headbands from Pink Coat Club? They're made with sewing themed fabrics.. In other words: a must have for every sewing lover out there! And pssst they're on sale now too!
---



We keep a handy list of sewing events, exhibitions and meet ups happening in the sewing community all over the world on our sewing social calendar here.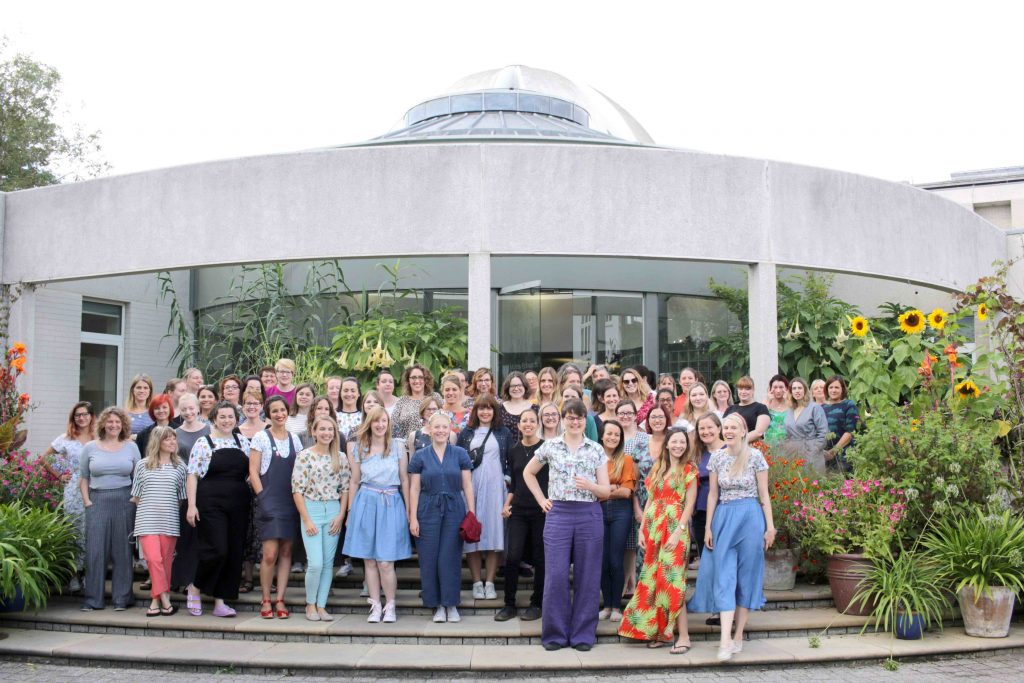 ---



Come and join our sewing Facebook group where we are chatting about sewing plans, new patterns and helping each other out with projects.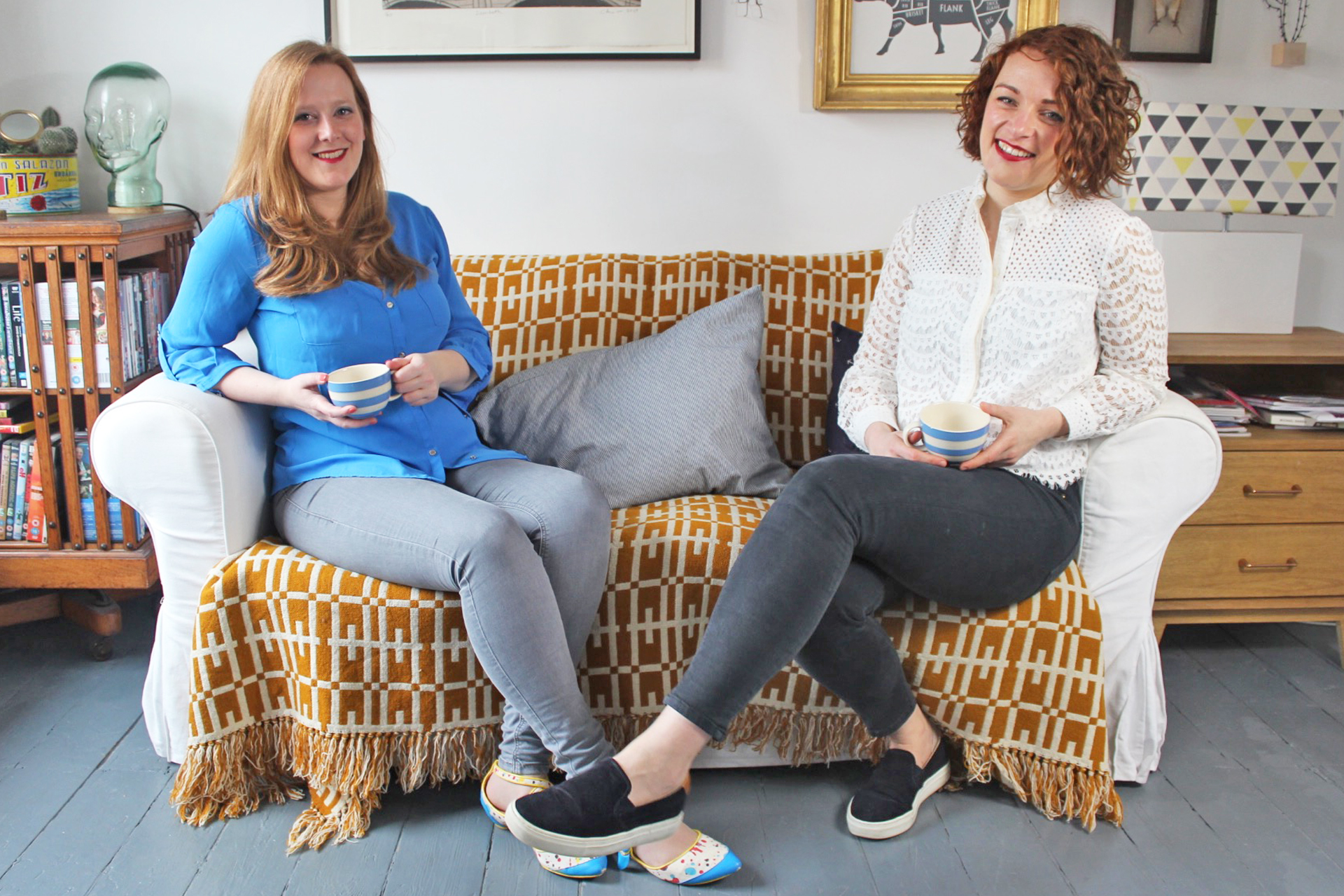 ---