Find My Pattern: Episode 2
Hi team,
Kate here and welcome back to another instalment of find my pattern! Those new to this feature, the premise is that you send in images of ready to wear garments you need in your life and I put me best detective hat and and hunt it our for you.  As a self proclaimed pattern nerd… I'm here to help.
I put out a request on Instagram and got loads of lovely emails asking me to help they find what they are after!  I whittled down a shortlist and after a few hours I managed to find some pretty good options. Below is a the original image as well as the patterns that we found and we really hope you enjoy!
Button Down Summer Dress:
I got sent the image on the left, it was one of those patterns that you think is going to be REALLY easy to find. having hunted high and low I think the the two options that I found worked well. Both have the button down at the front with gather waistbands and  adding at patch pocket is simple enough.
Quincey Dress – Jennifer Lauren Handmade
Fringe Dress  – Chalk  and Notch
Tie Front Shirtdress: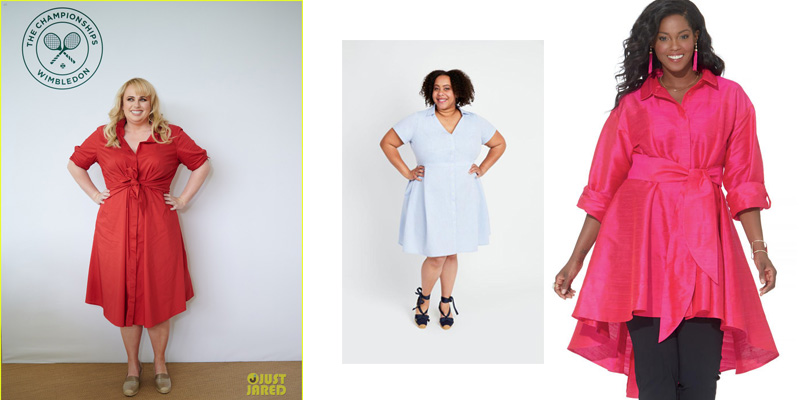 Here is Rebel Wilson at Wimbledon, in an amazing shirtdress with tie front detail. Having hunted high and low I think these tow patterns are good contenders. The modification that you'll need to make is adding the tie into the side seam of the dress and tapering it as it gets closer to the waist to minimise bulk.
The fishtail one shoulder dress:
God darn this is a fab dress and if you feel you need it in you  life I suggest you take the top half of the Burda pattern and put it on the bottom half of McCalls dress and voila!
The Dress with all the patterns:
This was tricky… there are so many prints going on here it was hard to see the cut lines of the dress. Although you'll need to add the ruffle to the shoulders this is a good starting point.
The oversized gathered dress:
Not perfect but I think this is a pretty good starting point for the oversized shirtdress. It'll need the bodice extending and some more volume added to the gathering but once you've done that it'll be pretty close!
Out of Africa Trousers:
These high waisted numbers have pleating at the front and oversized waistband and belt loops. I couldn't work out if they were straight cut or slightly peg leg.. so I've got you one of each so you can pick you favourite.
Alphonse Trousers – Republique Du Chiffon 
That 70s Caftan:
This was a speedy one as soon as I saw this caftan I knew the perfect match for it. The Roscoe, all that needs to be done is to extend the skirt panel to make it full length. Hurrah!
The Linen Coat:
Not perfect but pretty close AND two options to choose from with this Linen coat! There will need to be some alterations done to make it closer to the picture we got sent, like lowering the neckline on the Butterick coat but I think this will be a good base to get started!
The shift dress with big belt:
This was one of my personal favourites, the statement sleeve and oversized belt. I think either of the two options I found would work well. For the Babydoll dress I think if you sized up you'd get more of the relaxed feel and closer to the picture I took.
Celine Dress  – Iconic Patterns