Careers in Sewing: 25 years owning a fabric shop!
Have you ever considered a Career in Sewing? Do you dream of ditching the 9-5 and pursuing your creative dreams? In this blog series we will be posting interviews for a range of different sewing jobs to give you a taste of what possibilities are out there. Today we interview Paul who has been running Fabrics Galore in Battersea for the last 25 years!

What is your background and how you have ended up working where you are?
After leaving university I worked in management at various big retailers including  John Lewis Oxford Street where I thought I had found my spiritual home. When I left John Lewis to become Manager at Burberrys, Regent Street  I learnt a very important lesson which is the grass is not always greener. It did however bring to a head the decision as to whether I should carry on doing the same thing or take the plunge to do something I had always wanted to which was to get into fabric retailing.
Fabric has always been a big part of my life with a grandfather who owned a mill in Bradford, a father who still owns a fabric shop in Yorkshire at the age of 79 and as kids we all worked there in the holidays to earn money. It was therefore an easy decision to go and work with my father and set up the London shop. I went solo 13 years ago and we have just celebrated 25 years of Fabrics Galore.
Can you tell us about your job and where you work?

 
I'm based in our shop in Battersea and I'm involved in all aspects of managing a retail business from buying and selling to customer service working closely with our wonderful team.
There are three aspects to the business. Firstly the bricks and mortar; Fabrics Galore in Battersea and the pop up shop in Kingston. Secondly exhibitions have always been an important part of the business with around 14 a year all over the country. And last but not least whilst the website is quite new it has really grown over the last year. We also have a loyal following on social media which is a very visual way to stay in touch with our customers. 
 What do you do in a typical day?
 I swim at least a mile four mornings a week in my local pool and can't live without a Starbucks to kickstart my day. 
Typically the early  part of the morning is spent chatting with the team about what needs doing. Quite often I have suppliers coming in or I'm on the phone to them to make sure I  have the best  fabrics in the shop. Because we stock soft furnishing , dress making and patchwork as well as haberdashery we have a large number of suppliers some of whom I've known personally for over 40 years since I was a teenager.
If we are at an exhibition the day is much more frenetic  – very often an early start setting off around 5.30am, late nights and sometimes away from home. 
What are the best and worst bits?
The best bits are easy – thinking  about new ideas to grow the business, interacting with the incredibly creative sewing community and working with my talented team, several  of whom have been with us for over 10 years 
The bits I enjoy least are the paperwork and the admin. I don't think many people like this, but we all know it's part of running a business, so I have to make myself sit down and do it. 
Did you always want a creative career?
I don't know about a creative career, but I always wanted to work in retail. I love to see the trends and enjoy the cut and thrust of selling and buying. I feel very lucky to live in London as it means I can get first hand inspiration from some of the best retailers in the world and I love nothing more than to look around Oxford Street,Covent Garden, Knightsbridge  or Carnaby Street to name a couple of my favourites 
 What qualifications, skills or experience did you need to get your job? Have you continued to train since starting?
I think the most useful thing was growing up in a similar business. I do have a business degree and trained in some large and well known retail businesses, but the truth is anyone can start their own business and you tend to learn on the job. 
Like many people running their own business I haven't really had time for training, although more recently I have had to work hard to understand how the online part of my business works.  I spend a lot of time reading about this and also trying to learn off other people. 
I also love talking to other people in the business especially at exhibitions as there is always something to learn. 
Do you have any tips for someone looking to get into the same thing as you?

 
As everyone says there is nothing like being your own boss and particularly for the first few years you live and breathe it, so make sure you have a really good support network to bounce ideas off and help you drive the business forward. A sense of humour also helps, but above all you have to love what you are doing as it takes up so much of your time. 
If you could do anything else what would it be?
If I hadn't done this I would probably still be at John Lewis. People tend to stay there for years because it is such a great environment and being a partner gives you a real sense of loyalty. 
Music is my other great passion, so I would loved to have had an opportunity to do something in the music industry. There are over 4000 tracks on my iPod from Abba to The xx. Anyone who works with me with be overly familiar with my playlists!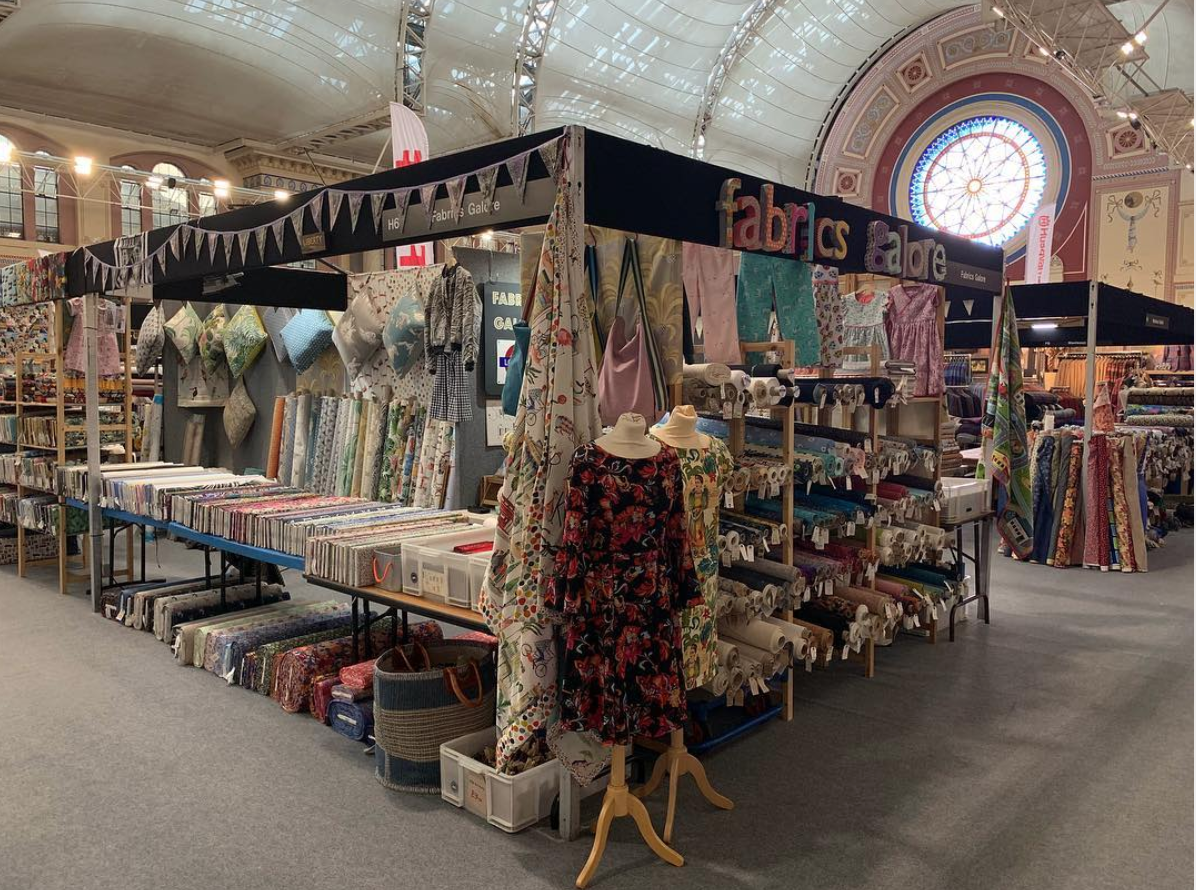 What is your favourite sewing tool and why?
This may be surprising but I don't actually sew, so the closest I get is my rolling machine which  I absolutely love. It lets me split large rolls into smaller ones and measure out huge pieces of fabric and get it ready for display. Anyone that knows me well knows that I am a "neat freak", so it has to look right. There is also something quite therapeutic about hiding at the back of the shop every now and then and being able to concentrate on something that is intensely satisfying even if it is quite monotonous. 
What are you sewing right now/will be your next project?

 
I am very excited about the all new Great British Sewing Bee show which is the UKs largest new sewing event at Excel in East London from 21st-24th September. The organisers have been working very hard to make it a very different type of show and this doesn't happen very often. We have been working closely with them and we will have a sizeable stand with the best of Fabrics Galore. We have also supplied fabric for their new series of alteration challenges which will feature former contestants teamed up with audience members.